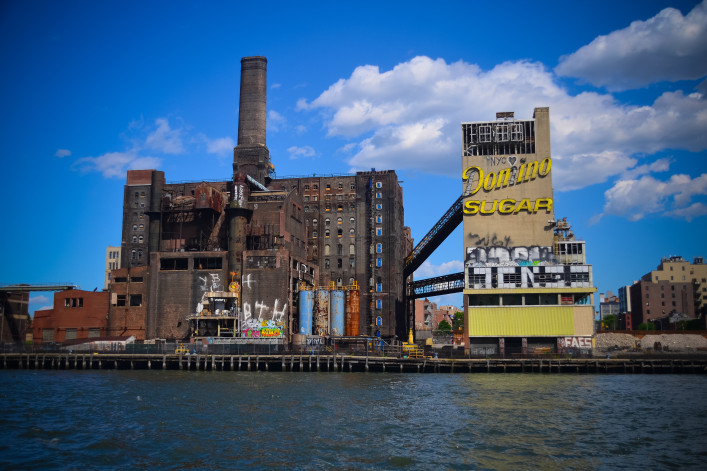 Updated, 10:15 a.m., 10/8, with rent information: The complete transformation of the old Domino Sugar Factory into a massive complex of apartments, offices and shops on the Williamsburg waterfront may be years away, but if you're hoping to apply for one of its 700 affordable rentals, it's time to get started now.
That was the message from community organizers at a public meeting last night to address affordable housing in Domino, where locals soaked up tips on how to make themselves into ideal candidates for the coveted spots.
Domino developer Jed Walentas of Two Trees Management was also on hand to outline plans and answer questions. Among other things, he confirmed that Domino's buildings won't have "poor doors," and that affordable apartments will be integrated throughout the buildings and feature the same finishes as their market-rate equivalents. Plus, the affordable units will be available to a wider range of locals, who make 70 percent of the area median income (AMI), as opposed to the usual 50 percent, Walentas said. (The developer hasn't released prices for the apartments yet, but you can bet the affordable ones will go for a fraction of the cost of the market-rate options.) Affordable studios in the first Domino building, slated to open in 2017, will be available for $553 or $703 a month, depending on income levels, DNAinfo reports.
Applications for Domino apartments won't be available for at least another 15 or 16 months, but Rob Solano, co-founder and director of Churches United for Fair Housing (CUFFH), one of the event's organizers, tells us that, "this is the wave of the future: you have to get prepared, get all the information now, so when the application does come out, it's not a surprise to you."
A few pointers to get going in the right direction:
Clean up your credit. Bad credit is one of the fastest ways to find yourself disqualified on an affordable housing application. But if you've got a less than stellar score, you've still got time to fix it—damaged credit takes at least a year to turn around. CUFFH and the Southside United HDFC (Los Sures), which co-hosted the event last night, will be holding workshops in spring 2015 to help bring you up to snuff. And if you've got no credit at all—an equally major problem—they can set you up with local credit unions to get the ball rolling in time to help out your application.
Don't stiff ConEd. "If you have outstanding payments on your utilities bills, it's almost like an automatic denial," says Solano. And it makes sense: how can the Housing Department give an apartment to someone who's in bad standing with ConEd, and won't be able to get electricity set up? "

People could have $3,000 in the bank, OK credit, and be all ready to go," says Solano, "and get denied because they owe $20 for an old gas bill." Keep your utility payments up to date, or they'll come back to haunt you.

Know who's moving in (and don't get romantic). At last night's meeting, Solano dished out a cautionary tale about a local man who mentioned at the lease signing for his subsidized studio that he was thinking of proposing to his girlfriend. Since studios are designated for one person—and the girlfriend hadn't been listed on his application—the man lost the apartment, right then and there. (The kicker? His proposal didn't go over too well, so he lost the apartment and his girlfriend.) "It's a legitimate rejection," explains Solano, who adds, "The application and interview process needs to be concrete about what the facts are right now, not thinking aloud or speculating." Go in knowing exactly who you want to apply with, and that they're on board, and also have good credit, a history of utility payments, etc. And choose wisely: if you change your mind later on in the process, you won't be able to change your application.
CUFFH and Los Sures will be holding informational sessions in November and December (you can check their websites for updates), and in the interim, revisit our guide to finding and applying for an "80/20" rental.
Related:
Win the NYC housing lottery: how to get an "80/20" rental
Make $95,000 a year? You could still qualify for subsidized housing
Mark your calendars: applications on their way for affordable housing in Long Island City
As transient renters move in, one Tribeca photog snaps portraits of her long-time neighbors
What happens when affordable Mitchell-Lama buildings go market rate?
Brick Underground articles occasionally include the expertise of, or information about, advertising partners when relevant to the story. We will never promote an advertiser's product without making the relationship clear to our readers.