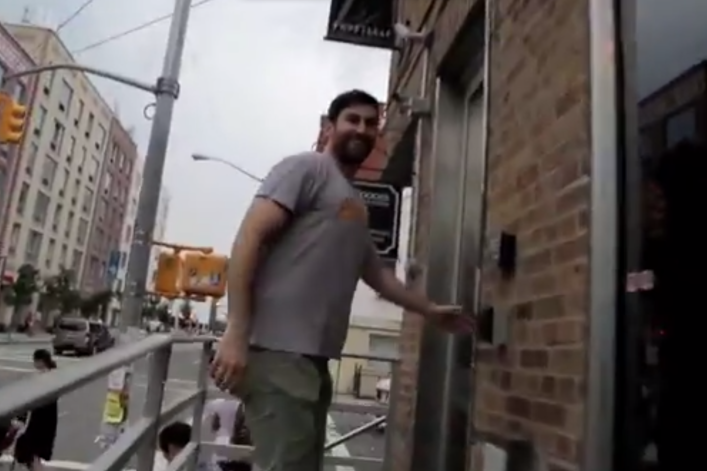 How sad is it that when we watched comedian Scott Rogowsky's tongue-in-cheek hunt for an "affordable" apartment on the Williamsburg waterfront, we actually thought, hey, that's not the worst method we've seen for finding a place? In his latest video, spotted by the blog Bedford + Bowery, Rogowsky stops into luxe developments like 184 Kent Avenue and the Edge, asking brokers and building staff how to get one of the places upstairs.
(You may remember Rogowsky from another real estate-related stunt, when he found someone to share his Park Slope rental by interviewing would-be roommates on a live late-night talk show. "Rooming Late" became a six-part web series that included guests like rocker Andrew W.K. and comedian Gilbert Gottfried.)
"Is there a certain devil I should be praying to to get a place here? ... A certain voodoo I can do?" he asks.
"Maybe," one broker gamely responds. "We don't specialize in that here, other neighborhoods in Brooklyn may be able to help you with, like, Santeria."
Rogowsky's suggestions include living in a sleeping bag on the roofdeck for $200 a month, marrying into the building or selling the trash of celebrity residents to pay the rent. And sure, those are probably not going to fly, and we know this is all in jest, but his approach isn't so far off.
If you're dealing with an on-site leasing agent—that is, a broker who works to find tenants for a landlord at a specific building, rather than working with a lot of different renter clients—it pays to inquire about any deals or perks a landlord might throw your way. The rental market is pretty crazy right now, but at a newly constructed building where the developer has to find tenants for a whole lot of units at once, there are often discounts to be had, like a free month's rent, a break on broker's fees or a gratis gym membership.
As one on-site broker in Manhattan told us a few years ago, "there may be some negotiability or extras available, but I'm not going to offer unless you ask, so always ask."
Related:
Confessions of an on-site leasing agent 
What one Brooklyn guy learned from hosting a live talk show to find a roommate
6 ways to make landlords love you
Live in the Edge for way less than $2K? Williamsburg luxury building accepting affordable housing applications
Brick Underground articles occasionally include the expertise of, or information about, advertising partners when relevant to the story. We will never promote an advertiser's product without making the relationship clear to our readers.