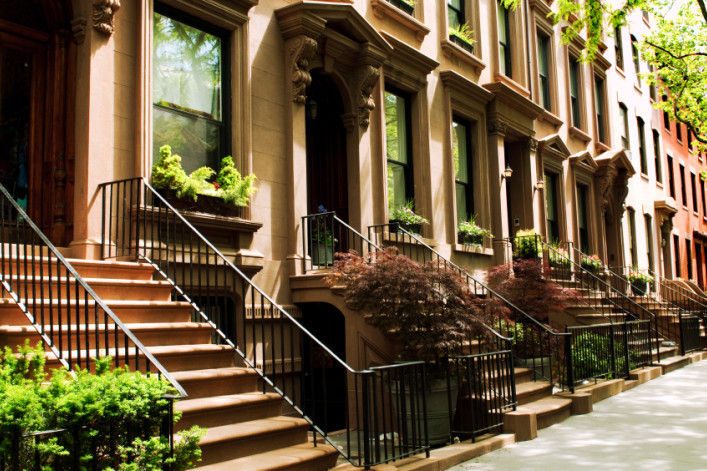 Anyone shopping for a Brooklyn brownstone today knows that the competition is fierce for houses that are in good condition and in a desirable location (and even for some that aren't). Yes, brownstones are coveted: that much we know. But there are a few things that may elude you about the history, layout and pricing of these homes—​and if you're in the market for one, it pays to be an educated buyer. ​
"'Brownstones' come in all shapes and sizes. The majority were built on speculation by developers, in small groups of two to four homes at a time," says Donald Brennan, the principal of Brooklyn-based brokerage Brennan Realty Services, a trained architect. (You can learn more about the Brooklyn brownstone market by reading Brennan Realty's quarterly reports.)
Here's the scoop:
"Brownstones" can be mainly brick
Many buyers use the term "brownstone" when what they really mean is a townhouse—a type of house prevalent in cities that has multiple narrow floors arranged vertically and is either semi-detached or arranged in a row (also known as a rowhouse)—​whether the facade is brick, brownstone, limestone or some combination of the above. "'Brownstone' is a little bit of a catchall for some people," Brennan explains. "Sometimes it's used as the generic for what I consider to be townhomes."
On the flipside, just because a townhouse is partly brick doesn't mean it can't be a brownstone, and whole swaths of "brownstone" Brooklyn are filled with blocks of brick townhouses. The true definition of a brownstone? A rowhouse with some or all of the facade covered in that chocolate-colored stone, says Brennan. 
Beyond that, you'll get various types of brownstones, like Greek Revival, which tend to be brownstone from top to bottom; Italianate, which are a little more ornate and decorative; and Federal, which are plainer, Brennan says. (A full list of rowhouse types and their characteristics is available from the Landmarks Preservation Commission.)
You won't pay extra because it's a brownstone
On a related note, many buyers think that brownstones are inherently more expensive than brick, wood-sided or stucco houses, which are scattered around Brooklyn. But not necessarily, says Brennan. Brownstones tend to be larger than other types of single-family homes, like the vinyl-sided rowhouses you'll see in Greenpoint or Bay Ridge, and many of them are located in desirable neighborhoods like Park Slope and Brooklyn Heights. When you see an eye-popping price tag attached to a brownstone, it's likely you'd be paying a premium for the size and location—​not the material of the facade.​ In fact, if you find a skinnier brownstone—​say 17 feet wide or less—​you probably won't see much of a markup over a similar brick house.
The layout is the hallmark of a historic house
One of the brownstone's main selling points is the historic details, and this doesn't just mean crown moldings and embellished woodwork. The classic brownstone follows a fairly standard layout: the interior is divided lengthwise into two parts, with about a third of it taken up by a staircase on one side and the remainder occupied by the living area. Usually, every room has a fireplace.
The parlor floor is typically a few steps above street level—​hence the iconic stoops—and has high ceilings and large windows. The upper floors, which are generally where the bedrooms are located, tend to have lower ceilings, while the garden level is a few steps below grade and has even shorter ceilings of 7.5 or 8 feet. That area often served as a place for servants to prepare the meals when these houses were originally built.
These days, the lower level is often repurposed as the primary living space, with the main entrance below the stoop. One reason is that the lower level, also known as the garden level, is typically at the same elevation as the rear yard, which makes it easier to incorporate the outdoor space into the living area, at least visually. Otherwise, a homeowner may need to add a stair and landing to get to the garden from the parlor level.
"High ceilings are nice, but personally I prefer the kitchen, dining and informal living space to be on this level and the more formal living and dining spaces on the parlor level," Brennan says. "Having the kitchen at the garden level also works well if you have a playroom for the kids in the cellar level."
Alternatively, the garden level is turned into a separate apartment and rented out, Brennan says. "Today, there's quite a few people who want a two-family," he adds. "They like the idea of having someone else in the building. They like the idea of the extra income."
A brownstone's width will tell you a lot about its value
While total square footage affects the price, brownstones are often also measured—and valued—​by how wide they are. The wider the home, the more expensive, though there's no formula for exactly how much the price climbs per extra foot of width. "Wider homes appear to be in less supply than narrower ones and therefore demand has more to do with it than functionality," Brennan explains. 
As for where you'll find wider homes, the answer lies in Brooklyn Heights: the neighborhood's age and historic affluence laid the groundwork for larger spaces (though, of course, there are many exceptions). Cobble Hill and Park Slope also have bigger houses, on average, while houses get smaller when you venture into places like Clinton Hill and Bedford-Stuyvesant. "The neighborhoods that were developed first typically contained large homes for those moving out of Manhattan," Brennan says. 
Your monthly costs may be lower—but your total investment may be more
You won't have to pay a monthly maintenance fee like you do in a co-op or the common charges of a condo, but you should still set aside plenty of money (and time) for repairs. As with any older building, upkeep is the main downside to owning a brownstone. "When you own a brownstone, you're completely responsible for the shell of the building, the roof and all the systems," Brennan says. "Over time those things will need attention." A good rule of thumb? Roofs are generally set for 15 years, while the facade will probably need attention every eight to ten years, he says. And remember, you'll be doing it all solo, without a building management company handling issues. ​
More from Brennan Realty:
5 all-too-common renovation shortcuts—and how to spot the serious ones
9 things Manhattanites need to know before buying in brownstone Brooklyn
---
Donald Brennan, president of Brennan Realty Services, is a real estate broker specializing in brownstone Brooklyn.  You can register here for his next free webinar, Brooklyn Market Update - Live.
Brick Underground articles occasionally include the expertise of, or information about, advertising partners when relevant to the story. We will never promote an advertiser's product without making the relationship clear to our readers.