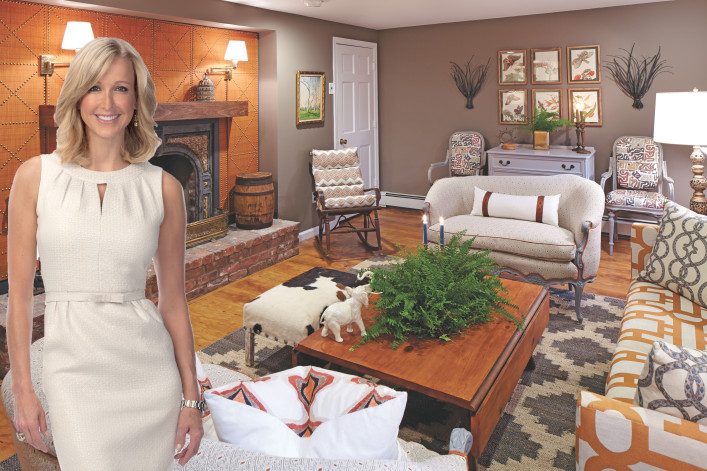 While millions of Americans eat breakfast every morning, Lara Spencer is right there with them. As the co-anchor of ABC's "Good Morning America," she is part of our morning ritual. But the woman that designer Jonathan Adler calls "a tornado of blonde positivity" has a second job she loves: flea market shopper/decorator extraordinaire and host of "Flea Market Flip" on the Great American Country network.
In her new book, "Flea Market Fabulous: Designing Gorgeous Rooms with Vintage Treasures," which comes out Tuesday, Spencer details how to transform that tired kitchen or boring bedroom with a great flea market find, creative reinvention, and not much money. Here the Connecticut resident, also the author of the New York Times bestseller "I Brake For Yard Sales," explains why flea markets are having a moment, the one thing to ask a dealer, and why she doesn't do matchy-matchy.
Hunting flea markets to decorate your home is so popular now. Why do we like reinventing a piece rather than buying new?
Flea markets used to have a bad rap. I have friends who used to think a flea market was where you went if you were looking for things like used lawn mowers, sports socks and the odd clown painting. That is simply not true! Yes, you can find some strange things, but most dealers who come to sell bring an exciting mix of antique and vintage pieces found at tag sales, auctions or estate clean outs. Interior designers and antique dealers know you can find one-of-a-kind pieces that can absolutely change the look of a room, and you will pay a fraction of what you would at a retail shop!
What is your own philosophy about putting together a "flea market fabulous" room?
Mix it up! A mid-century chair can look terrific when mixed into a more traditional space. I am not into a matchy-matchy room, and flea markets are a great place to find wonderful, unique pieces. They may all be different styles, textures, materials, but as long as they are unified in some way, whether it's through color or fabric, it can work beautifully. In my house, I hung a vintage sign I found at a flea market for $75 above my kitchen table, which is a family heirloom and a true antique. The chairs are really industrial looking and also a flea market find. It's a strange mix but somehow they look perfect together.
Best advice to those just starting to hunt flea markets to add to or redo a room?
Get organized, make a list of the items you are looking for, but make sure you keep an open mind. It's great to be organized, but you never know what you will find once you start hunting.
Biggest mistakes people make buying flea market furniture?
If you see something you love, buy it! If you don't, someone else will, and you may never see another thing like it.  Also, ask about delivery! Don't walk away from something you love just because it won't fit in your car. Many dealers will deliver your purchase for a small fee. Remember, they want to make that sale happen!
What is the importance of a piece of furniture having "good bones"?
You should buy a piece because you love it, not because it may be a hidden treasure worth thousands of dollars. If you like the shape of a chair and it's sturdy, the fabric and paint can always be changed. Look for classic lines and make sure you always buy what you love.
People love finding a great vintage piece, but are then unsure how to reinvent it. 
Upholstery and refinishing are so crucial with most flea market finds.  Easy jobs can be tackled during a weekend with some patience and elbow grease, but if you need the help of a professional it is always good to get more than one estimate.
How has your own flea market style changed?
My style has evolved over the years. I used to love very traditional rooms, filled with plaids and old antiques, but now I like quirky and eclectic rooms that tell a story.  I love a mix a mid-century pieces, comfy places to sit, and items that make me smile.
What did you learn about using flea market finds in small spaces when you worked on your own studio pied-a-terre in NYC?
With just 490 square feet, you need to have incredible restraint.  Less is more.  A couple of vintage maps, an antique trunk to use as a coffee table with much needed storage!  That's another tip--when you are working with a small space, try to use pieces that are multi-purpose--like the trunk, and [a custom-built, L-shaped platform sofa] that doubles as beds for my kids. 
Your personal best find ever made at a flea market?
There are just too many to list, and I have a giant storage unit to prove it! It's filled with my flea market finds, just waiting to be restored. If I had to choose just one awesome find  though, I guess I would say the set of eight metal and wood French café chairs from the '40s in perfect condition. I bought them on a trip to Paris. The shipping was more expensive than the chairs, but I don't care. I love them and have never seen anything like them since.
Related:
"Tiny House Nation" host John Weisbarth on living large in a (really) small space
The Real Housewives' Luann de Lesseps on summer hosting and where to shop home decor
Junk is your friend: Ralph Lauren's Mary Randolph Carter on collecting in a small space
Learning to love your tiny apartment: The internet's best decorating tips for small spaces
Brick Underground articles occasionally include the expertise of, or information about, advertising partners when relevant to the story. We will never promote an advertiser's product without making the relationship clear to our readers.