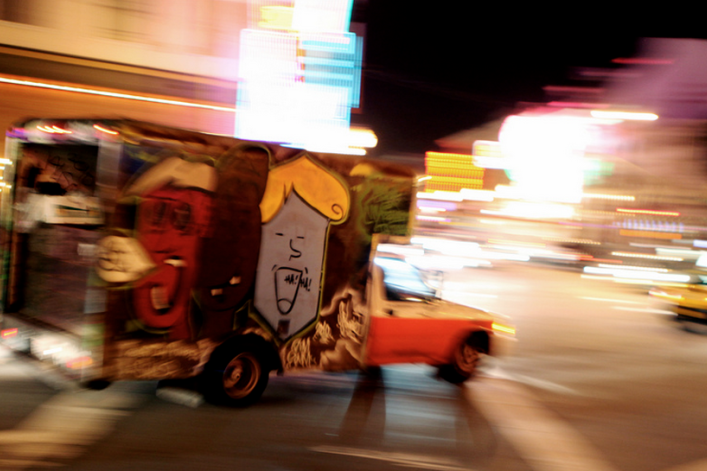 We all get worried about our property getting damaged during a move--but what about losing absolutely everything you own? 
The worst-case scenario happened to one woman after she hired three strangers from Craigslist to help with her Brooklyn move. Per the Brooklyn Paper's police blotter this week, "The fiends showed up to the apartment between Sutton Street and Morgan Avenue at 8:30 AM in a white box truck covered with graffiti and loaded up the woman's boxes, as well as her motorcycle, scooter, laptop, and cash." 
She never saw them again, and the police are still on the hunt for the "movers." 
This kind of Craigslist man-with-a-van nightmare happens now and again. More commonly, holding your belongings "hostage" is one of the oldest scams is the book (though it usually ends with you getting your stuff as long as you've paid up).
To protect yourself, ask friends to recommend movers, check a company's recent reviews (a la CityMove, a site that lets you bid out your job and choose a mover according to price and reviews from previous customers) , meet your movers in person, get your agreement in writing, and never, ever, give them a non-refundable deposit upfront (only shady movers ask for this, anyway, so consider it a red flag). We've got more tips on finding reliable movers here, as well as an all-purpose guide to making your move (relatively) hassle-free.
Before you move, check whether your apartment insurance policy covers off-premises theft. If so, you'd be covered for your losses up to your policy's limits. "There's no requirement that you use professional movers," says apartment insurance broker Jeff Schneider of Gotham Brokerage, "though policy limits on certain types of property--like jewelry--would also apply outside the apartment." That means you likely wouldn't be reimbursed for the full value of everything you loaded into that van, but you'd still get a good chunk of money back.
And if you still insist on using Craigslist randos to help you out come moving day? Well, at least be sure to get that license plate number before they drive off.
Related: 
16 tips for an (almost) stress-free moving day
3 moving scams you should know about—and 10 ways to avoid getting duped
How to negotiate with a NYC mover: 7 tips that may save you bigtime
3 high-tech ways to make your moving process easier (and cheaper)
Need something moved--or smashed to bits and hauled away? Perhaps these folks can help
NY Couch Doctor: 911 for furniture that won't fit through your door
Unpakt: Find the best movers at the best price, sign contracts you can understand, and manage your whole move online
Brick Underground articles occasionally include the expertise of, or information about, advertising partners when relevant to the story. We will never promote an advertiser's product without making the relationship clear to our readers.