Take It Or Leave It
Would you take on a commute from Forest Hills for a sprawling $6,000/month townhouse?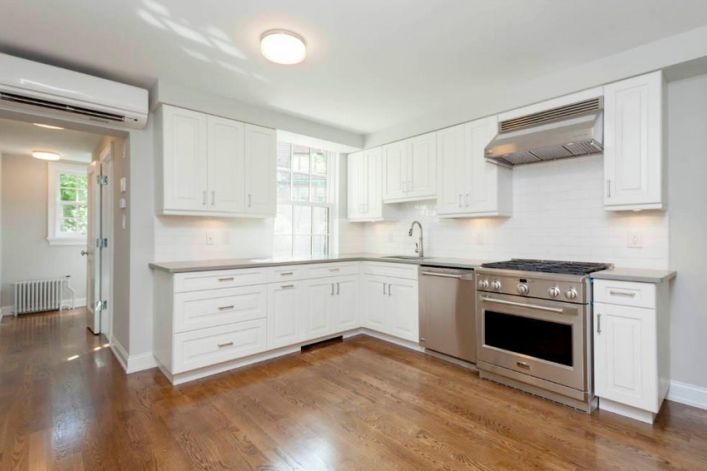 A newly renovated townhouse with four bedrooms, three en-suite bathrooms, a washer/dryer, private outdoor space and parking, for slightly under $6,000 a month? Why yes,  in Forest Hills, Queens.
A seemingly ideal escape from our busy day-to-day in the city, this house comes with a free month's rent, no broker's fee (the owner's paying it) and a recent price cut of $1,000 a month. But if you're going to live in this far-flung nabe, do you really want to drop that much on rent? Our experts, including RentHackr founder Zeb Dropkin and freelance writers Julie Inzanti and Lambeth Hochwald, weigh in for this week's Take It or Leave It.
Size: 4-bed, 3.5-bath townhouse                
Location: 55 Burns Street (between 71st and Ascan)
Cost: $5,996/month
Flexible Layout: No​
Days on the market: 63 days​
Subway: LIRR at Forest Hills; E, F, M, R at 71st Ave; E, F, at 75th Ave; M, R at 67th Ave
Pros and Cons:
"A big, honking four-bedroom townhouse that looks nicely renovated. But it's far away from the city—a good 45 minutes from Union Square by train—and the price was reduced from $7,000 to $6,000 after more than a month on the market, and I only count 3.5 baths in the floor plan, not 4.5 like it says in one part of the listing."  - Zeb
​"The newly renovated space is beautiful, very bright and airy. The upgraded kitchen is big and sparkly-clean looking with the white subway tiles and stainless steel appliances. You can't find a four-bedroom/four-bathroom townhouse with outdoor space in a nice neighborhood for this price. It is a steal. The architecture in Forest Hills is lovely, too, plus there is plenty of shopping and public transportation. And you can probably park on every street. Try that in Manhattan!" -  Julie
​"If you're playing with the idea of moving to a house in the suburbs but aren't quite ready to commit, renting for a short while in this spacious renovated Forest Hills townhouse makes sense. The finishes are impressive, the neighborhood is quaint and there's just enough room for a growing family. On the flip side, at nearly $6,000 a month this is an expensive tryout, and there must be a reason why the owner is offering to pay the broker's fee and is offering a free month. I'd want to know more." - Lambeth
Who would this apartment be perfect for?
"A big family that can use all four bedrooms, or an even bigger group of roommates looking to share rooms 'Real World'-style and get the price down. Renters who need to drive cars." - Zeb
​"If you're itching to get out of the hustle and bustle of Manhattan but still be a LIRR train ride away, this is perfect. I wouldn't recommend this large space for a couple, but a family would fit perfectly in this four-bedroom townhouse. You can even keep one bedroom as an office or a guest bedroom for a nanny, or visiting relatives who love to babysit!" - Julie
"A couple who commute to Long Island. Bonus points for the private outdoor parking spot." - Lambeth
The Verdict(s): 
LEAVE IT "Unless this place fits your unique needs, you'll be better off getting a smaller, less complicated situation."  - Zeb
​TAKE IT "Ample space, quiet neighborhood, bright and newly renovated rooms! An entire townhouse in Queens for the price of a one-bedroom in a luxury building in Manhattan, with no fee, and you get the first month free? Yes, please."  - Julie
LEAVE IT "Unless you're committed to trying out the neighborhood without buying." - Lambeth
Ready to rent? Check out our How to Rent Guide...and if the apartment you like requires a guarantor that you don't have, see if the landlord accepts Insurent, a guarantor solution from one of BrickUnderground's sponsors.
Brick Underground articles occasionally include the expertise of, or information about, advertising partners when relevant to the story. We will never promote an advertiser's product without making the relationship clear to our readers.