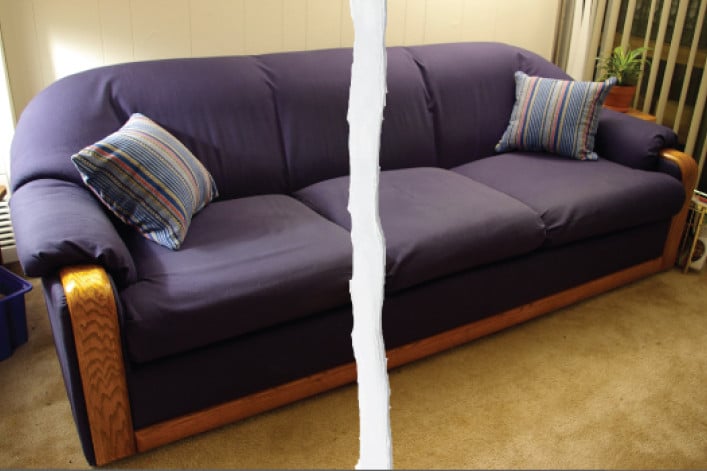 As if sharing an apartment with a roommate isn't difficult enough, splitting the cost of couches, coffee tables, lamps and all the other items that go into furnishing a new place—​and then divvying up the pieces when it's time to move out—​can make enemies of friends.
And the one thing you don't want to do is up and leave furniture behind: landlords will deduct the cost of removing leftovers from your security deposit. But after having our fair share of fights—and losing a fair sum of money on split items—in the process, we've compiled this quick guide to dividing up the household property in a fair and peaceful way. Read on for our strategies.
THE MOVE-IN SPLIT
The best way to divvy up the cost of furniture is for each roommate to purchase individual items, rather than splitting the cost of those items down the middle. During that trip to IKEA or the local furniture store, pay in full for a couch and have your roommate cover the cost of the coffee table, or vice versa. ​That way, you know what you're responsible for, and you'll have a couch that's yours when it comes time to move.
Also, if things change unexpectedly and someone moves out early, you aren't stuck figuring out how to split a couch with only a few days until they're gone for good.​
"When you split things it just adds a whole other thing to do when moving—which is already a challenge that's rough on everyone," says Carson Blackwelder, a 23-year-old who recently moved from Brooklyn to Manhattan and wound up selling a couch that wouldn't fit into his new apartment to his roommate at the last minute.
Before you start swiping your credit card, make a game plan for who will buy what. The first step is to take inventory of what you each already have and go from there. "It's best to have this discussion about 'who has what' ahead of time, to avoid any surprises. If certain key items for the common living area—like a couch or dining table—need to be purchased, have an upfront discussion about who will purchase—and when," says Andrew Sacks, an agent at CitiHabitats. And just like you would consider the price for a bigger room in an apartment, think about who can afford what, too. "While it's not always possible, try to keep each person's financial burden and personal responsibility even," Sacks adds. "It's only fair."
That's what Elizabeth Lilly, a 26-year-old Harlem resident, did with her apartment. "My roommates and I each contributed several pieces of furniture to the apartment. We planned what we were bringing in to the apartment beforehand so it worked out well," she explains.
However, if someone damages an item, it's their responsibility to replace it—whether they bought it or not. 
THE MOVE-OUT SPLIT
If you've already settled into your apartment and every roommate put up cash for each piece of furniture, there are ways to split it back up when you move out.
You could find out how much it's worth now with Splitwise's Fairness Furniture Calculator. Like the Kelley Blue Book does for cars, the app's website takes into account how much you paid for it, how long ago you purchased it, and the condition then and now. It then sets a value for the item—for example, a $1,000 couch that was bought four years ago new and is now in good condition is worth $350—and you could have your roommate give you half that amount to keep it, or you could do the same for them. There's a little room for negotiation here if you purchased multiple items together. If you each walk away with an equal value of furniture, everyone wins.
One thing that's relatively easy to split is inexpensive kitchenware. If no one in the apartment is a gourmet chef, Sacks says it can be easier to buy items like glasses and plates together, both of which tend to get lost and damaged over the years. "When it comes time to part ways, if one of the roommates is keen on holding onto the kitchenware, I think listing a price he or she would be willing to pay to take all of it is a fair way to go about it," he suggests.
TOSSING IT—THE RIGHT WAY
If no one wants to cart that crusty old armchair to the next address, you could always throw it out. But just because you see old furniture on the sidewalk doesn't mean you can dump your old stuff without consequences. The NYC Department of Sanitation has strict rules about removing furniture and other household items. For refrigerators and air conditioners, you have to arrange a pickup, but for items like mattresses and couches, it's a bit easier. (Get all of your "how do I dispose of…" answers on their website.)
Also, rules vary from building to building about trash disposal. For some apartments, you can just get a plastic furniture disposal bag and and leave it outside on the curb. But be sure to put it out on your block's trash day; otherwise, the building could be fined hundreds of dollars, and they'll pass the fine onto you.
Other buildings won't let you put your furniture curbside and may charge you a fee for removal. For example, Normandie Court, a four-tower rental complex on the Upper East Side, charges between $50 for a loveseat to upwards of $100 for a full bed to dispose of furniture, since they use a private disposal company, says Kelly Herzfeld, the property manager. If your building has a fee, you can contact companies like 1-800-Got-Junk, Junkluggers, and College Hunks Hauling Junk to see if it would be less expensive to hire them instead.
SALES AND DONATIONS
Of course, you can also get rid of items by selling them on Craigslist, putting up signs in your building to advertise free or for-sale items, or donating them. The Salvation Army will come and pick up many large items free of charge, but you have to call ahead. "You have to make sure you are doing it well in advance because they are sometimes booked for up to four weeks for a pick up," says Alicia Schwartz, co-founder of apartment data site Address Report. But if you're dropping off yourself, they'll accept donations anytime. The same goes for places like Housing Works, which also takes reservations for furniture and other houseware donations.
Related:
8 classic roommate dilemmas--and how to solve them
20 Questions: what to ask potential roommates to prove you're compatible
Need furniture on a short-term basis? CORT's got you covered
Moving in? Basic repairs your landlord will (and won't) pay for
Brick Underground articles occasionally include the expertise of, or information about, advertising partners when relevant to the story. We will never promote an advertiser's product without making the relationship clear to our readers.