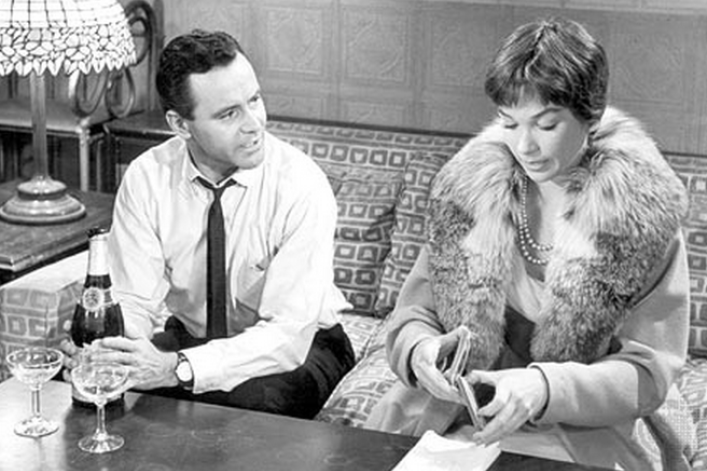 It'd be nearly impossible for us to keep writing about movies with spot-on New York real estate stories without getting to The Apartment. The place in question in Billy Wilder's beloved 1960 classic belongs to Buddy Baxter (Jack Lemmon), a mid-level employee at a giant insurance company who lends it out to executives (and their mistresses) for one-night stands to curry favor and, with hope, a promotion. 
As you'd expect in just about any building, the constant flow of guests (and empty liquor bottles) earns Buddy the ire of both his neighbors and landlady. But, on the flip side, it also earns him a promotion. Normally we'd wonder how a relatively unsuccessful corporate cog landed a spacious brownstone apartment all to himself on the Upper West Side (the given address is 51 West 67th Street), but with its railroad layout...
​and counter-free, tenement-style kitchen...
...we could be probably be convinced that the place is a relatively affordable bachelor pad. Of course, the whole thing is fake. As Scouting NY points out, some of the building's exteriors were shot in New York (they even have a few then-and-now shots of the actual building, located on West 69th), but, as Alfred Hitchcock did with the apartment complex in Rear Window, Billy Wilder and his crew visited New York apartments for inspiration, then built their own version from scratch on a set in L.A. If the choice is that or shooting on location in New York in the dead of winter, we can't exactly blame them.
The set designers did a pretty accurate job here: the apartment's lack of natural light and occasionally retro mid-century furniture (namely that patterned couch) feel right, though let's just say we'd be surprised if any of our lonely, single male friends had gotten it together to find Tiffany lamps for both the living room (above) and their bedroom (below):
In any case, the story eventually works its way to a happy ending, with a large assist from the apartment itself: Buddy is smitten with his building's elevator operator Fran Kubelik (Shirley MacLaine), who, unbeknownst to him, has been dating his married boss on the sly. After this boss brings Fran to Buddy's place—and she realizes he won't be divorcing his wife anytime soon—she stays behind and downs a bottle of Buddy's sleeping pills. Buddy nurses her back to health (and eventually quits his job), and during the time they spend holed up together, the two fall in love. We can't quite decide if it's a cautionary tale for or against illegal one-night sublets, but either way, the movie's a classic for a reason:
Related:
Reel Estate: How to marry a millionaire? Shack up in an $8,000 a month apartment
Reel Estate: Rear Window is your worst-neighbor nightmare scenario
Reel Estate: Find the Royal Tenenbaums in Harlem and the Bronx
Brick Underground articles occasionally include the expertise of, or information about, advertising partners when relevant to the story. We will never promote an advertiser's product without making the relationship clear to our readers.