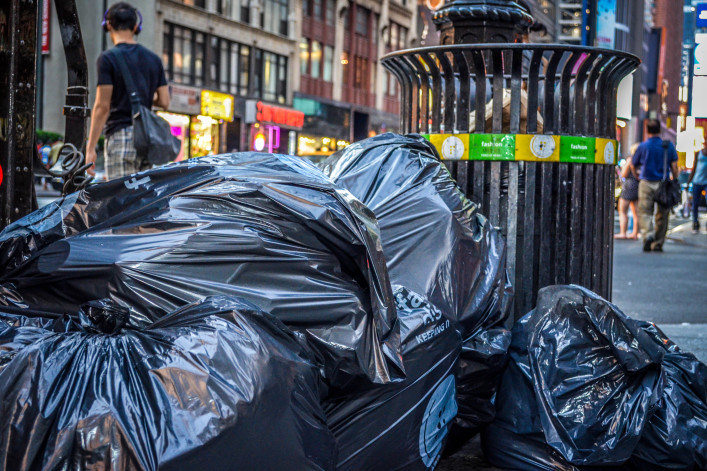 A lot of things come to mind when you think of a heat wave in New York—kicking your blankets off the bed, drinking your coffee exclusively iced, the frigid blast of air conditioning at the office—but maybe chief among them is the smell. Seemingly every corner comes with its own special potpourri of potent, inexplicable scents, but some areas are worse than others. This is especially true when temperatures start spiking as they finally have in New York (y'know, now that we've reached the end of summer and are back in front of our desks).
In the interest of being (ahem) a little nosy during these last gasps of hot weather—and having a more official opinion to offer than "sometimes Midtown smells like hard boiled eggs!"—we asked apartment data site AddressReport to crunch the numbers on the most and least fragrant 'hoods in Manhattan, Brooklyn, and Queens. The data could come as cold comfort (or a confirmation of your good location) if you're already settled, but for those of you currently on the apartment hunt, consider yourself warned.
​Some notes on methodology: the site took a look at the frequency of
311 complaints
for different odor-related issues in every neighborhood, then weighted the frequency of complaints by the neighborhood's population. The issues in question? Sewer backups and odors; fumes from vehicles, restaurants, smoke, nail salons, dry cleaners, and "private carting"; dirty sidewalks and alleyways; missed trash collection; chemical odors and oil, chemical or petroleum spills on the street; and maybe most perturbing of all, "sweet from unknown source," an apparently common air quality concern laid out in the descriptions that come along with the complaints. (We'd guess they're more likely to pertain to past-its-prime fruit in the trash than, say, the presence of a nearby bakery.)
A lot of the data shakes down about how you'd expect: neighborhoods like Koreatown, with its high density of restaurants (and restaurant trash) and Gowanus, with its notoriously polluted namesake canal, rate among the smelliest. On the opposite end of the spectrum, quiet and relatively removed areas like Roosevelt Island, Brooklyn Heights, and Woodside come out smelling (relatively) like roses. But there were a few surprises, as well. Coney Island apparently ranks among Brooklyn's least smelly areas, while nearby Manhattan Beach has one of the city's highest frequencies of complaints. And given that it houses 
"the smelliest block in New York,"
 we were surprised to see the Lower East Side rank among Manhattan's most fragrance-free enclaves. 
7 things to ask the neighbors before you move in
Ask an Expert: can I break my lease because my apartment stinks (literally)?
Keeping your place stink-free in the smelliest time of year
Summer in the city: dealing with neighborly nuisances when temps (and temperatures) soar
7 maps you'll want to consult before you move (and two just for fun)
Ask an Expert: why do I always smell what my downstairs neighbor is cooking for dinner?
Read this before moving near that
How safe is your area? Neighborhood crime rankings in Manhattan, Brooklyn, and Queens
Brick Underground articles occasionally include the expertise of, or information about, advertising partners when relevant to the story. We will never promote an advertiser's product without making the relationship clear to our readers.