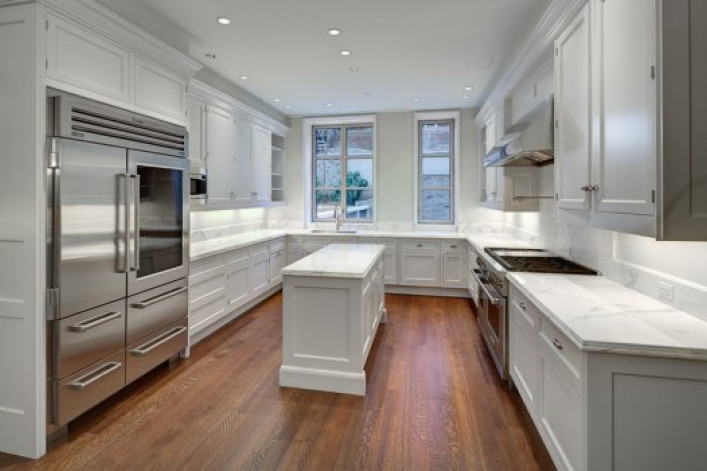 For many New Yorkers, a successful flip—​buying an apartment, making cosmetic tweaks and selling within months at a hefty markup (thanks to a galloping market)—​is the dream. In our Flip or Flop? series, we've featured sellers who attempted to do just that (sometimes with more than minor renovations), specifically looking at homes on the market for significantly more than their most recent sales prices.
Today, we're checking in on various properties to see if those gutsy sellers—​some of whom were attempting to get double, even triple, what they paid—have found takers​. (We've already covered the major flip of a Bed-Stuy brownstone, which a Brooklyn real estate investor bought for $1.2 million, listed three days later for $1.85 million, and sold about 3.5 months after that for $2.1 million.) If there's any general wisdom to be gleaned from this small sample, it's that these places do sell—but typically after a price cut (or six). Read on:
Status: in contract
A buyer signed a deal for this 950-square-foot condo at 100 West 57th Street in late June, according to StreetEasy—roughly two months after the sellers first put it on the market for $1.29 million. The owners, a couple who make a living renovating apartments, had paid $650,000 for it in the fall of 2013. But in May, having gotten no definitive bite, they cut the price by 15 percent to $1.1 million.
Our biggest question with this condo, which is being repped by Jenna Amicucci, a Nest Seekers International broker and colleague Ryan Serhant, star of "Million Dollar Listing New York," was how the alleged second bedroom would be received by buyers. The owners had renovated the apartment—installing swank touches like a 50-bottle wine cooler, a rain shower and new hardwood floors—and had also turned it from a one-bedroom into a (sort of) two-bedroom by walling off part of the dining room with sliding glass doors. They also added a powder room.
If you considered this place a two-bedroom, it was a pretty good deal, and a rare find in this touristy but popular part of Manhattan. As a one-bedroom, it was on the pricier side. Either way, the sellers probably made a decent profit, though Amicucci could not "release details of [the sale] price until closing," she told us when the contract was signed.
Status: in contract
This Bushwick townhouse found a buyer as of Friday, according to StreetEasy, but not before a couple of discounts.
The 3,000-square-foot house at 33 Aberdeen Street went on sale in April for $1.2 million, about seven months after the owner bought it for $245,000, a markup of $955,000, or 390 percent. The seller, Flushing, N.Y.-based developer Cadillac Homes, had revamped the place, adding in stainless steel appliances and central air, while preserving the period staircase and crown moldings.
But it was quite a bit pricier than other townhouses on the market—​in the first three months of 2014, the average one- to three-family home in Bushwick sold for $575,000, according to Jonathan Miller, president of the appraisal firm Miller Samuel—​and it's in a considerably less sought-after part of the neighborhood.
The owner cut the price of 33 Aberdeen about three weeks after it went on sale to $999,000, and then it disappeared from the market. Eleven days later, it returned with a new price of $975,000. Now it's in contract, though the final price is unknown.
Status: no longer available
This 2,100-square-foot place at 101 Douglass Street was no longer on the market as of July 20, according to StreetEasy. The owner, a Nanuet, N.Y.-based corporation called 72634552 Corp., listed it in March for $2.9 million, about 222 percent more than its $900,000 sale price just seven months earlier. But almost as soon as it hit the market, the seller started slicing the price—six times in all over the course of about two months, to $1.9 million. And then on June 1, somewhat confusingly, the price climbed back up to $2.2 million.
The place is currently made up of two rental apartments totaling four bedrooms, but a buyer in the mood for a major rehabilitation could transform it into a single-family townhouse nearly twice that size. It wouldn't be out of place to pay $2.2 million for a 4,000-square-foot home on a tree-lined street in Boerum Hill. But it seems like a pretty hefty price tag for a much smaller place in need of some work.
Status: no change
Convenience store scion Gerald Erickson, Jr., scooped up this place—​a townhouse-style home at the base of a new condo development at 135 East 79th Street and Park Avenue—​before it was built. As such, he got a "pre-construction price," paying about $12.5 million for the maisonette and another studio, which the developer combined for him into a six-bedroom spread with a 972-square-foot private terrace.
However, Erickson's plans changed, and he put the home on the market for $18.5 million—or about 54 percent more—​in mid-March, just 25 days after he closed on the purchase. It's still on the market with no change in price. Our sources didn't raise any eyebrows at the price tag and, in fact, attributed the big spread to Erickson getting a pretty good deal when he signed the contract in October 2012—​before the condo market really caught fire. 
Status: in contract
This two-bedroom co-op in Lenox Hill sold for $960,000 in December 2012. Just over a year later, the Miami-based buyers listed it for $1.675 million, or about 75 percent more. Two price cuts followed, dropping the figure down to $1.495 million. Then, on July 1, a buyer signed a deal for the place, according to StreetEasy. (At the time, listing broker Bindya Melwani of the Corcoran Group did not respond to a request for comment, and the sale price is unknown.)
The perks of this 1,400-square-foot place included a sizable living room with a separate dining area, a wraparound balcony, 2.5 bathrooms, a walk-in closet and a washer/dryer. The main downside was the fact that it's in a land lease building—​the 39-story, 175-unit Trump Plaza—which means the co-op board has to pay rent for the land it's on, effectively making monthly fees higher, among other things. It was also a lot more expensive than other apartments in the same building with similar layouts.
Related:
See all Flip or Flop? columns
5 all too common renovation shortcuts--and how to spot the serious ones (sponsored)
Meet the deal killers: 8 obstacles to a sale and how to overcome them
Let's get flexible: the seller's rule of thumb for a price cut
Brick Underground articles occasionally include the expertise of, or information about, advertising partners when relevant to the story. We will never promote an advertiser's product without making the relationship clear to our readers.