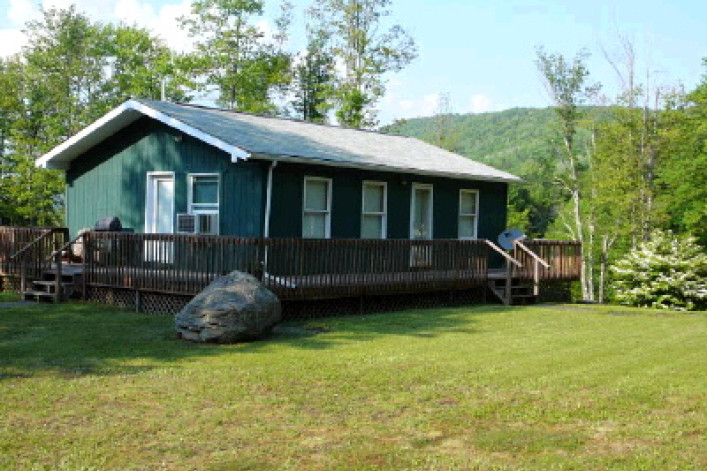 If you can't stand the idea of spending another summer in this gross, sticky city weather—don't. Susan Doig of Coldwell Banker Timberland Properties tells us why the Catskills are a good alternative to sultry summers in NYC in this week's Buy Curious.
THE WISH LIST:
I'm looking for an affordable option for a summer home outside the city, and I heard that the Catskills have a lot of cheap bungalows for sale. What exactly is out there, and how much can I expect to pay? Do they have city-style amenities like central air?
THE REALITY:
The eastern edge of the central Catskills is about two and half hours from the George Washington Bridge, making the region a popular getaway for New Yorkers looking to escape their shoebox-sized apartments. (It doesn't hurt that the area also has farmer's markets, antique shops, art galleries and historical museums, including the Empire State Railway Museum, which is dedicated to preserving the historic Ulster and Delaware Railroad, and the Catskill Fly Fishing Center and Museum. Hiking, canoeing, kayaking and golfing are also on offer.)
Typically, New York buyers focus on four qualities: the type and size of property, amount of land, travel time and price. Unless you have an unlimited budget, you'll probably have to compromise and make peace with a smaller yard, longer drive or less space. And if budget is the main concern, you'll find that your dollar stretches the farther away from the city you go. (You'll also want to measure the drive time to get groceries or other supplies.)
The bungalow colonies you've heard about are most often found in Sullivan County—which from the 1920s to the 1970s was home to hundreds of Borscht Belt resorts. Today, many of the colonies are run as co-ops, and residents have access to communal areas such as pools and tennis courts. The cabins are usually rustic and un-winterized and are priced starting as low as $2,000, such as this one-bedroom for sale at Lansman's Bungalow Colony in Woodbourne (two-bedrooms at Lansman's cost $6,500).
Modest cottages in the Catskills are $100,000 to $150,000. For that amount, you'll get something that functions—i.e., the shower works, the toilet flushes and you'll have some kind of working heating system—but it definitely won't be fancy or modern. If you're lucky, you might even get an acre of land. As for the upper limit of prices, in the last six months I've sold two homes—one in Andes, one in Margaretville—for $1 million. Homes at that price point are fully updated and modern, and you get lots of land, maybe 25 to 300 acres. Few of these homes come with pools, as most towns have their own community pools that residents frequent, but you might get a swim pond.
Many of the homes in the Catskills were built as weekend destinations. On the one hand, that means they haven't faced the kind of wear and tear you'd expect to see in a year-round home. On the other hand, you'll probably find a lot of orange Formica countertops in the kitchens and other decorating choices that hearken back to the '70s. Most of the homes lack central air conditioning, and people get by using window units or fans. But it's not as bad as you think: cool evenings and breezes make the Catskills a lot more bearable than the city during the summer months. ​
Also, before you sign up for a major renovation, remember that the Catskills are not filled with talented craftsmen waiting to work for you. Good contractors are often very busy, and you may need to get in line to hire them for a job. 
Another thing to keep in mind: If you need a traditional mortgage, the bank is probably going to want everything in full-time, year-round functional condition. That means that the water, septic and heating systems would all need to be in good working order.
Which spot is right for you?
The Catskill townships are large, and each one has a village or hamlet that serves as its center. A few of the most popular ones are:
Margaretville: This village serves as the center for the Township of Middletown. It has a hospital, a supermarket, a drugstore, a variety store and many other shops. The region also hosts a concert series in the summer, and if you golf, Hanah Mountain Resort & Country Club is nearby.
Andes: This tiny hamlet has a quaint Main Street lined with eateries and galleries. A community pool, tennis courts and a park are added attractions. The Trailways bus comes right through town. The Pepacton Reservoir, which attracts thousands of tourists each year to fish for trout, is also close at hand.
Roxbury: The tree-lined main street of Roxbury is well-known as a wedding destination. Another plus here is the Roxbury Arts Group, which hosts cultural events.
Sold on the Catskills?
Middletown two-bedroom/two-bathroom house, $149,000: This 800-square-foot two-bedroom offers a detached garage, a great room with a fireplace and a large deck. Taxes are $3,000 a year.
Margaretville four-bedroom/two-bathroom house, $199,000: This cottage at 236 Little Red Kill Road is located along a stream on 1.6 acres of land, and features a sunroom, a new kitchen, a formal dining room and a living room with a wood-burning fireplace. 
Red Kill Valley two-bedroom/one-bathroom house, $225,000: This renovated country cottage has a wraparound deck, a pond filled with koi, rainbow trout and goldfish and mountain views. Located in the Red Kill Valley in the town of Middletown, the house sits on more than five acres of land and is minutes to Belleayre Mountain.
Margaretville one-bedroom/one-bathroom house, $229,000: Located at 60 Ben Meeker Road in Margaretville, this one-bedroom home offers privacy, 360-degree views and wood floors on more than nine acres of land. There's also a large front deck and a master bedroom with a wood stove.
Roxbury three-bedroom/one-and-a-half bathroom house, $235,000: This 1,800-square-foot vintage Arts and Crafts bungalow at 88 Roosevelt Avenue has three bedrooms and a new kitchen and bathrooms. There's also a garage, forced-air heat and storage.
Fleischmanns three-bedroom/two-bathroom house, $299,000: This 2,000-square-foot country chalet at 639 Wood Road sits on five acres, and features a great room with a wood-burning fireplace, an open kitchen and a large deck. 
Related posts:
Roller coaster real estate: A primer on buying a Coney Island home
Is the North Fork still the affordable anti-Hamptons hotspot?
I'm considering buying in Staten Island. What should I know?
The Bronx's seaside oasis: City Island
Buying, renovating or refinancing next year? 5 mortgage trends to watch in 2014 [sponsored]
What 8 first-time buyers wish they had known
Here are the 7 most likely reasons you'll get turned by a co-op board
7 questions to ask about the building before you buy an apartment there [sponsored]
---
Buy Curious is a weekly column in which NYC real estate brokers help buyers develop a realistic search strategy. Want some advice on your search? Send us your wish list.  
Brick Underground articles occasionally include the expertise of, or information about, advertising partners when relevant to the story. We will never promote an advertiser's product without making the relationship clear to our readers.