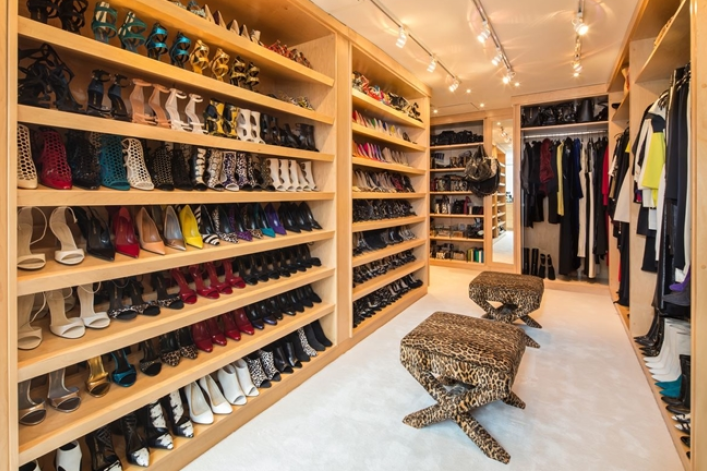 Q. I just bought a condo with a huge bedroom and a tiny closet. I'm considering converting some of the space into a walk-in. What's involved?
The benefit of having a large dressing area is that you can use the space for storage and to hide mess (and the laundry hamper, perhaps). There are two routes to go here, the first being the more expensive and time-consuming permanent fix of actually enlarging the closet, and a second, lower cost option to carve out something practical, albeit temporary. 
Don't tear down that wall
Unless you're gung ho for a full-scale apartment remodel, your best bet is to wall off part of the room to create a faux walk-in closet. For one thing, ripping down a closet wall could mean ripping down part of a wall in an adjoining room or hallway, and will involve plumbing, electrical and other concerns. Not to mention, the price will go up exponentially. 
The permanent partition
Which brings us to the more lasting fix of adding a permanent wall, which is best to do with the help of a professional. 
We did a similar project in our living room by adding a wall to create an office/guest room that's not much bigger than a walk-in closet, and the quotes came in at $2,000 and $4,700. (We ended up going with the more expensive contractor, and in the end, we spent about $5,200 because we had them do a couple of additional jobs.) That project included a pocket door, side windows, and a transom; if we hadn't added those elements, we would have saved a few hundred bucks.
Regardless, since there are numerous factors involved in the cost of such a project—like the choice of finishes, type of building you live in, and so on—make sure to get a few quotes from different contractors. Pay attention to how they conduct themselves, too. Are they prompt in responding? Are they listening to your ideas or just giving their own? The construction of our wall took about three weeks, during which time we couldn't use the room at all, so bear that in mind too. 
The temporary barrier
Another possibility is to go with a bookshelf wall, which are more commonly used to break up space in studios or divide up bedrooms for roommates. They already come with shelves— one model from Wall 2 Wall even has a closet built in—and since you wouldn't be using it to create a separate bedroom, many of the city's building-code-related concerns about temporary walls wouldn't apply. ​Simply install the bookshelf wall a few feet out from the actual wall, then use the space between as your dressing and clothes-storage area.
You could do the same thing with wardrobes, too. For example, IKEA's line of Pax customizable closet furniture can be configured to create a faux walk-in closet, and there are enough variations to fit within any room dimensions—or budget. (You can see how it works in this video.) In fact, we used Pax wardrobes in our own bedroom, adding doors on the closet side to keep out the dust and to give us the option of adding lights in the future. For us, the addition of the closet area made the room feel a bit cramped, but if your bedroom is large enough, that shouldn't be a problem. 
Create the closet
After you've got the wall in place, you can outfit the space with shelves, drawers and hanging rods to make it truly feel like a walk-in closet. (Here are some more ideas.)
Related:
How I tricked out my humdrum closet
9 things I learned from my two-year DIY renovation
10 first-time renovation mistakes even New Yorkers make
From 1 room to 2: The insider's guide to temporary walls
9 bookshelf walls you can live with
Brick Underground articles occasionally include the expertise of, or information about, advertising partners when relevant to the story. We will never promote an advertiser's product without making the relationship clear to our readers.