Take It Or Leave It
Four bedrooms in Hamilton Heights for $815 a person? You'll need to share one tiny bathroom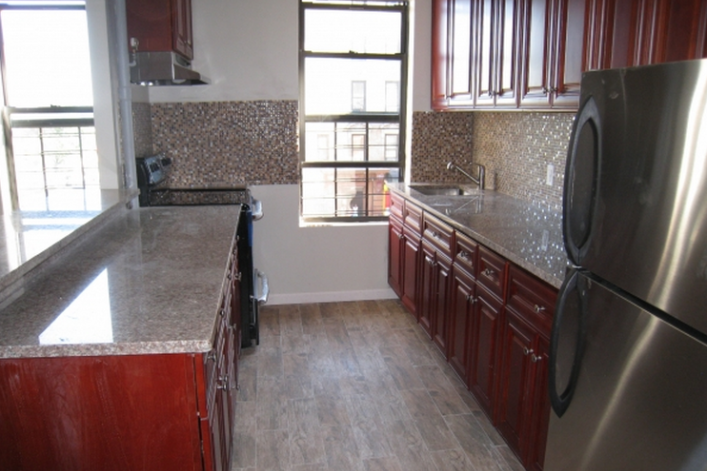 With even unemployed college grads shelling out $1,000 a month for rooms in the city (does anyone know how they're doing this?), $3,250 a month for a four-bedroom in a renovated pre-war—which shakes out to a little over $800 per person—is about as good a deal as you'll find. And this Hamilton Heights corner apartment is especially well-situated for students at City College and other uptown schools.
While it's got a kitchen large enough for some communal meals (and solid storage), though, the single bathroom reminds us all too well of college crash pads we'd rather leave in the past. 
At its newly reduced price, down from $4,000 a month, is this apartment a keeper for the right crew of roommies? Our veteran renters—including RentHackr founder Zeb Dropkin, freelance writer Lambeth Hochwald, and BrickUnderground's own senior contributing editor, Lucy Cohen Blatter—weigh in for this week's Take It or Leave It.
The Apartment:
Size: 4-bed, 1-bath                                         
Location: 501 West 135th Street (between Broadway and Amsterdam)
Cost: $3,250/month
Flexible Layout: No
Days on the market: 21 days
Subway: 1 at 137th Street; B, C at 135th Street; A, B, C, D at 145th Street; 2, 3 at 135th Street; 3 at 145th Street
Pros and Cons:
"There's no mention of an elevator in this listing, so I have to assume there isn't one. And since it's apartment number five, it may very well be on the fifth floor of a walk-up. So, you'd better be in good shape. The price is great for a four-bedroom, and the kitchen is nice and spacious with what looks like tons of cabinet space—so no need to mix your stuff up with your roommates' if you don't want to. It's also close to the 1, B and C trains, which can get you to plenty of other spots in the city relatively quickly." - Lucy
"This is quite a deal for a four-bedroom, breaking down to just $815 per room. But you'll be waiting in line for the single bathroom, and you'll be commuting a long time, too, from this far uptown." - Zeb
"It's easy to fall in love with this corner four-bedroom apartment for the windowed kitchen alone. Who wouldn't want to cook here with its endless counter space, tiled backsplash and spacious cabinet storage? The biggest downside: There's only one bathroom in this apartment which might be challenging for even the best of friends, and I'd want to be sure the apartment isn't too noisy since every window faces the street." - Lambeth
Who would this apartment be perfect for?
"City College students who are looking for a cheap rental. It looks as though the bedroom sizes vary, so you may also be able to offer a range of rents for roommates with different budgets." - Lucy
"A group of students or a tight-budgeted crew that can coordinate schedules and make one bathroom work." - Zeb 
"Four CUNY pals who want to live close to campus." - Lambeth 
The verdict(s):
LEAVE IT "While the price is good, I suspect you could find comparable deals elsewhere in the neighborhood. According to StreetEasy, the median price for three-plus bedrooms in the area is $3,667. And the walk-up just seems brutal." - Lucy 
LEAVE IT "It only takes a few bad weeks of not being able to shower when you need to to realize how important a bathroom is. There's a reason this place has been reduced twice from $4,000 this month." - Zeb
​TAKE IT "Divide $3,250 by four and you have a pretty good deal." - Lambeth
Ready to rent? Check out our How to Rent Guide...and if the apartment you like requires a guarantor that you don't have, see if the landlord acceptsInsurent, a guarantor solution from one of BrickUnderground's sponsors.​
Brick Underground articles occasionally include the expertise of, or information about, advertising partners when relevant to the story. We will never promote an advertiser's product without making the relationship clear to our readers.