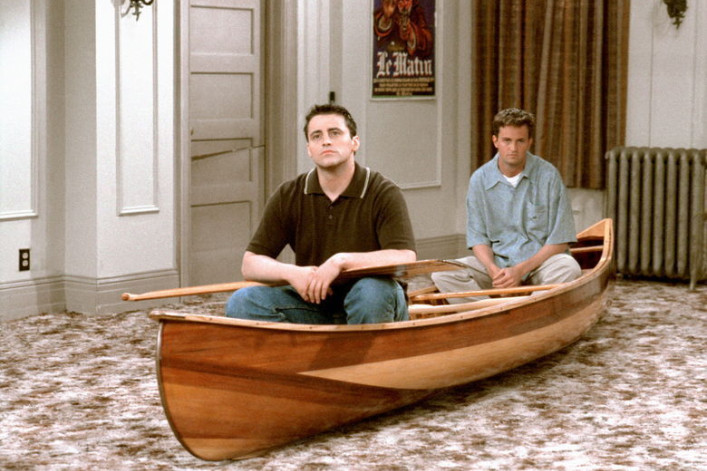 In honor of Roommates Week, we're doing something a little different with our weekly Reel Estate column: instead of focusing on one TV show or movie with a particularly on-point New York apartment, we're taking a look at some of the greatest—and scariest—New York roommates from TV and film. After all, nothing is more ripe for comedy (or tragedy, actually) than an intense roommate relationship.
FRIENDS: Chandler and Joey (and Eddie)
There were a lot of different roommate permutations over Friends' 10-season run, but our favorite combo was always Chandler and Joey. Their "New York" apartment, like everyone else's on the show, was pretty clearly a sound stage, though with its lack of natural light and dingy rug, a somewhat more realistic one than the set for Monica and Rachel's notoriously giant, purple apartment that was supposedly right across the hall. Mostly, though, they had a perfectly symbiotic roommate relationship. Bonus points for the fact that when they temporarily went their separate ways, we got to meet Joey's (extremely short-lived) replacement Eddie, one of the worst roommates—if not the worst roommate—in TV history:
BOSOM BUDDIES, Kip and Henry  
Who hasn't cross-dressed for extended periods of time to lock down a cheap apartment in a single-gender building? We'll take any excuse for early Tom Hanks (and the dad from Girls and Honey I Shrunk the Kids). While getting woken up by a wrecking ball coming through your apartment wall is a little dramatic, we've all had landlords whom we suspect wouldn't have minded kicking us out this or any other way. Anyway, nothing cements a good roommate relationship like an elaborate shared secret.
ROPE, Brandon and Philip
Like we said, nothing cements a good roommate relationship like an elaborate shared secret. In this case, a plan to commit the "perfect murder" in Alfred Hitchock's 1948 movie inspired by the Leopold and Loeb killing. After killing a classmate, roomies Brandon and Philip invite friends (including the victim's father) over for a party at their spacious Midtown apartment which, not for nothing, has an incredible view of the Manhattan skyline from the living room's floor-to-ceiling windows (the built-in bookshelves are a nice touch, too). Unsurprisingly, this dream apartment doesn't actually exist, and was part of a set that had to be wheeled around a sound stage in order to film the movie in one continuous shot. Still, seems like a waste to give it up for prison.
SINGLE WHITE FEMALE, Allie and Hedy
Another unfortunate use of an incredible home: this 1992 classic about an obsessive roommate situation—in which Hedy (Jennifer Jason Leigh) moves in with, tries to become, and eventually tries to murder her roommate Allie (Bridget Fonda). It might be the ultimate cautionary tale about finding your roommate through the classifieds (or on Craigslist), but it also happened to be set in the Ansonia on the Upper West Side—note the marble staircase. The building was also used as the setting for short-lived "Satan as the landlord" drama 666 Park Avenue, and it makes sense: most of us would put up with just about anything, psychotic roommate included, to land an affordable apartment in the historic, imposing corner building that was once the city's most luxurious hotel (and is still one of its most status-cementing addresses). 
ZOOLANDER, Derek, Brint, Rufus, and Meekus
​Before their tragic death in a gas fight, male models Brint, Rufus, and Meekus shared a sick downtown loft with their ringleader Derek Zoolander, complete with exposed brick, room for gym equipment, and a spacious, newly renovated kitchen with lots of counter space for juicing. Most male models are notoriously low paid, but this is early 2000s excess at its finest, and we wonder if he ever found new roommates--or just sold the place off--after their untimely demise.

2 BROKE GIRLS, Max and Caroline
How many struggling Williamsburg waitresses do you know that can pool their minimum wage salaries and cover the rent on an enormous Bushwick apartment with a backyard big enough to fit a horse? And how many landlords do you know would let you keep a horse in that backyard? However inexplicably, this seems to work for "broke girls" Max and Caroline, who both live and work together, and are inching toward a larger, oh-so-timely goal of launching their own cupcake business. Nothing about this show has ever felt realistically New York to us, but they seem to love each other as roommates (and the apartment's awfully nice). 
MIDNIGHT COWBOY, Joe Buck and Ratso Rizzo
Now this is the apartment of a broke person. After meeting ailing city slicker Ratso Rizzo in a bar and failing to find steady income in the city, newly transplanted rube Joe Buck moves into Ratso's apartment in a condemned building. The place is about as terrible as apartments get--complete with makeshift stove, tattered furniture, and lack of heat or running water--and helps to speed up Ratso's health problems (you can understand why his big dream is to move to Miami). When they do eventually skip town to move to Miami together, Ratso dies en route, but Joe doesn't seem to have any intention of heading back to their old apartment. While there aren't exactly a lot of abandoned buildings sitting around New York these days, the movie perfectly captures both a low point in the city's history (it was shot in 1969), and how brutal it can be when things aren't going your way here, living situation included.
DON'T TRUST THE B--- IN APARTMENT 23, Chloe and June
Having a job (or relationship) fall through and having to move in with a less-than-desirable roommate? Check. Lying to a roommate about the cost of an apartment and jacking up their rent? Yep. While the apartment's high countertops, bar seating, and spacious living room smack of a Hollywood set rather than an actual New York home, Chloe ("the b----" in question) and her scam of taking on roommates, irritating them enough that they leave, and hanging onto the security deposit, actually feels pretty real. We're not sure why June--who was forced to move in after her job (and company-owned apartment) disappeared--would stay friends with her after figuring this out, but then, people do what they have to do to hang onto their apartments.
THE ODD COUPLE, Felix and Oscar
There are a lot of iterations of the Odd Couple story, but we love the TV show for all its shots of early '70s New York, and the apartment at 1049 Park Avenue. Fans make pilgrimages to the building's awning to this day (the actual interior of the apartment was shot on a sound stage), though as the Times points out, the building wouldn't exactly work as a crash pad for struggling, newly-divorced bachelors: as of 2012, apartments in the building were selling for nearly $4 million. Moving in with someone then continually haranguing them for their housekeeping habits does seem like pretty poor roommate etiquette, but it's a "mismatched roommates" story for the ages. 
Related:
20 questions: what to ask potential roommates to prove you're compatible
"Seeking employed, 420-friendly young professional": decoding Craigslist roommate ads
Survival tips for roommates: make a match, find a place, keep the peace
Reel Estate: Find the Royal Tenenbaums in Harlem and the Bronx
Reel Estate: Something's Gotta Give and its Hamptons dream house
Reel Estate: Julie and Julie is fine film fare, but the rooftop dinners are all Hollywood
Brick Underground articles occasionally include the expertise of, or information about, advertising partners when relevant to the story. We will never promote an advertiser's product without making the relationship clear to our readers.