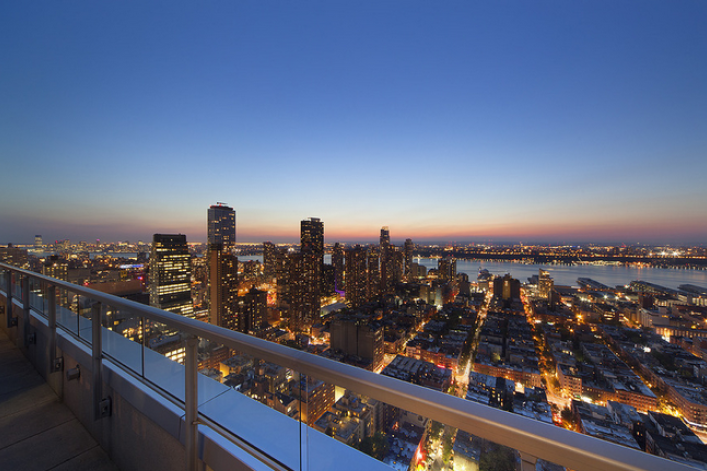 The building: Platinum, 247 West 46th Street, Midtown 
What you'll pay: Apartments for sale now start at $1.35 million for a studio, and go up to $5.5 million  for a three-bedroom. Studio rentals start at $4,500 a month and the four-bedroom penthouse unit goes for a whopping $37,500 a month.
Amenities: Doorman, concierge, outdoor dog run. The building has a floor of amenities called "The Zone," which includes the Recovery Zone, a Zen room with body massage chairs, and soothing video and audio experiences; a fitness center with indoor and outdoor yoga studios, spa treatment room, spa lounge with waterfall, and a golf simulator; a social area with a "social sauna," lounge, and outdoor terrace with stone fireplace. (Amenities are included in monthly common charges or rent.)​ An enclosed garage is an additional $600 per month. 
Which amenities do you swear by?  
Paul: I definitely don't swear by anything. I think the lobby is beautiful, but I spend maybe two minutes in there every day. That's the most actively I use any of the amenities though. ​
Diania: I like the doormen a lot, they're very polite to my mom, who visits a lot. I also really like the terrace, though I haven't been out there much lately. 
Cordelia: Honestly, I just like saying I live here. That's the biggest amenity of all to me. It just makes me feel sort of regal, like New York royalty. Everyone has heard of this building, everyone passed through this neighborhood. I feel like I live in the center of the world and that's amenity enough for me.​
Carina: I like the doormen, they always make me giggle. Plus they're really organized. I've never had issues with packages. I personally don't golf, like real-life golf, but I have tried the simulator and it's fun. The fitness center is very serene. The sauna is cool, but I think it's silly they call it the social sauna. It's just a sauna. I don't think people talk in it. Or maybe just they don't talk to me. ​
JT: I just started living here but I haven't experienced too much yet.  I think it's all quite nice though, they're known for that stuff. I haven't heard any complaints. 
Which do you never use?
Paul: I haven't really used any of them actively. On my first day I popped into all of them to make sure they're there but I don't live here full time, I travel a lot, so they get kind of neglected. 
Diania: I don't have a car, or do any storage. I also haven't tried the yoga. I am a member of another studio.​
Cordelia: Honestly, I use everything that applies to me. I don't have a car or a pet so that really isn't my thing. Also I'm not very Zen so whatever a Zen room is seems silly to use. 
Carina: I haven't tried the Zen or massage, and I don't really have any use for a concierge. ​
JT: Even though I'm new, I know I'll never use anything with the word "Zen" in it. ​
Anything surprise you?
Paul: I'm surprised how much I hate having a mortgage.
Diania: No, I think they try really hard to describe it just how it is. 
Cordelia:  I was sort of surprised by the people here. Everyone seems so fancy and important. Makes me feel more important even though I'm so not. 
Carina: I feel like it's all like they said it would be. 
Did the amenities draw you to the building?
Paul: I think they drew me in but the views were more important; they're beautiful in every direction. 
Diania: Yeah, I liked them. 
Cordelia: I probably would live here even if it weren't so over the top, but they did. 
Carina: Sure, they drew me in. I think they would draw in anyone. 
JT: I liked the neighborhood, the amenities followed. 
Related:
Bocce Ball, Saturday Cartoons and Adult Swings: Castle Braid Renters Size Up Bushwick's Luxe Artist Collective
At Arias Park Slope, a "disturbingly clean" yoga room but subpar staff
Sweet Caroline: Renters at West 23rd St. building gush about staff, skip the pet concierge 
Amenities: icing on the real estate cake 
The technology concierge...and 6 other amenities we'd like to see
Brick Underground articles occasionally include the expertise of, or information about, advertising partners when relevant to the story. We will never promote an advertiser's product without making the relationship clear to our readers.