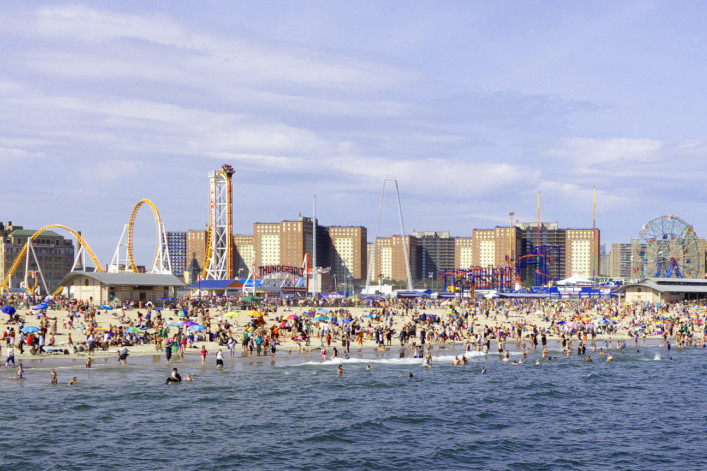 Coney Island—birthplace of Nathan's, and land of carnival rides, boardwalks and beaches—is also home to thousands of New Yorkers. On the other side of the amusement park, you'll find low-rise buildings, mom-and-pop stores, and several large public housing developments. 
A low-lying area, it was flooded during Sandy, but the city and local developers have been working to repair the damage. In fact, Coney Island is undergoing a transformation—its own version of hipster-ification, if you will—with the installation of sleek new roller coasters, a planned 5,000-seat amphitheater and a new brewery for the neighborhood's namesake beer. 
But what's it like to live there year-round? We spoke to residents to find out what life is really like in the "People's Playground."
---
Neighborhood boundaries: Ocean Parkway to the Sea Gate, and from the Belt Parkway to the waterfront. 
Median sales price: $503,000
Median rent: $1,972
---
Living in an amusement park isn't always fun: "I think people, when they move here, they need to understand they live in an amusement park. So it will be very quiet in the winter, very loud in the summer, and always people lost." - Joseph, 31, rents a two-bedroom with a roommate "In the summer, the fireworks at night only last about 20 minutes. They seem annoying at first, but they g​o by so fast. ... Don't go on Mermaid Avenue at night. It's scary." -Vladimir, 42, rents a one-bedroom "Never eat a Nathan's hot dog. I got food poisoning there twice." - Wanda, 22, lives with her parents in a three-bedroom apartment they own 
Skip the hot dogs and funnel cakes: "If you go over to the boardwalk, there are old Russian women selling pieroshki. They are like a big donut, but some have meat inside, and others have cheese or jelly. One woman, she always wears a headscarf, she sells them for 75 cents apiece. Those are the best ones." - Vladimir "I always see people at Nathan's ordering oysters, and they are crazy. For oysters, don't go to a hot dog stand. There are so many good oysters in Coney Island and most of them cheap. At least, much cheaper than the city. Even cheaper than the rest of Brooklyn. Places like Ruby's, the Surf and Turf. Those are very good. Plus, their dipping sauces are better." - Joseph
Forget the Yankees (and the Mets): "Brooklyn Cyclones [minor league] games, are so fun. Not expensive and they feel very all-American. And they're so much cheaper than going to a Yankees game or something." - Tanya, 28, shares a two-bedroom rental "We always do our date night in the summer at the Cyclones game. It really is very fun. The stadium is great too, never that packed." - Joseph
Visit the museum: "The Coney Island Museum is really cool. Their exhibits usually change and in the summer, it's very quiet. Everyone just wants to go ride the rides, so you can have the whole thing to yourself on a weekday." - Alecs, 48, rents a one-bedroom "If you're a Coney Island resident, the Coney Island Museum is just three bucks for admission [$5 for everyone else]." - Wanda
​Leave plenty of time for the commute: "Always leave a half hour before you think you have to if you go into Manhattan. Trains always stall out there. ... I prefer to bike, but if I ever have to deal with a cab, I just call a car service. It's easier, and you should try to get one with a hub near you so they don't get completely lost." - Alecs "I don't think I even see taxis out here." - Tanya "Taxis get lost out here so they eat up time and money. ... The N, Q, R is either your worst enemy or your best friend. Some days, it's perfect. Other days, it will sit on the track for an hour." - Wanda
The effects of Sandy weren't all bad: "I think, especially since Sandy, people are more excited to come out here. We had such a big rebuilding boom since then. Everything seems new and shiny even if it isn't. This construction was because of a storm, but it feels a little like gentrification because it has brought so many new people. ... The residents here, we are very particular about the history of the place. We don't really like all the new development, but it's hard, because it keeps us alive and makes it much safer." - Vladimir "I think it feels more safe and the community is getting closer. During the hurricane, we all got much closer. The hurricane didn't gentrify us, but it made lots of things have to rebuild, and they look very nice now. So now more nice businesses want to open, and it spruces up everything." - Wanda
Related: 
9 things you don't know — but want to — about Crown Heights  
Single dads, chirping birds and tacos: Nolita's charms go beyond Italian food
New Yorkers who live near Times Square: Crazy or onto something?
Ridgewood: The dirt cheap, radioactive Queens nabe that may be the next Greenpoint
​Living in Battery Park City means free transit, no lines at Shake Shack and lots of puppies
Brick Underground articles occasionally include the expertise of, or information about, advertising partners when relevant to the story. We will never promote an advertiser's product without making the relationship clear to our readers.