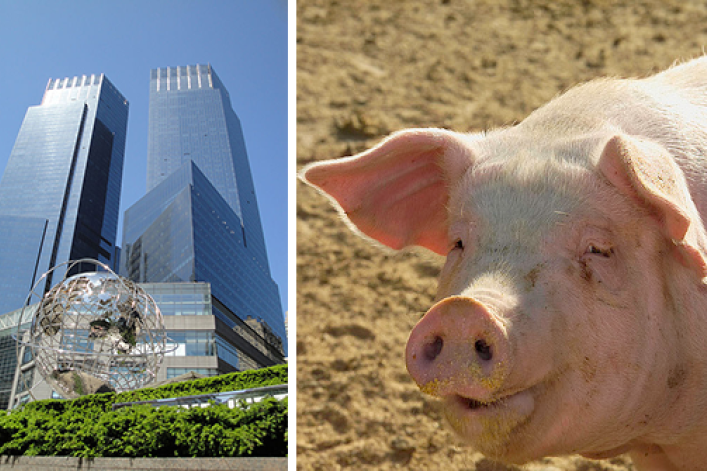 It may be pricey, but a luxury Manhattan condo is a comparatively solid investment in today's market, especially if you're willing to hold onto it. That's the takeaway from a Wall Street Journal article that stacked up the prices of condos at 100 of the best-known buildings in the city versus the returns from stocks and commodities like gold, crude oil, coffee and hogs.
Since mid-2004, the price per square foot of a condo at these blue-chip buildings—like the Time Warner Center, 15 Central Park West and One Madison—rose an average of 6.5 percent per year, according to figures from real estate data site CityRealty cited by the Journal. That's compared to a 5.56 percent gain for the S&P 500 stock market index. In the short term, this could seem like a relatively small return on your investment: if you'd bought gold futures, you'd be looking at an annual return of 12.91 percent; 11.02 percent for crude oil; 9 percent for coffee; and 5.34 percent for hog futures. 
But even though condos don't necessarily have the highest immediate payoff, they're seen as a relatively stable investment, compared to prices for coffee, for example, which can vary wildly. "The consistency of New York City real estate is something that is really hard to match," Pete Culliney, a data analyst at CityRealty, told the Journal. If you're playing a long game, these properties are the smarter buy.
Of course, there are all sorts of caveats here: for one thing, it depends on what kind of condo you buy, when you buy it, and when you sell it. And most people are going to be a little more emotionally invested in a home purchase than, say, the acquisition of pounds of wholesale pork. But at a time when the average Manhattan condo is fetching upwards of $1.68 million, it's a relief to know that your apartment buy could someday, ahem, bring home the bacon.
Related:
Condo or townhouse: which is a smarter buy?
Buying in Manhattan? Don't expect to haggle
Buy smart and your monthly charges will be manageable 
Brick Underground articles occasionally include the expertise of, or information about, advertising partners when relevant to the story. We will never promote an advertiser's product without making the relationship clear to our readers.