Perk Check
Bocce ball, Saturday cartoons and adult swings: Castle Braid renters size up Bushwick's luxe artist collective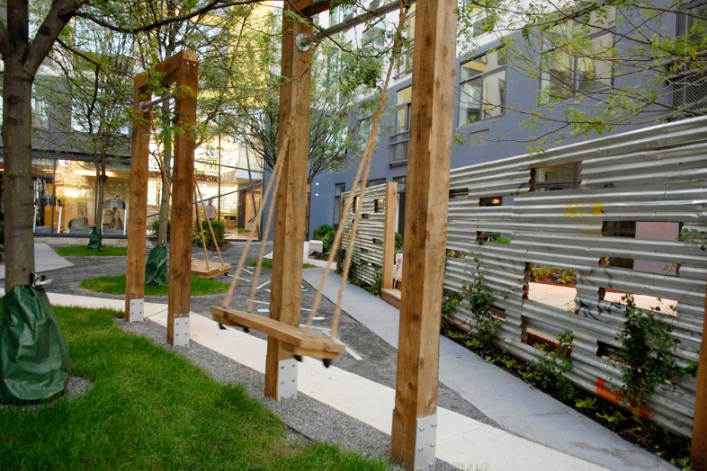 The building: Castle Braid, 114 Troutman Street, Bushwick, Brooklyn
What you'll pay: Rentals currently available start at $2,400 a month for a one-bedroom and go up to $2,865 for a two-bedroom.
Amenities: Gym; screening room which hosts Saturday morning cartoons, movie nights and artistic movie screenings; game room which includes ping pong, foosball, video games, and air hockey; communal spaces including office space; digital media lab; courtyard with wooden swings and deck; roof deck with dog run, bocce ball, communal graffiti wall, and urban garden. All amenities are included in the cost of rent. 
Which amenities do you swear by?  
Aminata: The courtyard rocks: it's beautiful without being too overgrown. It has really good energy.
Veronica: So, when I first moved here my boyfriend [Alnaldo, quoted below] and I thought, "Hey let's move in and make some cool friends in Brooklyn." When we moved, we used everything. If it was there or on the calendar we would try it, and if it wasn't on the calendar, we would try to add it, like movie showings of crap movies. But now we have jobs and friends. So we don't bum around the place as much.
Alnaldo: Yeah, we really did give everything a shot. I still use the gym, it's really nice and super empty on weekends, which I like.
Joseph: Nothing. I try not to leave my house. Have you seen this place? This place is weird. I got it as a sublet through a friend of a friend and I get to move out Aug. 1. I'm moving to the Upper East Side because I need to get to the exact opposite of this. 
Merille: The outdoor games are my favorite. Bocce ball, swings, hammocks, everything like that. It feels very suburban and cozy. Also I'm really good at bocce ball, so it's kind of my thing. 
Which do you never use?
Aminata: The gym and movies. There's nothing wrong with those amenities, but they just aren't stuff I need in my life.
Veronica: I don't use anything now. I'm barely ever home. I really, really don't use the community board or the calendar. I feel like people still do though, but it's not for me.
Alnaldo: There are so many things you think of as perks at first but then you realize are just silly. I'm a grown man. What do I need with a wooden swing?
Joseph: I use nothing.
Merille: I don't really ignore any of it, I just use it as I need it. I'm not sure I will ever get too much use out of a swing, but who knows, have some beers, maybe I'll want to be on a swing. No need to exclude anything. 
Anything surprise you?
Aminata: No, I think it's about what I was picturing. More good parties, I guess. 
Veronica: It's just so much money. Compared to what other people pay around us, we are getting killed with rent and cabs to get out here. 
Alnaldo: The people are really surprising. It's sold as an artist commune and I think people want to think of themselves like that, but they're all bros who work for Google or Etsy or something. I can't talk. I work for a start-up too. But at least I don't think I'm an artist because of it.
Joseph: I think it's the only building with a Twitter dedicated to hating it. So at least I'll always have that. 
Merille: Not really. I guess my bocce ball skills are pretty surprising. Do you want to play? 
Did the amenities draw you to the building?
Aminata: Not completely, I was more into the vibe here.  
Veronica: The community aspect did.  
Alnaldo: I think we both wanted a place that came off as cool and neighborly. We weren't as worried about the actual look of the gym.
Joseph: No. I just needed a place to live for four months.
Merille: They won me over. 
Related:
At Arias Park Slope, a "disturbingly clean" yoga room but subpar staff
Sweet Caroline: Renters at West 23rd St. building gush about staff, skip the pet concierge 
Residents of FIDI's 25 Broad: "For this kind of rent, bring on the excess"
Amenities: icing on the real estate cake 
The technology concierge...and 6 other amenities we'd like to see
Brick Underground articles occasionally include the expertise of, or information about, advertising partners when relevant to the story. We will never promote an advertiser's product without making the relationship clear to our readers.