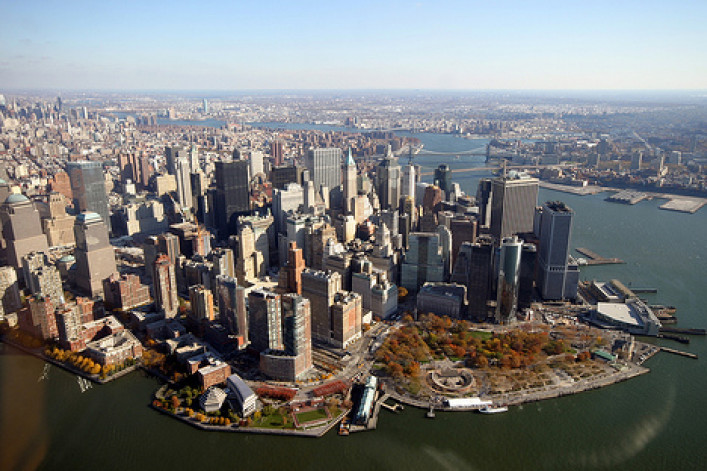 Online quizzes are everywhere these days, but one particular iteration caught our eye: the version that goes something like, "Which NYC neighborhood are you?" While these multiple-choice tests are less than scientific, to say the least--more questions focus on facial hair than budget--they're definitely worth three minutes of your time on an endless day at the office. 
Below, three of our favorites. And, in the name of quality journalism, our verdicts on their accuracy on a scale of 1 to 10 (with 10 being the most on-point). Spoiler alert: Don't pack your bags just yet.
1. Thrillist's "Which NYC Neighborhood Should You Live In?"
Overall accuracy: 7
This quiz asks silly questions like your favorite player from the 1993 Knicks (only choice: John Starks) and what you want to eat right now, as well as some more practical ones (like what you do for a living).
Our results:
Lucy, Upper East Side: "I got the West Village, and I'd be happy to move my young family to that neighborhood from decidedly less-hip Yorkville. But I didn't check off 'banker' or 'trust-funder' as my occupation, so not quite sure why I got that one." 
Virginia, Bed-Stuy: "I got Williamsburg, even though I put myself down as anti-beard and anti-brunch. But if someone else were paying the rent, sure, I'd do it."
Leigh, Ditmas Park: "I got Park Slope, which is not so crazy, considering that I lived one avenue over in Gowanus for years. But it's hard to believe that I'd wind up here, considering I don't have any little ones in tow (and that was one of the questions)."
2. Time Out New York's "Which New York Neighborhood Should You Actually Live In?"
Overall accuracy: 8
This quiz asks fundamental questions like "Why do you love NYC so much?" and "How do you pay your rent?" Then there are sillier ones, like "Who's your New York spirit animal?"
Our results:
Lucy: "Somewhat predictably, I got Park Slope.  I spend a lot of time with the under-five set, so it's not exactly a stretch."
Virginia: "I got Astoria this time (though I got Williamsburg the first time I took this, so who knows). It'd definitely be a good fit, but in this case, only if someone else were paying for an unlimited number of cab rides every month."
Leigh: "I got Astoria. I could definitely see it."
3. BuzzFeed's "Where Should You Actually Live in NYC?"
Overall accuracy: 6
The website that has perfected the art of the Internet quiz has a Gotham-specific version that's pretty practical, with questions like "What do you like to do in the park?" and "What sounds like the most fun thing to do at night?"
Lucy:  "I got Fort Greene, which is so pretty, and family-friendly, and I sure wouldn't mind one of those brownstones. Maybe I SHOULD move to Brooklyn from Manhattan after all..."
Virginia: "I got Greenwich Village, maybe because I put that my preferred mode of commuting is walking? But everywhere I commute to (other than work) is in Brooklyn, so this might not make the most sense."
Leigh: "The Lower East Side, huh? This doesn't seem quite right; I don't think I could ever perfect that slouchy swagger and artful bedhead required of living there. That said, there are worse places I could be if I moved to Manhattan."
Related:
Neighborhood Secrets column -- where locals bare it all
12 of the best NYC neighborhoods for recent college grads: 2014 edition
9 NYC neighborhoods where you can still get a bargain
The must-reads: 22 essential New York neighborhood blogs
Brick Underground articles occasionally include the expertise of, or information about, advertising partners when relevant to the story. We will never promote an advertiser's product without making the relationship clear to our readers.