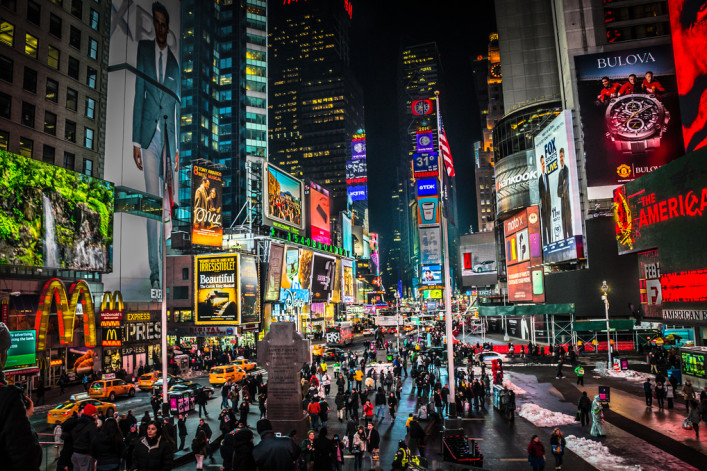 Some 360,000 people walk through it every day. It's got the city's highest concentration of theaters, hotels and chain restaurants. Pedestrians move with the speed of sludge, and the main drag is bathed in an electric glow at all hours of the day and night. So why live near Times Square?
Plenty of reasons, according to those who've done it. Below, residents of Times Square and the surrounding area reveal why it's actually pretty great to live near Manhattan's most beloved eyesore.
---
Neighborhood boundaries: roughly from West 40th Street to West 53rd street and Sixth to Ninth Avenues
Median sale price: $1.19 million
Median rent: $3,550
---
1. Bright lights, no problem: "You get really used to the lights if your apartment is close to them. I don't even see them anymore. I can fall asleep on top of a light bulb if I have to." - Ben, 41, rents a studio alone
2. Free comedy shows aren't the only deals: "On the west side of 44th Street on the square, there's a hot dog guy that gives crazy deals to the locals. He once gave me five hot dogs, a Diet Coke and a pretzel for $5. It was right after we bought our apartment and he thought he were insane to live here forever, so he gave us a treat. I still get free pretzels sometimes." - Josephine, 36, owns a one-bedroom plus office with her husband, Talley, 32
3. The best food comes from places you're ashamed to eat in:  "I like Guy Fieri's new restaurant. I have no shame. It is delicious. I'm from Louisiana, so it makes me feel very at home." - Talley "I need you to withhold judgment on this, but Red Lobster is actually pretty delicious." - Coss, 23, rents a three-bedroom with two-roommates "The Lace Gentlemen's Club has really good lobster dishes. And they're a fraction of the price of other places in the neighborhood. I don't even like women, but I deal with the naked ones to go there and eat the food." - Denny, 31, rents a one-bedroom alone
4. Hanging out with tourists is better than therapy: "The hotel bars are really fun. I know they are all kind of generic, but Times Square hotel bars are a special breed because you will literally be the only New Yorker there. It's like being the most popular kid in class. Always a self-esteem boost." - Ben
5. No strollers, no stress:  "For couples that don't want to have kids, it's kind of a dream neighborhood. I never had to see a baby or deal with school children." - Talley
6. Your neighbors aren't boring: "The Naked Cowboy is in a fight with the Naked Cowgirl. They bicker, a lot. Usually early in the mornings by the N, Q and R train station." - Coss "All the dressed-up characters load up on subway churros on the weekends--you can see them go in there with their [costume] heads on, then come back up the stairs stuffing churros in their faces and carrying their heads. It's probably very unnerving for kids to see that." - Ben
7. But it's not always crazy: "In the mornings before work, it's the calmest place in New York." - Denny
8. This is the birthplace of gentrification:  "I've been following the story of the Times Square characters [a move to license and regulate the costumed performers] and that's really perfect gentrification to me. Twenty years ago, muggings happened where the guy dressed as Elmo is taking pictures with kids." - Ben  "Times Square is historically the gentrification capital of the world. I remember stories about the shootings and the theft, and now I give tourists directions to Olive Garden." - Denny
9. Taxi tricks: "Go to any hotel and pretend you're staying there." - Talley "I go over really far west, like 10th Avenue. It's a walk but it's worth it to escape the traffic." - Denny
10. Trains are hard to beat: "The trains here are great. You have every option, and because of that, something is always running on time." - Talley "It's the safest train hub in the city. I always see officers and the guard dogs walking around." - Josephine "The crosstown trains aren't very timely, but the N, Q, R is a lifesaver." - Ben "The buses suck. They never even make all the stops they're supposed to make [because they're packed full of confused tourists]" - Denny
Related: 
Ridgewood: The dirt cheap, radioactive Queens nabe that may be the next Greenpoint
​Living in Battery Park City means free transit, no lines at Shake Shack and lots of puppies
Brick Underground articles occasionally include the expertise of, or information about, advertising partners when relevant to the story. We will never promote an advertiser's product without making the relationship clear to our readers.