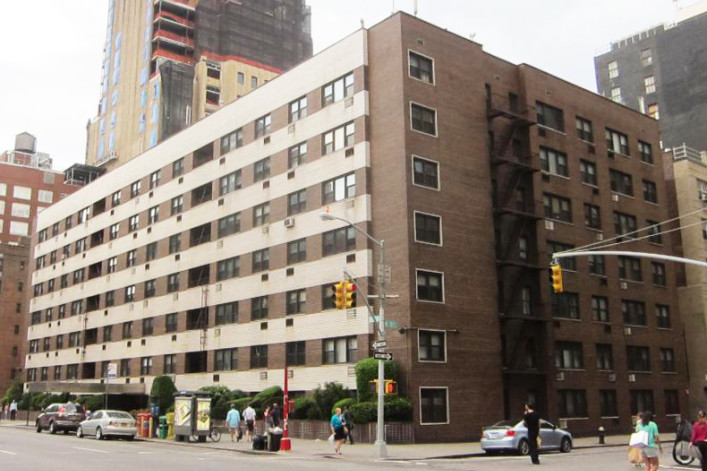 In this edition of the PropertyShark Foreclosure Spotlight, we're examining a Chelsea condo that failed to sell at a foreclosure auction and is now owned by the bank, known as a real estate-owned, or REO, property. This apartment could be yours for less than it's worth,  but should you put in a bid? A look at the detailed property report from real estate data powerhouse PropertyShark.com may help you decide.
---
The basics:
Address: Chadwin House, 140 Seventh Avenue, Apt. 5P
PropertyShark property report: For basic information, click here. To unlock a free comprehensive report, register first, then click here.
Size: 620 square feet; likely a one-bedroom
Building: seven-story, 109-unit post-war elevator condo with 31 commercial units
Most recent sale price: U.S. Bank bought it for $715,000 in April 2014
Foreclosure type: Unpaid mortgage
Past lien amount: $895,320
---
The facts:
As we covered in more detail last month, REOs are properties owned by a lender, such as a bank, government agency, or government loan insurer, that never sold at auction, either because the lender didn't get the minimum bid, or for other reasons. Buyers can often get them at a discount because banks are eager to get them off their books. For more REOs available in the city, check out PropertyShark's database of foreclosures and click on the REO tab.
In this case, the owner of the Chelsea condo bought it in 2005 for $721,000, and took out a mortgage for a total of $684,000, public records show. By 2006, he'd borrowed $850,000, and by 2008, the bank had filed a lis pendens against him, indicating that he wasn't making mortgage payments, as you can see in Section A10: Sale & Property History on the PropertyShark property report.
A total of six foreclosure auctions with two different banks were scheduled for this apartment between 2010 and this past April, as you can see in Section A8: Foreclosure. The most recent lien amount was for $895,320, which gives you some idea of what the bank was trying to recoup. Ultimately, U.S. Bank bought the condo for only $715,000--about $6,000 less than the purchase price in 2005.
What else you need to know:
1. This could be a great deal
Since this is a REO property, you'll have to make the lender an offer for it. But depending on what the bank will take, you could still get a pretty good bargain. 
To get a sense of how much to bid, run a Comparables search by clicking on the tab in the upper right hand corner. This will pull up the sale prices of condos in the building and the area, as well as when they sold. Also, you can see in Section A6: Comparable Sales in Building that the apartment directly downstairs--a 620-square-foot one-bedroom, one-bathroom unit--sold for $850,000 in March.
Along with details on the lien amount and most recent deeds, the property report also has information on title documents, building permits, code violations and the neighborhood, so you can be as informed as possible about what you're bidding on--and justify your offer.
2. Details on putting in a bid
Since it's owned by a bank, you'll have to contact the institution directly to bid on this condo. (A quick online search for U.S. Bank returns helpful contact details which can be used to pursue the potential deal.)
Also, keep in mind that if you're looking to buy a distressed property like this one, consulting an experienced attorney or specialized broker is a very smart idea. The plaintiff's attorney for the foreclosure process, listed in Section 8. Foreclosure, can also be contacted for additional information.
3. What shape is the condo in?
Many REOs are sold vacant, meaning they can be in all sorts of different conditions, and since this condo is not on the market, you won't get a traditional open house. Contact the bank to see if you can view the property before submitting a bid.
Also, Section B2: Building Contacts provides contact details for condo board members and property managers at the building--a great resource for information on the condition of the apartment. 
---
PropertyShark.com is a real estate website that provides in-depth data for more than 75 million properties in New York City, Philadelphia, Los Angeles, San Francisco Bay Area, and other major U.S. markets. The company covers most of the U.S. with a primary focus on the New York real estate marketplace. Click here to see what services and data are offered in your area.
More from PropertyShark.com:
Attention buyers! This Midtown condo could be yours for cheap
Heads up, buyers! This Midtown West co-op could be yours at a steep discount
This Tudor City co-op could be yours for cheap
Map of the Month: Unearth foreclosures and pre-foreclosures across NYC
QuickTip: How to check for liens before you make an offer (and why you should)
How to buy an apartment that's not for sale
How to find the real owner behind an LLC
Brick Underground articles occasionally include the expertise of, or information about, advertising partners when relevant to the story. We will never promote an advertiser's product without making the relationship clear to our readers.