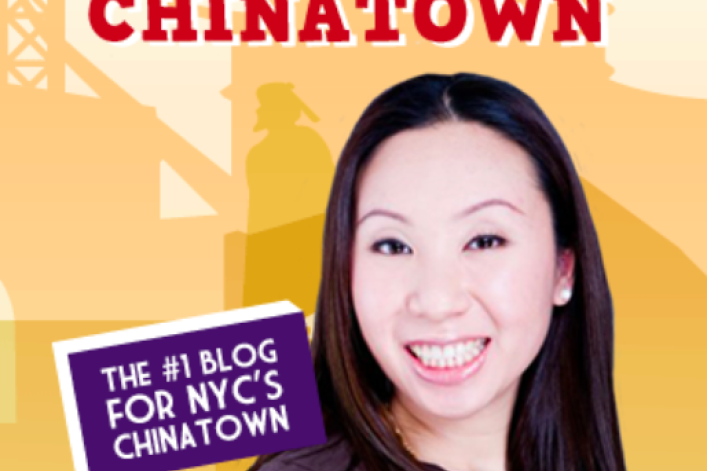 One of the best ways to get a feel for a place is by reading a neighborhood's blog. In our Confessions of a Neighborhood Blogger series, we spoke to the writers who chronicle the controversies, preoccupations and happenings of their chosen slice of the city. Now, we're checking in again to see what's changed, what's stayed the same, and what's the story dominating every street corner. 
The co-owner of the Chinatown Ice Cream Factory, Christina Seid is also the driving force behind Christina of Chinatown, a blog that covers restaurants, shopping, politics and other goings on in its namesake Manhattan nabe.
Seid is a third-generation Chinese American, who grew up in the "outer boroughs" and now lives in Queens (though she wouldn't say where).  As a kid, she spent loads of time in Chinatown--her grandparents lived there--and now goes there daily to work at her ice cream shop and with various community groups, including Chinatown Youth Initiatives and the Young Adult Leadership Team for the Greater Chinatown Community Association.
Since we last checked in with Seid in February 2013, Chinatown has seen an even greater influx of new residents and real estate developments. What else has happened? We asked her for the rundown:
What's it like to blog about a neighborhood you don't live in?
It is easy. Because even if I am not working I am always in the neighborhood. I am more or less there every day or aware of what is going on.
What major changes have taken place in the last year and a half?
There has been a surge of new hotels popping up in the area. Be Hotel, Howard Johnson, Sheraton and Best Western have all opened in Chinatown. And there is another new hotel being built on top of the Jing Fong dim sum restaurant on Elizabeth Street.
The gentrification of Chinatown is continuing. There are more and more non-Chinese people moving in. The hipster generation seems to be moving in, too. One major change is that the Chinatown Fair Family Fun Center arcade re-opened with a different crowd of customers. It used to be a rougher crowd and there were kids cutting school, which was a complaint of the community members, but now it is very kid-friendly and you see a lot of families going in, which is really nice. 
What recent restaurant or store closures surprised you?
Mercury, part of a chain of boutiques that sold linens and housewares, went out of business even though it had a prime location on Mott Street. The video game shop J & L Game Trading  on Elizabeth Street closed. It was there as long as I can remember. The restaurant Hsin Wong on Bayard Street also went out of business, but the group continues to maintain their other restaurant down the block, Yee Li.
What new places should we check out?
Breakroom, a burger joint. It's a new generation of Chinatown with not just Chinese food. There are also Korean spa product boutiques popping up all around Chinatown. Chinese people love Korean spa products. Nature Republic, a Korean cosmetics and beauty shop on Centre Street and Face Shop, a higher end beauty shop (think Korean Sephora) on Elizabeth Street are both great. There was also a new street art graffiti mural put up on Allen Street that is pretty cool. Also Citi Bikes are located conveniently all over Chinatown, which is a perfect way to get around in the summer.
What's your best advice for neighborhood newbies?
Walking tours are always helpful to learn about a neighborhood. They should read my blog as well!
Last time, you said the main real estate controversy in Chinatown was all the real estate development and corresponding rise in prices. Is that still an issue?
Yes. Small two-bedroom apartments are outrageous. I recently saw on StreetEasy a 983-square-foot apartment at 50 Bayard Street listed for $1.175 million! And another small apartment at 148 Madison Street for $780,000! 
What are the current controversies?
Not exactly new but increasing are the number of Chinatown buses. The long-distance bus lines run all over the country and bring heavy pollution to the neighborhood. On one hand they are very accessible and affordable forms of transportation for everyone, but they bring a lot of pollution, traffic and noise.
Any other new developments that seem out of place?
I would say architecturally all of the new high-rise hotels are changing the landscape of the community. People want to preserve the integrity of the Chinatown space but also rely on tourism to make a living.
What's Chinatown missing?
I think it would be cool if Chinatown had an official gate. As far as I know we are the only Chinatown without a gate. Tourists are always looking for it. 
What could Chinatown do without?
We could do without the street closures on Park Row. Park Row was closed after 9/11 and it has hurt a lot of businesses. The closure blocks off the area and stops a good number of people from coming into the neighborhood.
Related:
Confessions of a Neighborhood Blogger
The biggest misconception about Chinatown is that it's cheap to live here
The must-reads: 22 essential New York neighborhood blogs
Brick Underground articles occasionally include the expertise of, or information about, advertising partners when relevant to the story. We will never promote an advertiser's product without making the relationship clear to our readers.