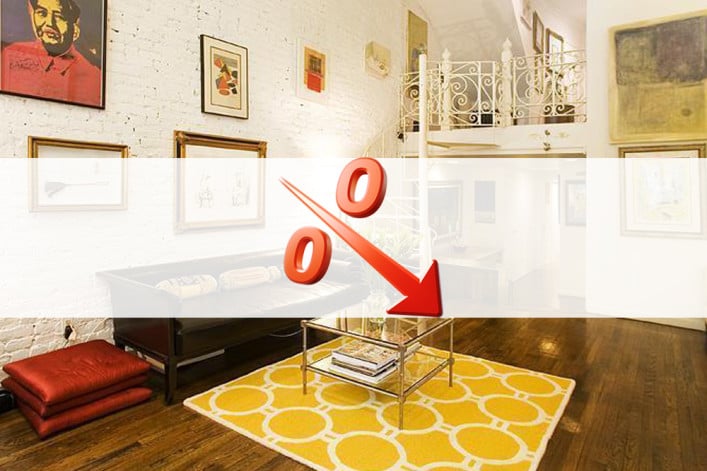 With New York City real estate prices hovering around record highs, stretching every dollar is the name of the game for buyers – and the lowest possible mortgage rate will help you reach the furthest.
"Borrowers are always looking for the lowest rate for their mortgage," says Brittney Baldwin, vice president of National Cooperative Bank. "Overall mortgage rates are historically low--but there are a few strategies to lower your rate even more."
1. Add to your down payment: Putting 25 percent down versus the traditional 20 percent will shave about an eighth of a point off of your mortgage rate. "Be sure to ask your lender how much you can save this way," says Baldwin.
2. Pay your bills on time:  "Nothing says low-risk borrower like a credit score of 720 or higher," says Baldwin.
3. Buy points:  When you "buy points," you pay a fee to the lender when you close the sale in exchange for a lower interest rate.  A point equals 1 percent of your mortgage amount—so if you're borrowing $500,000, you'd pay $5,000 to lower your rate by whatever amount your lender is offering. These days, it's typically a discount of around an eighth of a point.
"Buying points usually makes sense only if you have a larger loan" says Baldwin. "But each situation is different, so you have to run the numbers to figure out how long it will take to break even and if it makes sense to come out of pocket with additional funds."
4. Get an adjustable-rate mortgage (ARM): Rates on ARMs—loans where the interest rate remains fixed for the first five, seven or 10 years, then adjusts annually up to a set cap—can be quite attractive compared to a 30-year fixed-rate.  
"Right now, for example, National Cooperative Bank has amazing rates on ARMs with 20 percent down," says Baldwin. "I have a five-year ARM at 2.675 percent, a seven-year at 2.875 percent, and ten-year at 3.75 percent.* That's about a half to 1.5 percentage points lower than our rates on 30-year-fixed loans, which are around 4.25 to 4.5 percent right now."
Borrowers may be interested in ARMs for the lower rates--especially if they don't plan to be in the same unit for a long time.
5. Shop around: Rates for 30-year fixed-rate mortgages that meet Fannie Mae requirements tend to be pretty much the same from lender to lender. But shopping around can pay off if you need a jumbo loan (above $625,500) or if your loan falls outside Fannie Mae guidelines for other reasons.
For example, "if too many units in the building are owned by the sponsor or you are looking to finance an investment unit you should definitely compare prices," says Baldwin. 
*Specials are for co-op and condos only.  Must be primary or second home.  Loan amounts up to $2.5 million.  Property must be located in one of the five boroughs. Minimum LTV and FICO scores apply and are based on NCB policy.  Banking and financial services provided by NCB, FSB, a wholly-owned subsidiary of National Consumer Cooperative Bank. Member FDIC.   Equal Housing Lender.
---
Brittney Baldwin (646-201-4714) is vice president at National Cooperative Bank in Manhattan. 
More from National Cooperative Bank:
Get the 411 on financing an investment property 
Top 12 questions New Yorkers ask their mortgage bankers
Buying, renovating or refinancing next year? 5 mortgage trends to watch in 2014
4 good reasons to refinance your super's apartment
Brick Underground articles occasionally include the expertise of, or information about, advertising partners when relevant to the story. We will never promote an advertiser's product without making the relationship clear to our readers.