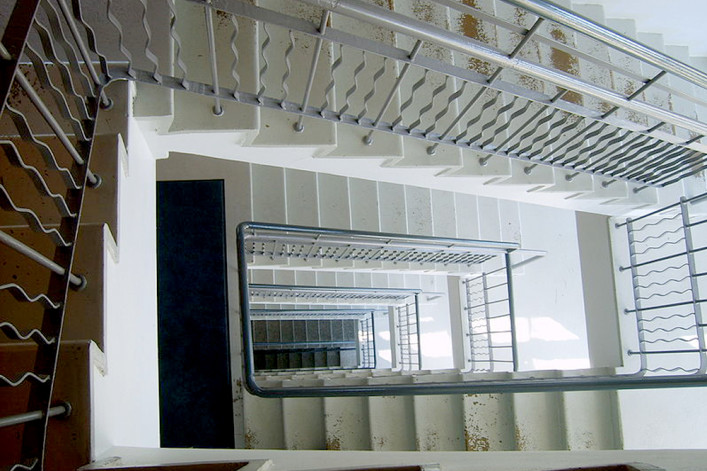 Adding an elevator to a walk-up building, a dryer that actually works and a dripless bathtub: five New Yorkers share their apartment fantasies.
Way too much walk-up When we were first looking for an apartment, of course we didn't want to be on the top floor of a five-floor walk-up--in a building that is on top of a hill! But the price and location and apartment itself were so good, that we decided to go for it. We thought, "tons of people live in walk-ups, how bad can it be?" Well, it's bad. If I could change anything, it would be to retrofit an elevator into this building somehow. - Shane, Harlem
I hate my washer/dryer I hate the laundry situation in my apartment with a passion! I know I can't complain because at least I have a washer/dryer. But the truth is, this stupid, all-in-one, ventless unit is horrible at doing laundry. I guess the washing part is okay, but when it tries to dry the clothes, all it does is heat up the clothes like it's an extremely hot oven. I can't even touch the clothes right after the "drying" cycle! The clothes just get less wet, but they are still damp after something like two hours of drying! So of course, things don't smell that great either. There's a faint smell of mold on the clothes, I feel. If this were my apartment, not a rental, I would have gotten rid of this a long time ago. - Pauly, Upper West Side
(Water) waste not, want not There is a constant leak in my bathtub faucet that drives me crazy. The lever of the bath has always been really bad, but I didn't notice the drips in the first few weeks after moving in. It's been several months now, and I guess with all the use the bath has been getting, the drips have turned into a constant, weak stream. The landlord has been notified, but he still hasn't done anything about it. I don't have to pay the water bill, so I guess it should be no skin off my nose. But I can hear the water flow, and it breaks my heart. Such a waste! -Joe, Queens
Cable jungle My building wasn't wired for Internet or cable, so when the guys came to install, they had to drill a hole through the window frame and run a line along the side of the building from the living area up to the roof. It looks horrible! I'm so embarrassed to show my friends and relatives from Europe this dumb solution that the cable company has come up with! -Katrin, Harlem
Pick a floor, any floor! We had gorgeous natural wood floorboards installed all throughout the "common areas" of the apartment. The bedrooms, however, still have that horrible laminate flooring and so does the kitchen. But the previous owners had already installed dark wood laminate floor in the bedrooms as an upgrade to the builder grade laminate floor you see in the kitchen. So, basically, we have three different types of flooring throughout the apartment! I'd like to have natural wood flooring throughout, but that's not in the budget--or energy level!--right now. -Hannah, Park Slope
Related:
The 7 worst places to live in a building
10 first time renovation mistakes even New Yorkers make
Moving to NYC? Here's a crash course in finding an apartment here
Brick Underground articles occasionally include the expertise of, or information about, advertising partners when relevant to the story. We will never promote an advertiser's product without making the relationship clear to our readers.