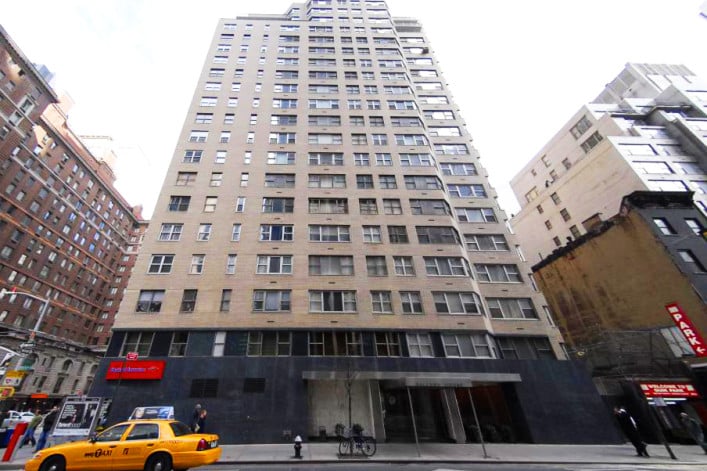 In this edition of the PropertyShark Foreclosure Spotlight, the focus is on a Midtown West condo up for auction this Wednesday, May 28. But should you hightail it to the courthouse steps? A look at the detailed property report from real estate data powerhouse PropertyShark.com may help you decide.
---
The basics:
Address: 77 West 55th Street at Sixth Avenue, Apt. 4D
PropertyShark property report: For basic information, click here. To unlock a free comprehensive report, register first, then click here.
Size: 566 square feet; 2.5 rooms
Building: 20-story, 104-unit post-war elevator condo
Most recent sale price: last sold in 1977 for an unknown price
Foreclosure type: Unpaid mortgage
Lien amount: $580,344
Minimum bid: Will be announced at the auction
Date of auction: Wednesday, May 28, 2014
Location of auction: New York County Courthouse, Room 130, 60 Centre Street
---
The facts:
The owner, who lists a Virginia Beach, Va., address in public records, had owned this apartment since at least 1977, but seems to have stumbled like so many homeowners did during the economic crisis.
She took out an adjustable-rate mortgage back in June 2008, but by April 2009, she had taken out a second mortgage, for a total of $938,250, public records show. On March 14, a different lender that wound up with the loan on its books won a foreclosure judgment against her, as you can see in Section A9: Sale & Property History on the PropertyShark property report.
What else you need to know:
1. This could be a great deal
Depending on how close the winning bid is to the lien amount (more on that below), you could get this at a steep discount. The condo last sold almost 40 years ago, so you won't glean any clues about its value today from its previous sale price. It's worth noting that the most recent sale in the building was a smaller, 476-square-foot studio, which fetched $650,000 earlier this month.
To get a better estimate, run a Comparables search by clicking on the tab in the upper right hand corner. This will pull up the sale prices of condos in the building and the area, as well as when they sold.
In this case, you can see that the median sale price for condos within a half mile that sold in the last six months is $1.384 million. More relevantly, seven apartments in the building have sold at a median price of $1,377 per square foot, arguably putting the market value of this 566-square-foot condo at $756,742, though naturally many factors go into the price. (In this search, suspiciously high or low sales have been eliminated to prevent skewing the results.)
2. Details on the minimum bid
The minimum bid, or "upset price," for the property will be announced at the auction, but the lien amount, $580,344, is a strong indicator of the amount of money the bank needs to get back for this particular apartment.
To get a better picture of the actual costs before the auction, you can call the auctioneer and the plaintiff's attorney, both of whom are listed in the foreclosure notes. The day before the auction, the auctioneer can shed light on the upset price, but note that he or she cannot help out with other information, such as maintenance charges in arrears.
3. Figure out your eating, shopping and parking options
Midtown is teeming with stores, restaurants and conveniences--this building even has an Earnest Klein & Company supermarket on the first floor! To find out exactly what type of dining and shopping possibilities are nearby, scope out the H3: Businesses section of the report. You can click on the map, which displays all ground-floor retail in the vicinity (and, in fact, across the city).
Also, if you have a car, you might want to tally up your neighborhood parking options with PropertyShark's parking spaces map. Bonus: the area has numerous offerings for car owners. 
Below, a retail map shows you all the banks, drug stores, salons, restaurants and more near this apartment
4. This auction might not happen tomorrow after all
Even if the foreclosure auction is scheduled for May 28, it may not happen on that date—or at all. The owner of the property might file for bankruptcy or work something out with the bank, so making a short call can save you a trip.
You can always call the auction referee or the plaintiff's lawyer--whose contact information is listed in Section A7: Foreclosure--to make sure the auction is still a go before heading on over to the courthouse. 
To keep tabs on this property, be sure to click "Add to Watch List" on the top right of the report. Once you do that, you'll get an e-mail when any new record is filed for this property, including deeds, foreclosure filings and building permits.
Also, keep in mind that you should always seek professional advice when buying distressed properties. Consult a real estate agent and, if necessary, an attorney, once you settle on a specific property.
---
PropertyShark.com is a real estate website that provides in-depth data for more than 75 million properties in New York City, Philadelphia, Los Angeles, San Francisco Bay Area, and other major U.S. markets. The company covers most of the U.S. with a primary focus on the New York real estate marketplace. Click here to see what services and data are offered in your area.
More from PropertyShark.com:
Heads up, buyers! This Midtown West co-op could be yours at a steep discount
This Tudor City co-op could be yours for cheap
Map of the Month: Unearth foreclosures and pre-foreclosures across NYC
QuickTip: How to check for liens before you make an offer (and why you should)
How to buy an apartment that's not for sale
How to find the real owner behind an LLC
Brick Underground articles occasionally include the expertise of, or information about, advertising partners when relevant to the story. We will never promote an advertiser's product without making the relationship clear to our readers.