Neighborhood Secrets
Ridgewood: The dirt cheap, radioactive Queens nabe that may be the next Greenpoint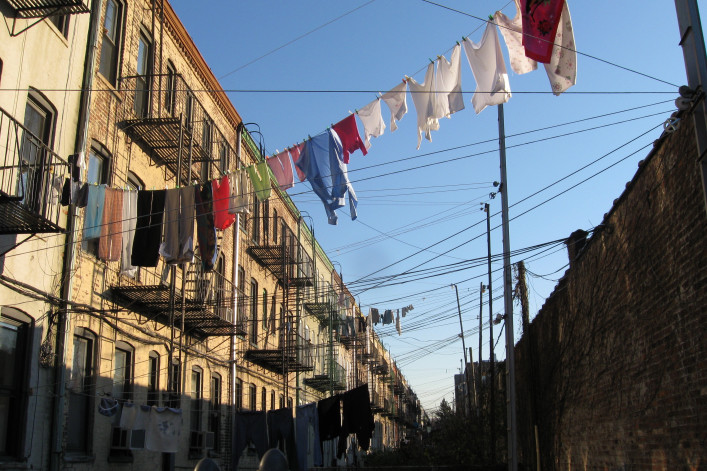 Though technically in Queens, Ridgewood straddles Brooklyn and shares a border with Bushwick.  While historically it was a working class area full of Dutch German immigrants, Ridgewood is now emerging as an artist's community, catering to a younger (and more hipster) crowd, thanks in part to a spillover from neighboring north Brooklyn.
But what will you only know from living in the area? Here's what residents had to say about their neck of the woods.
---
Neighborhood boundaries: Myrtle and Metropolitan Avenues and Freshpond Road and Knickberbocker Avenue
Median sale price: $884,000
Median rent: $2,400
---
1. Change is brewing:  "There are lots of coffee shops opening up and rent prices going up. There are also lots of young couples with families moving in from Greenpoint. Some condos are being built on the edges of Ridgewood. Some people have an attitude about the gentrification. I am okay with it if we can keep rents for the most part affordable and have the Ridgewood charm still be here in 10 years." -Sarah, 26, rents a studio apartment with her boyfriend "I can speak about my personal rent as a sign of gentrification. It went up 15 percent this year, but it's still dirt cheap compared to Manhattan." -Jimmy, 28, rents a junior one-bedroom for $1,400 a month "I live here now and I have a handle bar mustache. Sorry, Ridgewood." -Emmanuel, 41, rents a one-bedroom with an office and garden with his wife
2. It's just as Brooklyn as Brooklyn: "Ridgewood is really close to Brooklyn, so you can actually hang out with most of your friends who live there pretty easily. I find myself biking a lot of places. I used to live in Bushwick and didn't have to change too many of my habits, which is cool." -Kevin, 31 rents a three-bedroom with one roommate "Residents always duel about whether we are in Queens or Brooklyn. People even break out their addresses to try to argue who actually lives in Queens and who doesn't." -Daye, 29, who is Kevin's roommate
3. The air might give you super powers: "Welcome to the most radioactive place in New York! Doesn't bother me though. I've been by it a couple times and so far no super powers and I'm still alive." -Emmanuel
4. At the bars, everyone knows your name: "It's one of the friendlier bar scenes in the city. When I lived in the Village, I saw a fight a week. Here I've never seen that and I don't think I ever will. People actually want to have a good time and ask how your day is going." -Jimmy
5. Taxi sweet spots: "Myrtle Avenue." -Kevin "My wife does Uber, and they're happy to come out here." -Emmanuel
6. The trains aren't great: "The L train is my death. I got a bike and it was a great investment." - Daye "The M train is pretty unreliable, but the L isn't much better. There are a lot of buses but they aren't super reliable either. They're either all at the stop or you have to wait for 20 minutes, then, like, four show up at once. -Jimmy "I think I'd rather walk than take the L train on a weekend." -Kevin "Buy a car. " -Emmanuel
7. Businesses are booming: "I see new offices go up every two blocks. I think I see more businesses moving in here than anywhere else. " - Daye "I definitely see a lot of new offices, zoned developments, and more hustle and bustle in the commercial industry here than I did when I lived in Brooklyn. I think people want to put business here because more and more people want to live here." -Kevin
8. Except for the clothing stores: "There's a pretty serious lack of clothing stores. My sister visited me and she wanted to go shopping and we sort of failed. There are a lot of good brunch places though." -Kevin
9. Hidden gems: "There is a store called the Mcklain Collection that sells new Anthropologie clothes for 50 bucks. Gottscheer Hall is an amazing bar/restaurant even if it doesn't look like much on the facade." -Sarah "We recently went to the Onderdonk House [oldest Dutch Colonial stone house in the city]. It's pretty cool. They do tours on Saturdays that are great and they have tons of the original Dutch artifacts." -Daye and Kevin "Zum Stammtisch is a Myrtle Avenue secret. All of the Bavarian specials are good and whenever I go, it isn't too packed but lively enough to want a drink and to stay for a while. It's definitely going to be my World Cup viewing location of choice." -Jimmy
Related:
Living in Battery Park City means free transit, no lines at Shake Shack and lots of puppies
Brick Underground articles occasionally include the expertise of, or information about, advertising partners when relevant to the story. We will never promote an advertiser's product without making the relationship clear to our readers.