Design + Architecture
American Dream Builders' Elaine Griffin on risky green walls and avoiding silly decorating snafus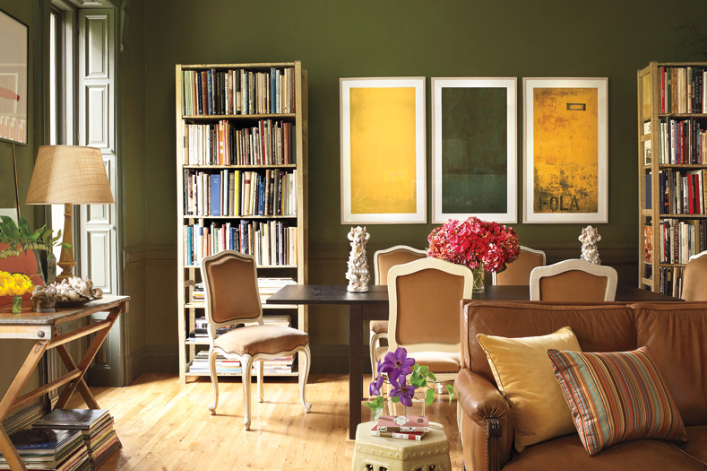 Elaine Griffin grew up in Georgia, lived in Paris, and calls New York City home. She'll tell you that all three cities inspire her work as an interior designer, and that includes her own apartment. Named one of House Beautiful's Top 100 American Designers and the author of Design Rules: The Insider's Guide to Becoming Your Own Decorator, Griffin has been appearing on your TV as a cast member of the NBC design reality show American Dream Builders.
Before opening her own firm in 1999, the self-confessed style obsessive studied at Yale and the New York School of Interior Design, then worked for architectural icon Peter Marino.
Here she reveals that teal and olive are the new black, how mixing high and low makes an apartment modern, and why Bunny Mellon (who redesigned the White House Rose Garden) is her hero.
You wrote a book about design rules. What are the most important?
Fewer than 25 percent of Americans use decorators and no matter their budgets, people love saying, "I did it myself." So I wanted to write a book for DIY designers. For rules, sofas always look better at right angles, and a coffee table should always be lower than the top of your sofa's seat.
Biggest mistake people make decorating a new space?
They don't measure, so the furniture can be out of proportion. Start with a scaled floor plan and then go shopping. And don't buy a sofa without measuring your elevator or your staircase.
Best decorating advice for people who live in tiny apartments?
Get an apartment-size sofa of 72 inches, not 84 inches. Also, commit to living clutter free. In a New York apartment you can't be a pack rat. The volume of your belongings should be determined by your storage capacity.
What are the design trends for 2014?
Teal blue is still big, olive green, and white walls are coming back. We have embraced eclecticism and I love that. It really is almost anything goes with anything, as long as you love it.
What's one thing that surprised you about doing reality TV?
It's quite extraordinary, people have a real relationship with you. They let you know how they feel about you on the street, on the train, and on Twitter.
Where do you live and how long have you been there?
I have lived in Harlem since 2000. I rented a two-bedroom in an 1890s brownstone in 2009 and renovated and designed the interior. I believe your home is one of the most important things in life, it's where you keep your most treasured things and most treasured people.
How would you describe your apartment aesthetic?
The one rule I will never break as a designer is that rooms should look like the people who live in them, and I think the apartment looks like me. I lived in France in my 20s, and you see a bit of French flavor, plus it's warm and inviting, all about Southern hospitality. The shells [in the living room] remind me of home. I grew up on the beaches of Coastal Georgia, and still have sand in my shoes! l started collecting seashells when I moved back from Paris. 
Where did you start with the redesign of your place?
For me it all starts with color; I love rich, saturated, warm colors, in paint and in textiles. I chose a green for my living room. No client had ever let me use that green, they thought it was too dark. Then after they saw pictures of my apartment, they let me use it!
For dining you paired Louis XV style chairs with an Ikea table. Design blasphemy!
No! [Laughs] High and low is the way we live today, and how we dress today. It's completely modern. I love mixing the practical with the chic. I found the [Louis XV style] chairs at Les Puces [the famous Paris flea market]. They were meeting chairs from the Matignon [the French prime minister's house].
What do you love most about your home right now?
The light. The living room faces south, and the light changes with the season. Because it's Harlem and pretty low rise, you can see sky.
Do you change the décor around often?
I switch out accessories like throw pillows. I'm a sucker for beautiful bedding and that's the quickest way to change a room and make it new.
You have an unlimited budget. What's your fantasy home purchase?
I would buy all of Bunny Mellon's property starting with the farm. She had impeccable taste and lived so well.
The one thing you cannot live without and why?
My Napoleon III chairs, which I had recovered in Tony Duquette fabric. I bought four of them at the Puces and love them.
Your pick for best restaurant in Harlem.
When I moved to Harlem in 2000, the restaurant landscape was pretty bleak, but how it's changed! Settepani was first to open and it's wonderful. I love Red Rooster, and Barawine is my favorite. It's terribly glamorous and chic, and authentically French.
Where do you like to hunt for furniture/décor in New York?
Home Goods has come to Manhattan. I love it. You can find really wonderful things there.
What inspires you about New York City?
There is so much style everywhere, from the architecture to the fashion to the food. The style in this city is modern, traditional, wacky and gorgeous. Every day is a feast for the eyes.
Related:
"Manhattan Classic" author explores the allure of prewars -- and shows you how to add old-school glamour to your home
Author Michael Gross on 15 Central Park West's Trophy Condos: "There's no accounting for taste"
Five Minutes With designer Jonathan Adler
Designer-to-the-stars Zang Toi on why your knick-knacks have to go
"Sex and the City" set decorator Christina Tonkin shares tips on glamming up a small space
Design*Sponge blogger Grace Bonney on where to snag vintage Brooklyn decor
Brick Underground articles occasionally include the expertise of, or information about, advertising partners when relevant to the story. We will never promote an advertiser's product without making the relationship clear to our readers.