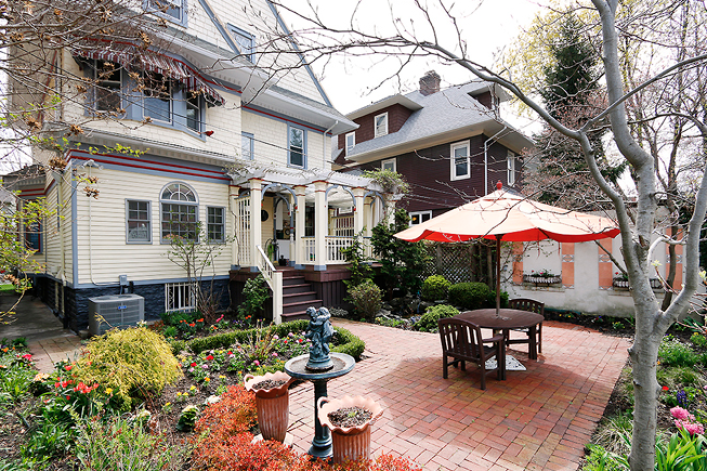 Azad Ali has spent years quietly fixing up overlooked historical houses all over the city, culminating in the spectacular re-build of a Victorian in Ditmas Park, Brooklyn, on a site he snapped up for just $218,000 back in 2012. The house is now on the market for $2.975 million.
A recent New York Times story on his efforts is a fascinating read, but also left us wondering: wait, who happens to just find a languishing historical fixer-upper in New York, any time past, oh, 1980?
Unfortunately, it looks like you won't stumble across too many under-valued Victorians in the current market; inventory is notoriously limited right now across the board, and if there were any undiscovered gems sitting around, well, they've been discovered.
The onetime broker of Ali's fixer-upper, Alexandra Reddish, of Ditmas Park brokerage Mary Kay Gallagher, says his situation was a rare one. "In that case, Azad was really the last man standing. I had been trying to sell that house for six or seven years, and he was patient. You tend to find places like this when the owner has really exhausted their options, which takes a long time." 
In this case, after a stalled renovation and years of attempted sales with asking prices of up to $1.9 million, the property was eventually forced into a short sale by the bank, which is when Ali made his move. He then tore down the original house and built an entirely new one from the ground up, with a design approved by the Landmarks Preservation Commission.
All of which brings us to a crucial element of the historical fix-up game: cash. If you have any chance of moving in on a property when its owner is at their wits' end, you'll want to be able to offer an immediate buyout.  "When you're going to do a flip like that, cash is king," says Reddish. "To a buyer, it's quick and it's easy, especially in the Brooklyn market." 
But if you don't happen to have an extra $1 million burning a hole in your pocket (or the wherewithal for a major construction project), you could try your luck with homes that don't require a major overhaul. 
Ditmas Park still has a formidable array of Victorian homes on the market--the highest concentration of any neighborhood in the U.S., in fact. They generally run for between $1.5 million and $2 million, but if you're willing to expand your search out to Staten Island, you'll be rewarded with  a surprising number of similar homes that are half the price (not to mention the added bonus of commuting by boat every day). 
Wherever you look, Reddish cautions not to be fooled by superficial touches that make a place seem mostly ready. "Sometimes, there's the illusion of a place looking good, but if you hate the wallpaper, that's still work you'll have to be doing," says Reddish. "Once you start renovating at all, you're renovating," she adds, "and particularly when it comes to bathrooms and kitchens, it will end up costing the same whether it's partial work or a full overhaul."
According to Reddish, a typical overhaul on a bathroom in these kinds of homes can range from $20,000 to $40,000, and for a kitchen, $80,000 to $100,000.
And, of course, the most important factor for anyone mulling the purchase of a historic home: "If you're buying a Victorian, you have to walk in and immediately love it. Even if it needs a lot of work, you have to love it right away." 
Related posts: 
What are your options for outdoor space in brownstone Brooklyn?
7 things to consider before buying in a landmarked building
Greenpoint to Kensington: goodbye to hipster tensions, hello diversity
9 things Manhattanites need to know before buying in brownstone Brooklyn (sponsored)
I'm considering buying in Staten Island. What should I know?
Brick Underground articles occasionally include the expertise of, or information about, advertising partners when relevant to the story. We will never promote an advertiser's product without making the relationship clear to our readers.