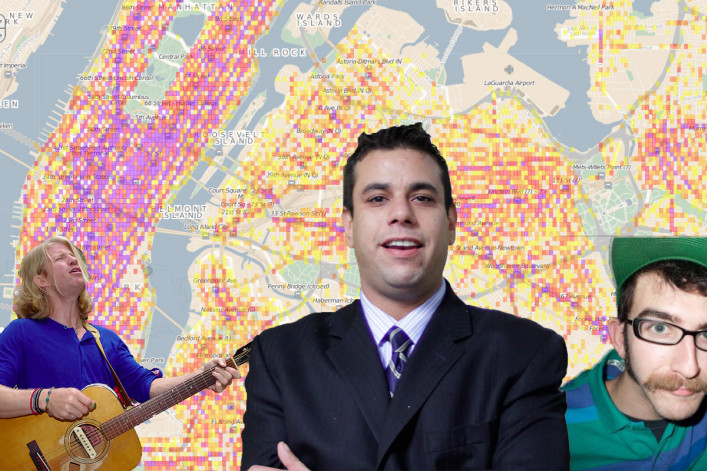 "Where do you live?" When New Yorkers meet for the first time, this is the second question they ask (after "What do you do?"). We are a judgmental breed, and our chosen neighborhoods say volumes about who we are and what we like. So which one has your name written all over it?
1. Soho
If you are beautiful, have beautiful tattoos, create some sort of art--or at least can tell a convincing story that you do--and do not rise before noon, Soho will feel like home in no time.
2. Murray Hill
College is never really over, it is just over there, east of Midtown.
Film stars and financiers better head to Tribeca (Photo credit:
Rubenstein
)
3.  Tribeca
Film stars, financiers and their families practice downward-facing dog downtown.  Wait, is that De Niro?
4.  Chelsea
Do you or did you ever work at Vogue?  Did you model in Vogue?  Do you still dance the Vogue?  The Chelsea sidewalks are the runways of Manhattan, where it is Fashion Week every week.
5.  Astoria
For teachers, struggling artists, and struggling art teachers...  In the shadows of the elevated subway tracks there is great food to be eaten and great fun to be had.
6.  Williamsburg
The neighborhood that was once known for one H (hasids) is now known for another (hipsters). But at this point, the 'Burg is growing up, and you're just as likely to trip over a stroller as a hungover twentysomething at brunch.
7. Park Slope
Otherwise known as the far eastern nabe of the 'Frisco Bay area, well-heeled creatives and techies rub organic cotton-covered shoulders and congratulate themselves for being more enlightened than their Manhattan counterparts. Strollers and dogs optional but recommended.
8. Upper West Side
Are you a therapist or do you see one frequently?  Are you a foodie who keeps kosher?  Are you a fan of "Seinfeld" and/or "You've Got Mail"?  Do you shudder at the mere mention of the Upper East Side?  Pack up your caftans and find yourself a little slice of pre-war heaven. Just be sure you don't vote Republican.
9. Upper East Side
Half the residents of this uptown neighborhood are lifers who have lived there for generations, half are just using it as a way-station to suburbs. These two groups are divided by Lexington Avenue with the more moneyed lifers living closer to the park.  Either way, if you primarily use your oven for shoe storage, this is the nabe for you.
3.  Lower East Side
Don't be put off by dark narrow alleyways redolent of patchouli, pierogies or Peking duck; New York City's history and future live here. Though still too hip to be called hip, it is no longer a real bohemian paradise a la "Rent." The role of Benny-the-real-estate-developer held true as life imitated art. Bars are filled with frat boys on occasion. Deal with it.
Related posts:  
Brick Underground articles occasionally include the expertise of, or information about, advertising partners when relevant to the story. We will never promote an advertiser's product without making the relationship clear to our readers.