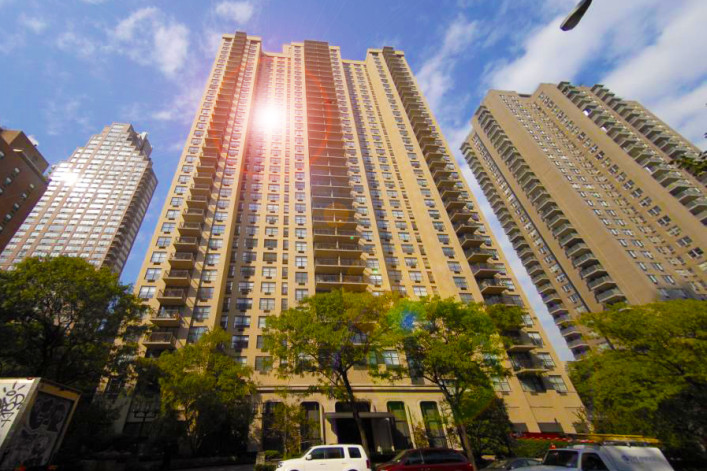 For almost two years, Robert rented a two-bedroom apartment at East 72nd Street and York Avenue. He and his wife, Rachel, loved the light, the access to a rooftop pool at a sister building and the great doormen. Its 32nd-floor perch afforded views of all the bridges on the East River and Roosevelt Island too. 
In the warmer months, "the mornings were truly amazing with the sun beating down and our family of three sharing breakfast on the terrace," Rachel says, referring to their then two-year-old daughter.
He loved the quiet location hugging the eastern edge of Manhattan. She did not. 
"Growing up in New York City--especially living on the Upper West Side and going to school off Park Avenue--York was the equivalent of 'Siberia' to me," she gripes. "If I wasn't driving everywhere, I was taking a lot of taxis.  I was about three avenues off of where I wanted to be, and it felt at least 10 degrees colder there than anywhere else in the city."
A native New Yorker whose relatives had owned Manhattan rental buildings, Rachel had scored the apartment from the landlord directly--"the thought of paying a broker for a rental to me was almost a sin, unless it was a 'Holy Grail' type of situation," she says--and bargained hard for a discount on the rent, from $4,750 to $4,500 a month. 
She wound up "negotiating the lease during our vacation in Turks & Caicos on an apartment that was unseen," she says. (She had seen a similar unit on a lower floor.)
They had moved in with their daughter in 2010, but after one year in the apartment, all things pointed to a move. Their second child was on the way, a planned rent hike would raise the cost to $4,900 a month, and a parking lot across the street where they kept their car was going to be closing down. 
"As soon as my wife found out we were expecting again, she was expecting to move to a bigger place," says Robert.
They searched everywhere on the Upper East Side for a new, bigger apartment. He wanted a two-bedroom with river views and access to a pool; she wanted a three-bedroom close to a good school.
"Guess who won?" he says.
Finally, they took over the lease on a convertible three-bedroom, two-bathroom unit from a friend who was moving to the suburbs. At 1,800 square feet, the new apartment on 85th Street by Third Avenue is nearly 500 square feet larger than their old one and right across the street from their daughter's school. The downside? It costs $1,000 more per month, there is no pool, and the terrace overlooks a busy street instead of water views. 
"While there were many positive things about the York Avenue place, the location simply was not compatible with our lives," says Rachel matter-of-factly.  
"Much like my BMW 5 series, my wife decided it had to go," declares Robert.
The day they moved, Rachel went into labor, and their second child was born.
Related posts:
Forced out by a rent hike, Chelsea fan still longs for her little studo
Orange is the New Black's Alysia Reiner on the Upper West Side duplex she loved and lost
The one that got away: The bed bugs did it
The one that got away: 'I gave up my chance to buy my East Village 2-bedroom for a laughable $90K'
The one that got away: Loving and losing in NYC real estate
---
The One That Got Away chronicles stories of love and loss in NYC real estate.
Brick Underground articles occasionally include the expertise of, or information about, advertising partners when relevant to the story. We will never promote an advertiser's product without making the relationship clear to our readers.