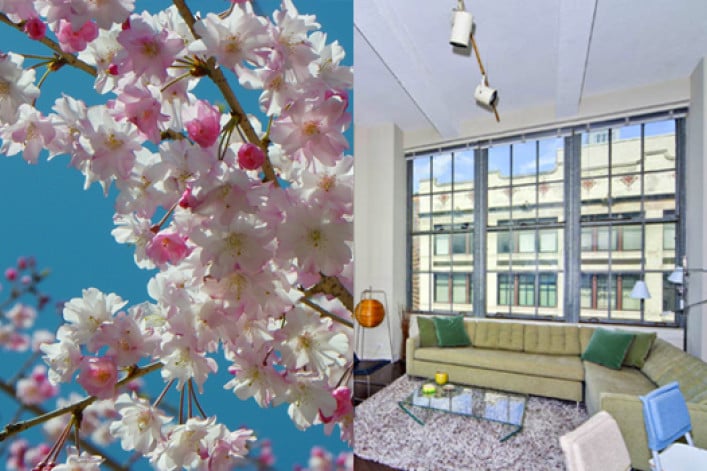 From too-thick paint layers to too-thin shower streams, five New Yorkers sing the renters' blues.
Sounds of spring I live on the top floor of a ten-floor building. Now that it's gotten warmer, the building across the street--a school--has turned on their A/C compressors. There is this constant hum that is driving me crazy. But it's not hot enough for me to install my A/C units and close the windows. I sleep with open windows and the noise is driving me nuts. I hate this being in between seasons - Allen,  Washington Heights
Screw this paint  The thick, thick paint that is encrusted on all the trim in my new rental apartment makes the whole place look and feel worn and kind of not clean. Of course, it's a rental, so I can't do anything about it other than--you guessed it--paint over it. A little paint does make the whole place look fresher. But then I struggle with the outlets because they've been painted almost completely shut.  - Alyssa, Clinton
Apartment B.O. I love my apartment usually, but I hate how I can smell everything through the walls! I can smell everything my neighbor cooks and I think I can even smell her perfume and when somebody smokes. This used to be one apartment and the landlord just plonked down some cheap-ass walls and called it a day when he decided to rent these places out.  - Aaron, Harlem
Unhappy camper My landlord has been promising for ages that she would get the kitchen and the bathroom fixed! The floor has to be redone in the kitchen and bathroom, as well as the tile work in the bathroom. The kitchen needs a new sink, and some kind of counterspace--there is a gap. It was supposed to be done before I moved in. Finally, I couldn't wait to move in anymore, so I said I would accommodate any work that needed to get done. I've been "camping" in one room of the apartment for almost a month and still no sign of any workers. I'm ready to do the work myself at this point and she can pay me! - Ariston, Harlem
 No pressure The shower is total crap in my place. The water doesn't stream, it drips. Zero water pressure. And the faucet is constantly leaking in the tub. Total waste of water. I keep telling my landlord there has to be something that can be done. And she bought me a new shower head, which actually kind of helped. But still. Total crap bathroom. - Anthony, Morningside Heights
Related posts:
The 7 worst places to live in a building
10 first time renovation mistakes even New Yorkers make
Moving to NYC? Here's a crash course in finding an apartment here
Brick Underground articles occasionally include the expertise of, or information about, advertising partners when relevant to the story. We will never promote an advertiser's product without making the relationship clear to our readers.