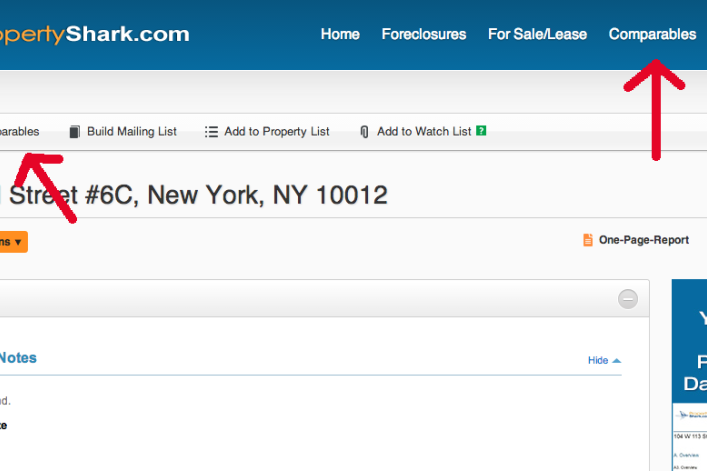 QuickTip: Considering selling your place but not sure how much you'd get for it? In just a few minutes, you can get a solid estimate using the Comparables tool on real estate website PropertyShark. Click the Comparables tab on the homepage, or type the address and unit number into PropertyShark to bring up a detailed property report ($9.95 each, or $39.95/month for 150 reports a month) and then click  on the Find Comparables tab.
The basics
Comparables, also known as comps, are the best way to estimate a home's value by sizing them up against recent sale prices for properties with similar characteristics, such as size and location. 
You can search for properties that have sold within a specific radius of your home (say, half a mile), or broaden the search to include the whole neighborhood or one of PropertyShark's preset lists of Manhattan areas, such as below 14th Street. To drill down deeper, search for sales within your own building or in a unique area you choose on the map (more on this below).
Next, you can refine the results using the basic filters—co-ops or condos, the sale date, and walk-up or elevator buildings—or choose from the advanced criteria to look at the year the building was built and the square footage of the units. If you're selling, you'll want to filter the results to match your home as closely as possible. 
Any questions? You'll find detailed instructions and a video tutorial here.
What to focus on
You'll get a better sense of the market if you concentrate on recent sales—the more recent, the better—since prices may have fluctuated significantly in your area over the last few years. You can set the sale date filter to six months or, if you don't get enough results for a comprehensive look at the market, to one year. 
Another important factor is the size of a property, so be sure to look at the square footage of the homes that show up in your results. Sales of properties that are similar in size will give you the best estimate of how much your home is worth.
Lastly, selecting the right building class is crucial for a proper estimate. For example, if you're looking at condos, you can specify whether you want to see comps in elevator buildings or walk-ups.
Get your map on 
If you've lived in the city for any length of time, you know that a radically different neighborhood may be only one or two avenues away. PropertyShark's polygon map tool lets you set your own boundaries for search results, so you can pull sales within your own micro-neighborhood. You can also get results that may fall outside your zip code but are still relevant.
On the flip side, you can check the location of all the comps you find by clicking "Results on Map" at the top of your list of search results. 
Limit your list 
Once you've come up with your comps, you can create a report to export or print. But first, it's a good idea to get rid of any ridiculously large sales or curiously small sales on your list. A minuscule dollar figure could indicate that the home traded between family members or as part of a bulk sale—indicated by a blue "M"—and you don't want non-market deals to skew your results.
You can choose which properties to include on the report by clicking the green arrow next to each result, or click on the grey arrow to exclude the property from your list. 
Stay up to date 
If you're tracking sales over time, the easiest thing to do is to sign up for a Weekly Transfers Email, which will deliver a list of relevant sales from the past week to your inbox every Monday.
For example, you can track how brownstones in Harlem are selling by selecting the appropriate neighborhood and narrowing your search to 1-4 families and walk-ups, plus 3+ families, no stores. You can also compare multiple neighborhoods—if you were also looking at brownstones in Prospect Heights, for example—by playing with the search criteria.
---
PropertyShark.com is a real estate website that provides in-depth data for more than 75 million properties in New York City, Philadelphia, Los Angeles, San Francisco Bay Area, and other major U.S. markets. The company covers most of the U.S. with a primary focus on the New York real estate marketplace. Click here to see what services and data are offered in your area.
More from PropertyShark.com:
QuickTip: How to check for liens before you make an offer (and why you should)
QuickTip: See how your property taxes stack up against your neighbor's
How to buy an apartment that's not for sale
How to find the real owner behind an LLC
3 more ways to find the real owner of a NYC property 
Map of the Month: Toxic sites in New York City
Map of the Month: See every groundfloor retail space in NYC--for your buying, renting and shopping convenience
Map of the Month: See every co-op and condo with a parking garage in NYC
Brick Underground articles occasionally include the expertise of, or information about, advertising partners when relevant to the story. We will never promote an advertiser's product without making the relationship clear to our readers.