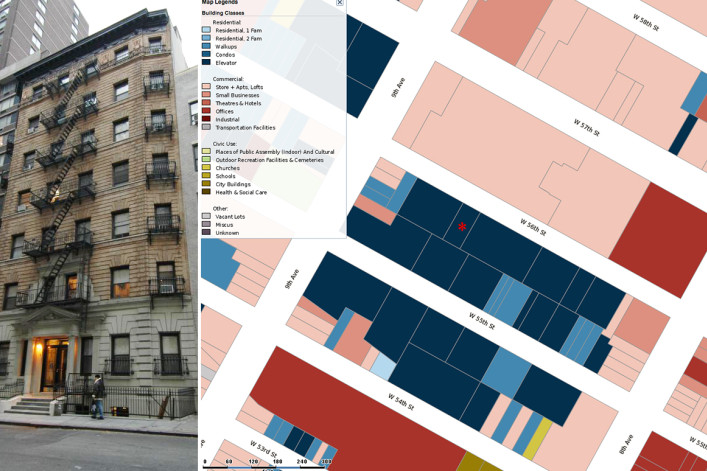 In this edition of the PropertyShark Foreclosure Spotlight, the focus is on a Midtown West co-op up for auction this Wednesday, April 23. But should you hightail it to the courthouse steps? A look at the detailed property report from real estate data powerhouse PropertyShark.com may help you decide.
---
The basics:
Address: 342 West 56th Street between Eighth and Ninth Avenues, Apt. 1F
PropertyShark property report: For basic information, click here. To unlock a free comprehensive report, register first, then click here.
Size: 500 square feet; one bedroom, one bathroom
Building: Seven-story, 42-unit pre-war elevator co-op
Most recent sale price: $395,000 in 2007
Foreclosure type: Unpaid mortgage
Lien amount: $199,954
Minimum bid: Will be announced at the auction
Date of auction: Wednesday, April 23, 2014
Location of auction: Steps of the Queens County General Courthouse, 88-11 Sutphin Boulevard
---
The facts:
The current owners, who list a Miami address in public records, bought this apartment back in 2007. They took out a $200,000 mortgage but apparently barely paid it down: the unpaid balance is $199,954. On March 24, the lender won a foreclosure judgment against them, as you can see in Section A9: Sale & Property History on the PropertyShark property report.
What else you need to know:
1. This could be a great deal
Depending on how close the winning bid is to the lien amount (more on that below), this co-op could be quite a bargain. 
The quickest way to see comparable sale prices for other co-ops in the building and the area, as well as when they sold, is to scroll down to Section A3: Units & Related Parcels in the property report.
In August, a 675-square-foot one-bedroom on the same floor sold for $490,000, and a one-bedroom on the fifth floor traded at $625,000 that same month. A one-bedroom went on the market in March asking $525,000.
Plus, the building is "investor-friendly with no rent restrictions," as the listing notes, meaning that the co-op board would let you use this apartment as an income-generating property and not just a full-time residence.
2. Get the skinny on the neighborhood
In Midtown West, you're just as likely to live next to a high-rise office tower as a small pre-war co-op. To get the scoop on this building's neighbors, check out Section F1. Zoning and Building Class of the property report. Clicking on the interactive map reveals whether you'll share the block with theaters, churches, stores or (as in this case) fellow elevator co-ops. Zoom out for a look at the neighborhood overall.
If you've got children, figure out what schools are near the co-op by scrolling down to H1. Distance to Schools. You can get the lowdown on elementary schools, middle schools, high schools and universities—from how close they are to the name and phone number of the principal.
Lastly, under H2. Distance to Subway, you'll see just how convenient this place is with a map that shows all the subway lines and how far you'll have to walk to get to them.
3. Details on the minimum bid
The minimum bid, or "upset price," for the property will be announced at the auction, but the lien amount is a strong indicator of the amount of money the bank needs to get back for this particular apartment.
In this case, as you can see in Section A7: Foreclosure, the lien amount is $199,954, and the debt includes interest from Sept. 1, 2013, subject to open common charges.
To get a better picture of the actual costs before the auction, you can call the auctioneer and the plaintiff's attorney, both of whom are listed in the foreclosure notes. The day before the auction, the auctioneer can shed light on the upset price, but note that he or she cannot help out with other information, such as maintenance charges in arrears.
4. This auction might not happen in April after all
Even if the foreclosure auction is scheduled for April 23, it may not happen on that date—or at all. At times, the owner of the property might file for bankruptcy or work something out with the bank, so making a short call can save you a trip.
You can always call the auction referee or the plaintiff's lawyer--whose contact information is listed in Section A7: Foreclosure--to make sure the auction is still a go before heading on over to the courthouse. 
To keep tabs on this property, be sure to click "Add to Watch List" on the top right of the report. Once you do that, you'll get an e-mail when any new record is filed for this property, including deeds, foreclosure filings and building permits. If you can't make it to the auction but are curious on the outcome, click on Foreclosures (at the top of the site), then the Auction Results tab, and find out the upset price and the winning bid for this or any other property.
Also, keep in mind that homebuyers should seek professional advice when buying distressed properties. When you've settled on a specific property, consult a real estate agent and, if necessary, an attorney. Also, note that even if you submit the winning bid, you'll still have to pass the co-op approval process, which is not guaranteed.
---
PropertyShark.com is a real estate website that provides in-depth data for more than 75 million properties in New York City, Philadelphia, Los Angeles, San Francisco Bay Area, and other major U.S. markets. The company covers most of the U.S. with a primary focus on the New York real estate marketplace. Click here to see what services and data are offered in your area.
More from PropertyShark.com:
This Tudor City co-op could be yours for cheap
Map of the Month: Unearth foreclosures and pre-foreclosures across NYC
QuickTip: How to check for liens before you make an offer (and why you should)
How to buy an apartment that's not for sale
How to find the real owner behind an LLC
3 more ways to find the real owner of a NYC property 
Map of the Month: Toxic sites in New York City
Map of the Month: See every groundfloor retail space in NYC--for your buying, renting and shopping convenience
Map of the Month: See every co-op and condo with a parking garage in NYC
Brick Underground articles occasionally include the expertise of, or information about, advertising partners when relevant to the story. We will never promote an advertiser's product without making the relationship clear to our readers.