Flip or Flop?
Would you pay $2.5 million to gut a Boerum Hill house that sold for $900,000 in August?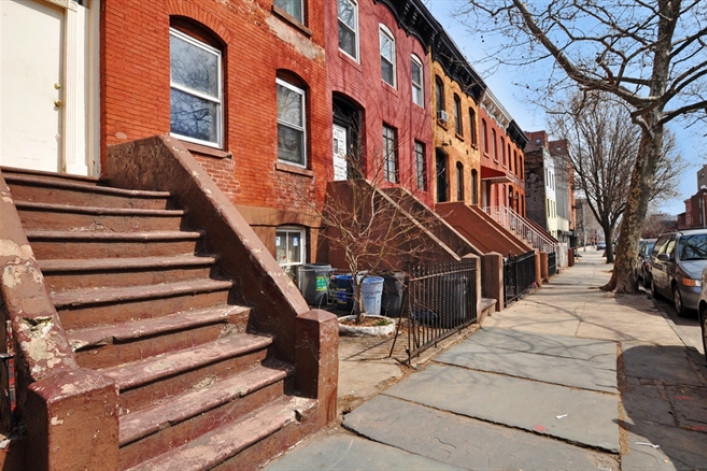 In a rising real estate market, it can be hard to tell the difference between a fair asking price and dream-on numbers. BrickUnderground periodically examines homes on the market for significantly more than their most recent sales price and, with the help of experts and the number crunchers at real estate listings and property data website Point2 Homes, we try to figure out why--or why not--the asking price is worth it.
THE NUMBERS:
Current asking price: $2.5 million 
Previous sale price: $900,000
Previous sale date: August 2013
Days since last sale: 6 months, 26 days
Difference: $1.6 million, or 178%
Listing date: March 25, 2014
The property
With its location on a sleepy tree-lined block within spitting distance of restaurant-heavy Smith Street, it's not hard to see a buyer seeking tons of space being drawn to this Boerum Hill townhouse, even if it's "ready for a full renovation," as the listing notes.
Indeed, the main downside of 101 Douglass Street is also, for the right buyer, its most tantalizing feature. The 2,100-square-foot property is currently broken up into two units totaling four bedrooms and three bathrooms, but a willing buyer could convert the 1901 property into a single-family home nearly twice the size. What's more, the lot allows for a building of up to 4,000 square feet.
"Bring your contractor and architect to create your ideal home on a great Brownstone Brooklyn block," boasts the listing, with Paul Murphy of the Corcoran Group, who declined to comment through a spokesperson for the firm.
The owner is a Nanuet, N.Y.-based corporation called 72634552 Corp., which owns other properties in Brooklyn, according to city property records. In late August, 72634552 Corp. paid $900,000 to buy the place from Guy Russo, who had owned it since 1986 when Gaetano Russo, presumably a relative, transferred it to him for an undisclosed price, records show. At the time, the balance of the mortgage on the property was $3,500.
If $2.5 million seems like a sky-high asking price, consider that the owner initially listed on March 25 for $2.9 million, a 222 percent markup. About a week later, on April 1, the price dropped to $2.69 million. Two days later, it was cut again to $2.5 million.
The takeaway
So what justifies the huge spread between the August sale price and the current asking price? 
"That $900,000 seems like a pretty good deal for that buyer," says Donald Brennan, the principal of Brooklyn-based brokerage Brennan Realty Services. But the new owner is not exactly paying forward his good fortune: "The current asking price has now moved above the top end of the range for comparable properties," says Brennan.
Of the eight townhouses and multi-family properties currently on the market in Boerum Hill, 101 Douglass is one of the priciest, according to StreetEasy. The ones that are more expensive are new construction and much bigger.
But there are two ways to consider the asking price, says Brennan, who also rehabs small properties through his firm Brennan Real Estate: $1,190 per square foot for the existing property or $625 per buildable square foot, which takes into account the final size of the biggest thing you could build on the lot--in this case, 4,000 square feet.
While $625 per buildable square foot compares favorably to similar homes on the market, Brennan says, you could easily spend another $1 million doubling the size, bringing the total investment to $3.5 million. 
"Even though you're starting with something—you have a foundation, you have walls—it doesn't necessarily mean you're going to spend less money than if you built from the ground up," Brennan says, though he was careful to note that he had not seen the property itself.
That price seems to square with the average sale price of 4,000-square-foot or larger townhouses in Boerum Hill that sold within the last 90 days: $3.54 million, according to StreetEasy.  
But that doesn't include the sweat-equity cost of overseeing a major renovation--or the possiblity of spending more than a $1 million on tearing down and rebuilding the property.
"I wouldn't be surprised if there's further decreases in the asking price," says Brennan.
Related posts:
Flip or Flop?: Will this Upper East Side seller get $6.5 million more than what he paid in February? Maybe
Flip or Flop Update: Lenox Hill flippers shave $125K off their asking price
Flip or Flop: Did renovations really up this co-op's value by 75%?
Flip or Flop: The price for this Bed-Stuy townhouse spiked $650K in 3 days. Is it worth it?
When to run from a gut renovation
Buy Curious: I want a Brooklyn townhouse. Where should I buy?
---
Flip or Flop takes a look at apartments on the market for significantly more than their last sale price and provides an opinion on the increase.
Brick Underground articles occasionally include the expertise of, or information about, advertising partners when relevant to the story. We will never promote an advertiser's product without making the relationship clear to our readers.