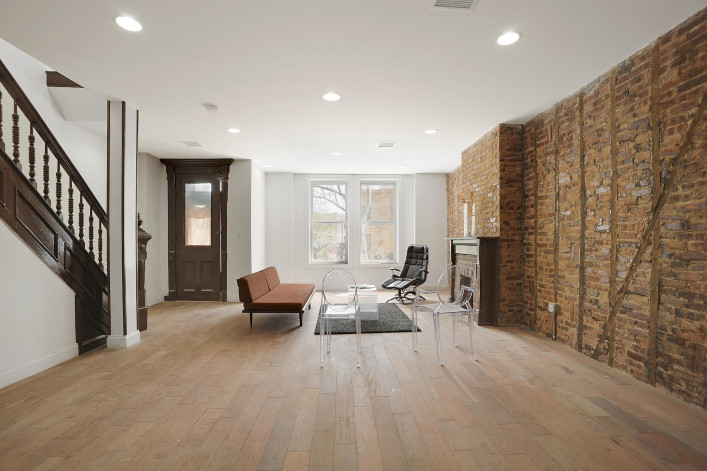 In a rising real estate market, it can be hard to tell the difference between a fair asking price and dream-on numbers. BrickUnderground periodically examines homes on the market for significantly more than their most recent sales price and, with the help of experts and the number crunchers at real estate listings and property data website Point2 Homes, we try to figure out why--or why not--the asking price is worth it.
THE NUMBERS:
Current asking price: $1.2 million 
Previous sale price: $245,000
Difference: $955,000, or +390%
Listing date: April 19, 2014
Previous sale date: Sept. 18, 2013
Days since last sale: Seven months, one day
THE HOME:
The developer who bought this three-story, 3,000-square-foot townhouse at 33 Aberdeen Street in Bushwick did a gut renovation--producing a pleasing combo of modern touches (stainless steel appliances, Caesarstone countertops and central HVAC) and historic details (exposed brick, a period staircase, crown moldings and mantels). The Flushing, N.Y.-based developer, Cadillac Homes, also replaced the vinyl siding on the exterior with a slate gray material that seems to be Bushwick's answer to brownstone. 
The townhouse is made up of two apartments: an owner's duplex on the upper two levels, with three bedrooms, 2.5 bathrooms, a parlor floor with an open plan living area and kitchen, plus a walk-out deck; and a two-bedroom on the lower level that could be rented out. It seems that the home used to have four bedrooms in the duplex and three bedrooms in the rental apartment, according to past listings, so the reno likely resulted in a more spacious feel.
THE TAKEAWAY: 
But do the renovations justify the wild difference in price: $245,000 in September to $1.2 million earlier this month?
"Pricing is based on recent sales and market interest," explains Adam Sikorski, a broker at the Corcoran Group who is listing 33 Aberdeen with his colleagues, mTkalla Keaton and Aaron Seawood. "Buyers see value in renovated, turnkey properties."
Sikorski makes the case as follows: fixer-uppers in Williamsburg are going for around $600 per square foot; turnkey condition places fetch up to $1,000 a foot. With that in mind, he says, $400 a foot for a turnkey townhouse five or six stops farther out on the L or J train to Bushwick "starts to make a lot of sense." He says he just sold a smaller three-story, two-family home a couple of blocks away for the same price of $400 a square foot.
The market for Bushwick townhouses is "very, very competitive," says David Kazemi, a broker at Bond New York who's so bullish on the neighborhood that he's moving there from Greenpoint (his offer on a condo got accepted on Friday).
Only 16 of a comparable size to 33 Aberdeen are on the market, StreetEasy shows.
Some buyers are sniffing around Bushwick because they can no longer afford Williamsburg, where renovated houses now run about $2.3 million to $2.7 million, Kazemi says. "That's an entirely different stratosphere of housing."
"If you're price driven—you have a cap on your capital [like] $1.5 million or $2 million—you're not going to get that in Williamsburg anymore," he adds. "Why don't you try Bushwick?"
But by several metrics, the price for this townhouse seems off the charts. 
Looking back at sales from the first three months of this year, the average price of a one- to three-family home was a mere $575,000--less than half the asking price for 33 Aberdeen, according to Jonathan Miller, president of the appraisal firm Miller Samuel. The cheapest was $255,000 and the most expensive was $1.1 million.
"In both cases, it feels like you're an outlier," he says, meaning that both the purchase price and the asking price of 33 Aberdeen are outside the spectrum.
As far as homes on the market right now, the average asking price of a Bushwick townhouse that's 2,500 square feet or larger is $1.19 million, according to StreetEasy. But that includes homes much closer to Manhattan.
Indeed, buyers looking for a hipster hotspot may be sorely disappointed. The townhouse is in the less desirable southeast part of Bushwick, far away--at least for now--from the restaurants, shops and bars popping up closer to Williamsburg. Though the L train stop is about a block away, and the J, Z, A and C trains are a short walk, the house is 12 stops from Manhattan. 
And what about that bargain-basement price of $245,000 that Cadillac Homes paid for the unrenovated towhouse?  The previous owner bought the house for $390,000 in 2004, city property records show. She tried to sell it a couple of times in the intervening years—listing it for $525,000 in 2009 and $450,000 in 2011, according to StreetEasy. But it never sold.
Corcoran's Sikorski says he doesn't know the circumstances of the eventual sale to Cadillac, but according to PropertyShark data, it looks like it might have been a short sale or a foreclosure: In May, the bank filed a lis pendens, which signals that an owner is behind on mortgage payments. 
Related posts:
Flip or Flop?: Will this Upper East Side seller get $6.5 million more than what he paid in February? Maybe
Flip or Flop: Did renovations really up this co-op's value by 75%?
Flip or Flop: The price for this Bed-Stuy townhouse spiked $650K in 3 days. Is it worth it?
Brick Underground articles occasionally include the expertise of, or information about, advertising partners when relevant to the story. We will never promote an advertiser's product without making the relationship clear to our readers.