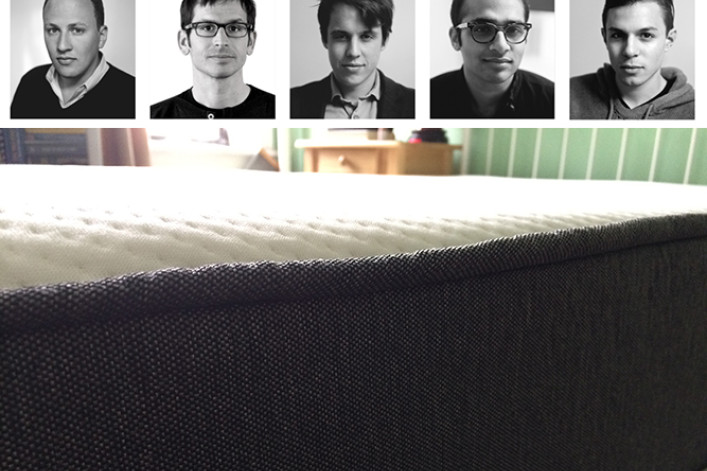 Despite their starring role in countless bedroom trysts, mattresses are not exactly sexy—and certainly not the stuff of tech fortune fantasies. At least until now.
The five founders of Casper, a Manhattan-based mattress start-up, want to bring New Yorkers a high-end product at a competitive price, while using Uber and bike messengers to get it to your fifth-floor walk-up when you need it. I test drove a mattress all weekend—more on that below—in anticipation of the official sales debut today.
Unlike many mattress manufacturers, the company makes only one model: a mix of memory foam and synthetic latex, so it contours to your body while circulating air and staying bouncy. ("The other biggest complaint about memory foam," aside from its tendency to trap heat, explains co-founder Luke Sherwin, "is it's bad for sex" because of that lack of bounce.)
The mattress is available in six sizes—twin, twin XL, full, queen, king and California king—ranging from $500 to $950.
That's more than what you might pay at IKEA. But the makers of Casper are pitching the young professional that's willing to invest in something higher end but not ready to blow thousands of dollars on a Tempurpedic at Sleepy's.
The founders' backgrounds include designing mattresses for famed design firm IDEO, selling mattresses on the Internet in the early days of SEO, and starting an online retailer while still at Brown. To date, the team has raised $1.85 million in funding, the company says.
Casper says it can compete on quality with the best of them, and offer reduced prices by eliminating commissioned salespeople, traditional retail showrooms, long-term storage costs and overseas assembly.
They're also doing something a bit different with delivery. Like other foam mattresses, the Casper is compressed. But the dimensions of the box, regardless of whether you get a twin or a king, fit in the trunk of a New York City taxi or the backseat of a car. Casper uses Uber or, depending on where you live, bike messengers to get you the product. That means the company can deliver within 90 minutes of ordering and in a one-hour delivery window.  (They also have units set aside in their office for pick-up or delivery within 30 minutes.)
So how was the mattress? The first thing to keep in mind is that, even though the company claims the box is the size of a golf bag, the queen-sized version I got weighed 60 pounds, and it was difficult to move solo. Second, once you get the mattress out, it won't go back in, so if you move, your Casper will be just like any other mattress.
Though it was a bit of a struggle to get the thing out of the box, once I got all the wrapping off, it opened just as co-founder Neil Parikh suggested: "like one of those dinosaur toys you put into water." The package also comes with a slicer tool to make unwrapping easy.
Most importantly, sleeping on the bed was lovely. The mattress had a spring to it but also felt dense enough to be supportive. I also noticed—and perhaps this was the power of Casper's marketing materials—that the surface was cooler than my regular spring mattress. It didn't feel like I had extra body heat trapped between the sheets and me.
I slept soundly, woke up refreshed, and didn't feel any soreness or stiffness—which is even better considering that it usually takes 14 days to acclimate to a new bed.
For now, Casper has no plans to sell the model in stores, but they're hoping to let people stay overnight in their office, which is actually an apartment on Bond Street, to test it out. They also want to let interested customers do test drives via Airbnb by putting a Casper mattress in an available rental in the shopper's hometown and letting them pay for a night's stay. (They've done this a few times for investors already, though Casper picked up the bill.) And lastly, customers can return the mattress within 40 days; the company donates returns to local charities.
If you've just moved to the city, Casper will also deliver your mattress on moving day, and they're working on partnerships with real estate brokerages, including Urban Compass and Next Step Realty, to get the word out.  
Related posts:
Make your bed in a fraction of the time with this clever duvet cover
A space-saving desk for the tech addict in all of us
A desk-and-chair set fit for the the third world... and NYC
Multiply your kitchen counter space with this gizmo
We tried Breather, the Zipcar for rooms, and this is what we found
Brick Underground articles occasionally include the expertise of, or information about, advertising partners when relevant to the story. We will never promote an advertiser's product without making the relationship clear to our readers.