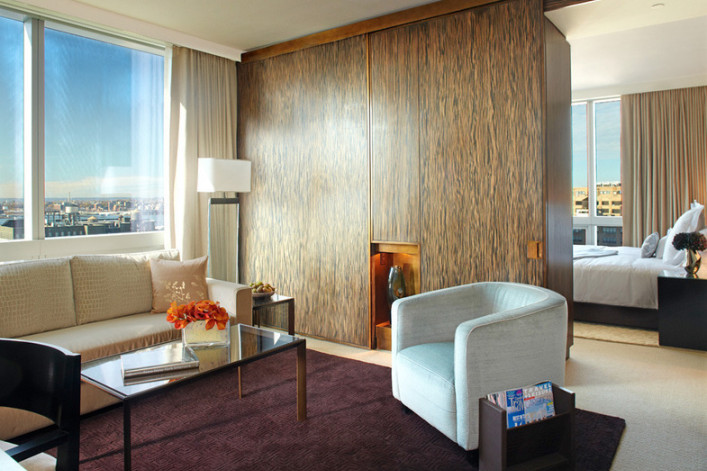 If 24/7 room service and a concierge at your beck and call appeals to your inner Eloise, then living in a hotel/condo hybrid could be the ideal situation for you. Tom Stuart and Adam Kinsinger of Bond New York outline the positives and potential pitfalls of hotel habitation in this week's Buy Curious.
THE WISH LIST:
I live outside New York, but I love spending time in the city. I've heard that a good solution for a pied-à-terre is a hotel/condo combination. What are the pros and cons? What can I expect to pay?
THE REALITY:
You've got two main options: a "condotel," which comes with some restrictions on how you use it, but is great if you want a part-time pad that will bring in rental income; or a condo in a hotel, which is the way to go if you want more freedom and don't mind paying extra for a slew of services. Here's the rundown:
Condotels
In a condotel, each unit functions as both an apartment and a hotel room (although not all require you to rent it out when you're not there). Prices for one-bedrooms typically range from $1 to $2 million, and some notable examples are the Trump Soho and the Trump International Hotel & Towers.  
Pros:
You'll have access to maid service, restaurants, room service, a concierge and many more extras that hotels typically offer without having to pay extra monthly fees.
To make it easy on the pied-à-terre buyer, the hotel will coordinate renting out your property when you're not there, allowing you to enjoy some financial rewards. Just let the hotel know when the room will be available and they will place it in the regular hotel pool. Rooms at the Trump Soho typically go for $500 to $700 a night, and you should expect to get 35 to 50 percent of that revenue for yourself.
Cons
Because of zoning restrictions, you can only spend a limited number of nights--typically 90 to 120 days a year--living in the unit.
Those restrictions also limit the number of potential buyers, so when it comes time to sell, you could have a harder time finding a buyer.
Getting a mortgage probably won't be an option, as banks are wary of doing these deals since they can't sell the loans to Fannie Mae (which means they assume all the risk). 
There's not a lot of variety in unit type, since anything other than a one-bedroom doesn't make a great hotel room.
Some folks might worry about the ick factor of someone using their place as a hotel room (although you may be comforted by the fact that it's not your primary residence).
Condotels are rare, so it might be somewhat difficult to find one.
Condos in hotels
If you're not keen on the aforementioned restrictions, a condo unit in a building shared with a hotel might be your best bet.
Pros
You can buy, sell and live in one of these units just like you would any other apartment. 
You'll have access to the hotel's amenities, such as turn-down service, but the residences are considered separate from the hotel. That means you'll get a dedicated entrance and, sometimes, amenities exclusive to condo dwellers. For example, the Residences at the W Hotel in the Financial District has a private rooftop terrace for owners only. 
Cons
You'll pay through the nose for all those amenities. You should expect to pay at least $2 million for a one-bedroom; two-bedrooms start at $3 million. No extra monthly fees are required, but your common charges will be higher than your average condo.
Financing these can also be a challenge. The hotel's portion of the building ownership adds a level of risk that makes many banks nervous. What if the hotel goes out of business? Where does that put the building financially? That said, financing is often possible if you're a strong buyer with good credit.
Unlike a condotel, the hotel staff won't rent out the property for you when you're away.
If a condotel sounds perfect:
Soho one-bedroom/one-bathroom condo, $2.896 million: This one-bedroom in the Trump Soho Hotel Condominium—a condotel located at 246 Spring Street between Varick Street and Sixth Avenue—features floor-to-ceiling windows, custom furnishings by Fendi Casa and bathrooms equipped with Turkish marble tubs and glass-enclosed walk-in showers. The Trump Soho has a 24-hour concierge and an 11,000-square-foot spa complete with Turkish hammams, but also limits how often you can stay. Common charges are $5,787 a month and taxes are $1,330 a month.
Lincoln Square one-bedroom/two-bathroom condo, $2.05 million: The Trump International Hotel & Tower at 1 Central Park West between  60th and 61st Streets has surprisingly few restrictions on usage for a condotel. You can use it up to 365 days a year, but when you aren't using it, it will be rented out for you. This east-facing sixth-floor unit has two bathrooms and Central Park views. Hotel amenities include 24-hour room service, a 6,000-square-foot fitness and spa center, a swimming pool and a business center with private conference rooms. Common charges are $5,125 a month, while taxes are $1,529 a month.
If a condo in a hotel is more up your alley:
Midtown West two-bedroom/two-bathroom condo, $6.375 million: This condo building at 20 West 53rd Street between Fifth and Sixth Avenues is attached to the luxurious Baccarat Hotel, anticipated occupancy is third quarter of 2014. Owners enjoy amenities that include a 24-hour concierge and sweeping views of Midtown. This two-bedroom unit offers 10-foot ceilings, floor-to-ceiling windows, a kitchen equipped with Miele and Sub-Zero appliances, and an in-unit washer/dryer. Common charges are $3,549 a month and taxes are $2,598 a month.
Central Park South two-bedroom/two-bathroom condo, $4.75 million: The residences at the iconic Plaza Hotel—1 Central Park South at Fifth Avenue, just steps from Central Park—feature high-end appliances and services ranging from nannies and private butlers to a gym, spa and concierge. This unit has two windowed bathrooms, a washer/dryer and a modern, custom kitchen. Common charges are $1,732 a month and taxes are $1,824 a month.
Financial District two-bedroom/two-bathroom condo, $3 million: The W Downtown Hotel & Residences at 123 Washington Street between Albany and Carlisle Streets is one of the more affordable condo hotels currently on the market in Manhattan. With a median price of about $2 million and seven years left on a tax abatement, monthlies will be in line with most New York City condos (at least for the next seven years). Common charges for this two-bedroom unit are $1,729 a month, while taxes are $386 a month. Residents can also enjoy the hotel's fitness center, media screening room, and a private residents-only rooftop terrace with Hudson River views.
Related posts:
Buying, renovating or refinancing next year? 5 mortgage trends to watch in 2014 [sponsored]
What 8 first-time buyers wish they had known
Here are the 7 most likely reasons you'll get turned by a co-op board
7 questions to ask about the building before you buy an apartment there [sponsored]
---
Buy Curious is a weekly column in which NYC real estate brokers help buyers develop a realistic search strategy. Want some advice on your search? Send us your wish list.  
Brick Underground articles occasionally include the expertise of, or information about, advertising partners when relevant to the story. We will never promote an advertiser's product without making the relationship clear to our readers.