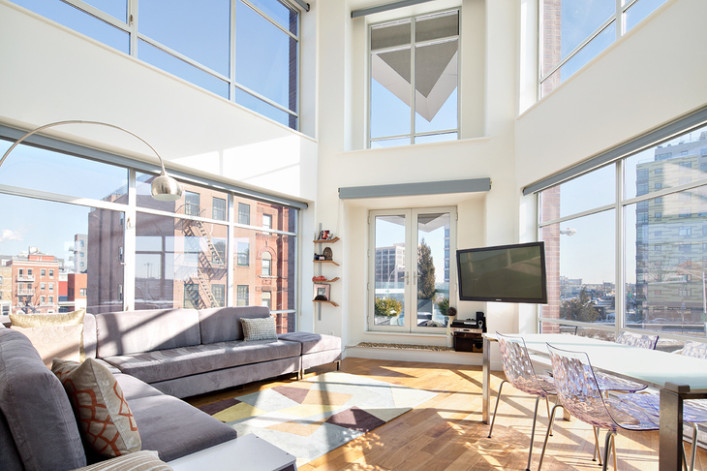 As prices in Manhattan and Brooklyn climb ever higher, Queens is becoming an increasingly practical--and attractive--place to buy a home. Guest brokers Christina DeCurtis and Andy Dimakopoulos  of Modern Spaces put the borough under the microscope in this week's Buy Curious.
THE WISH LIST:
I've officially been priced out of my Brooklyn neighborhood, and I want to buy a two-bedroom in Queens. I've heard a lot about Long Island City, Astoria, Sunnyside, Jackson Heights and Ridgewood, but I'm not sure what the areas are like or how much they cost. What should I know?
THE REALITY:
Overall, Queens offers great places to live at significant savings. But as you've deduced, each neighborhood has its own culture and personality.
Long Island City
LIC is definitely the trendiest part of the borough--and the closest to Midtown. In fact, it's just a 15-minute commute on the N, Q, 7, E, R or M lines.
While factories used to dot the area, a number of those older locations have found new uses in recent years. Silvercup Studios—where much of Sex and the City and The Sopranos were filmed—is housed in the former Silvercup Bakery, while the onetime Sunshine Bakery is home to LaGuardia Community College.
The neighborhood boasts a flourishing arts community with studio spaces and galleries galore, including MoMA PS1, a contemporary arts center named for the building's former incarnation as a public school, and 5Pointz,  once known as the world's "graffiti Mecca," which the owner plans to turn into high-end rentals.
There are also great restaurants in the area (including steakhouse S Prime and Alobar, which uses seasonal, local ingredients) and the great Gantry Plaza State Park—a waterfront park with playgrounds, basketball and handball courts, a fishing pier and manicured gardens.
New high-rise and boutique condo buildings have appeared practically overnight. Because of its popularity, LIC is one of the most expensive places in Queens. The median price for a two-bedroom condo is almost $1.2 million and for a two-bedroom co-op is $849,000, according to StreetEasy.
Astoria 
Known for its diversity, Astoria boasts a large Greek population (with several Greek eateries, bakeries and Greek Orthodox churches) and a large Arab population too. In fact, Steinway Street between 28th Avenue and Astoria Boulevard is known to locals as "Little Egypt" because of its many Arabic shops and restaurants. A large number of Bangladeshi-Americans and Maltese-Americans live in the area, as well.
The neighborhood is home to a growing number of music venues and hipster bars, including the Astor Room and the Quays Pub and is only a 15-minute subway ride on the N or Q into Midtown. 
It's also home to Astoria Park, which has outdoor tennis courts, a beautiful pool, a track, a bandstand, basketball courts and playgrounds.
Unlike Long Island City, the area doesn't have a lot of new condo developments, but there are lots of townhouses and pre-war multi-family buildings—most of which will offer more square footage than the average Manhattan apartment. Condo resales are scarce, so you'll probably have to buy a co-op if Astoria strikes your fancy.
The median price of a two-bedroom condo here is $419,000, while a similar co-op is $327,500, StreetEasy shows.
Sunnyside 
A subway stop from Long Island City, Sunnyside is gaining a name as a relatively inexpensive area that appeals to folks looking for relief from the fast-paced city. Plus, it's a 15-minute commute to Midtown on the 7. The neighborhood is diverse, with residents that include Armenians, Romanians, Chinese, Koreans, Indians, Bangladeshis, Colombians and Ecuadoreans. 
This middle-class neighborhood has been dominated for years by mom-and-pop shops, but more boutiques and specialty stores have opened up recently, including Tiny You, a children's clothing store that features items by local designers, and Stray Vintage & More, which carries vintage jewelry and clothing, as well as antique furniture and wall décor. Both shops are located on Skillman Avenue, one of the main shopping strips.
Sunnyside is also home to Thalia Spanish Theatre—the only bilingual theater in Queens—and 3-acre Sunnyside Gardens Park.
Although the neighborhood lacks the nightlife of Long Island City or Astoria, Salt & Fat, a New American eatery owned by Sunnyside native Daniel Yi, opened last year to great fanfare, possibly signaling a new wave of upscale restaurants.
If you do decide to buy here, know that you may have a tough time finding an apartment. At the moment, no two-bedrooms are on the market, and a median price was not available. The median price for a one-bedroom condo was $199,000 and for a one-bedroom co-op was $217,400. There simply aren't any new condos here, so you'd be waiting for the right resale.
Jackson Heights 
Known for its large and reasonably priced co-ops, Jackson Heights is the birthplace of Howard Stern and Lucy Liu and a childhood home of John Leguizamo. Those names alone speak to the diversity of the neighborhood, which is home to a large population of South Americans (including Argentines and Colombians) as well as South Asians and East Asians.
Also, about half of Jackson Heights—from 76th to 88th Streets between Roosevelt Avenue and Northern Boulevard—has been designated a historic district, giving the neighborhood an aura of 19th century grandeur. The area is dominated by low-rise apartment buildings with inner courtyards, as well as modest houses.
Jackson Heights is also known for its Little India feel, and a corridor of sari shops, South Asian restaurants and music stores blasting Bollywood tunes stretches along the main thoroughfare on 37th Avenue.  Eateries include Delhi Heights, which has Indian, Nepalese and Chinese cuisine, and Himalayan Yak, a Tibetan and Nepalese place that gets yak meat from a Vermont farm every summer.
There's also a year-round greenmarket Sundays in Travers Park, a community park that boasts basketball courts and areas for handball, tennis and roller hockey. Commuting to Midtown takes 45 minutes via the 7, E, F, M or R lines.
The median price for a two-bedroom condo was $419,500 and $307,500 for a two-bedroom co-op, StreetEasy shows.
Ridgewood 
Bordering hipster Bushwick (and even taking on some of the hipster overflow), Ridgewood is an up-and-coming neighborhood—not exactly on pace with Astoria or Long Island City. It's densely settled, with housing stock ranging from six-family buildings near the Brooklyn border to single-family houses deeper in Queens.
Still, signs of gentrification abound in the area, with the arrival of a few trendy spots like Bunker, a Vietnamese restaurant from Eleven Madison Park alum Jimmy Tu, and the modly decorated Ridgewood Thai.
A typical listing will be a smaller apartment without big-ticket amenities, but homebuyers looking for an elusive two-bedroom under $400,000 will be happy here--the median price for a two-bedroom apartment was $369,000, StreetEasy shows. The commute into the city can be daunting, though. It'll take you 45 to 60 minutes via the M train.
Is Long Island City perfect?
Does Astoria seem like a better fit?
Think Jackson Heights could be the place?
How about Ridgewood?
---
Buy Curious is a weekly column in which NYC real estate brokers help buyers develop a realistic search strategy. Want some advice on your search? Send us your wish list.  
Related posts:
Buying, renovating or refinancing next year? 5 mortgage trends to watch in 2014 [sponsored]
What 8 first-time buyers wish they had known
Here are the 7 most likely reasons you'll get turned by a co-op board
7 questions to ask about the building before you buy an apartment there [sponsored]
Everything you ever wanted to know about sponsor apartments but were afraid to ask
How to buy an apartment that's not for sale using PropertyShark.com [sponsored]
6 hurdles that can stand between you and a mortgage -- and what to do about them
7 things to consider before buying in a landmarked building
Top 12 questions New Yorkers ask their mortgage bankers [sponsored]
What I learned from 150 apartments before I finally bought one
Diary of a First-Time Buyer: 13 lessons learned after 60+ apartments, 2 attorneys, 3 brokers and 2 board applications
Brick Underground articles occasionally include the expertise of, or information about, advertising partners when relevant to the story. We will never promote an advertiser's product without making the relationship clear to our readers.