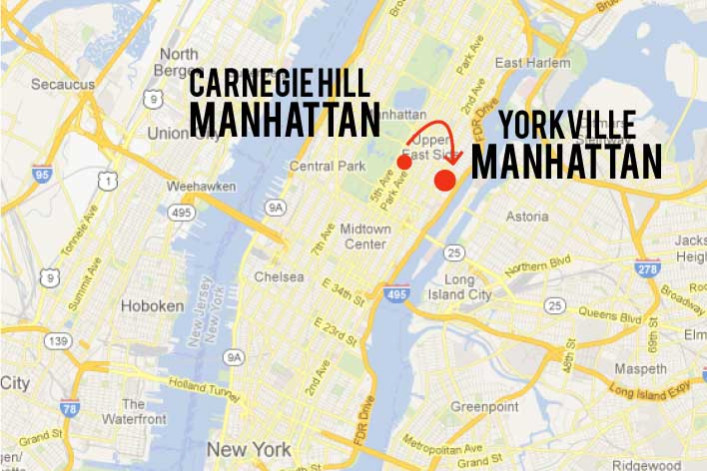 The apartment: a home we can grow into
It's like we've moved to a house: 1,250 square feet, a separate bedroom for my three-year-old, and space in the living room for two couches, a dining table and a play area. And even though my husband, daughter and I have moved only about 20 blocks away--from Carnegie Hill to Yorkville on the Upper East Side--it feels like we've moved to a small town far away. 
Our old place was a 700-square-foot one-bedroom on 96th Street between Park and Lexington. My daughter slept in part of the living room we'd sectioned off with a temporary wall, and for years, my husband and I would watch TV in bed and sometimes eat dinner on our bedroom floor so we didn't wake her up. The place was bursting. 
Still, we had befriended most of our neighbors, and the doormen and porters were helpful and friendly. Talking to them became a ritual each day.
In our new two-bedroom, our rent has gone up by $1,500 a month. But we rationalize the bump because we stayed in our last place for four years, two years longer than expected, saving on rent. 
The neighborhood: loads more food options
We moved to be in a better public school zone, but being on York and 80th Street takes some getting used to. It's an extra 10-minute walk to the nearest subway (on 77th and Lex), and it feels like every trip takes an extra 10 or 15 minutes than it used to. 
On the other hand, I can't tell you how many kids I see on scooters en route to school or home. My husband said it feels like a village. And he's right.
Being on 96th Street was convenient, with the crosstown bus and 6 train on our corner, and Central Park a few blocks away. But it was also noisy and unattractive. The buses and ambulances headed to Mount Sinai barreled down the road. Even though we were on the fifth floor, we couldn't open our windows in the summer because of the traffic noise.  And anyone who's ever been on 96th and Lexington knows that it's not the charming stores and leafy sidestreets you associate with the Upper East Side.
Also, our supermarket choices were not ideal. On one corner, Associated: always crowded and, seriously, what is that smell? On the other corner, Gourmet Garage: expensive, and the prepared food is mediocre.
Same with restaurants. Lexington Avenue in the 90s has tons of empty storefronts, and Park is residential. Some new places have opened recently, all owned by the same company-- ABV, Earl's Beer  and Cheese and The Guthrie Inn--but there's still not much selection.
Our new neighborhood is packed with cute restaurants: Sushi of Gari; Salvo's Pizzabar, our new neighborhood pizza joint; and Uva, which has a patio. We're a block from Emack & Bolio's--it's always good to have an ice cream parlor nearby. And we're close to a D'Agostino supermarket and an Agata & Valentina, a pricey but delicious gourmet shop.
This summer, we plan to take full advantage of Carl Schurz Park, and my daughter's fallen in love with John Jay Playground, which has two public pools.
In short, it feels like the Upper West Side I grew up in during the '80s and '90s before chain stores replaced the mom-and-pops.
The commute: a longer walk to the subway
I mostly work from home, but my husband works in Chelsea and his trip takes about 40 minutes--10 minutes longer than before. He takes the 79th Street crosstown to connect to the B or C trains, which are old and slow. He used to take the 96th crosstown to connect to the 2 or 3, which were much faster and more reliable and shaved off a few minutes.
Related posts:
Moving to NYC? Here's a crash course in finding an apartment here
Brick Underground articles occasionally include the expertise of, or information about, advertising partners when relevant to the story. We will never promote an advertiser's product without making the relationship clear to our readers.