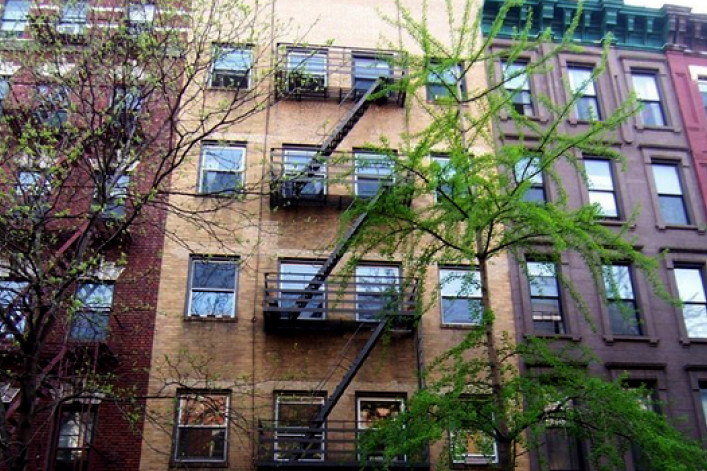 When Jesse B. first saw the apartment a decade ago, he had one thought: "Holy s--t! This place is huge." 
The full-floor rent-stabilized apartment on West 46th St. in Hell's Kitchen had three bedrooms, a dining room and an eat-in kitchen. An entire wall was lined with windows. And a friend who worked at the Department of Buildings confirmed that the building had the largest footprint of all the area walk-ups.
Jesse, who was working at a network news station at the time, never put a single piece of furniture in the living room, third bedroom or dining room, and lived there alone for about a year and a half. 
"I had a lot of fabulous parties in that apartment," he recalls. "Friends were amazed at the size and especially the price."
The stabilized rent was only $1,300 and change--a
 far cry from his neighbors' three-bedroom (without a dining room) that cost $4,600 a month. These days, a similar market-rate apartment would cost around $5,200.
Jesse had just come through a breakup and, then in his late-30s, was content to stay put. Until an attorney made him an offer he should have refused. 
Making a deal
The attorney's letter said simply that Jesse's elderly landlord was turning over her buildings to family members, and requested a meeting to talk options. 
"It soon became clear that the only option the family wanted to pursue was for me to vacate the apartment," Jesse says. "The attorney said they would pay me $10,000."
Jesse counteroffered $90,000.
When the attorney said the landlord didn't have that kind of money, Jesse suggested they take out a second mortgage. "After all, over a few years, it would work to their advantage," he reasons.
And then... he waited. A couple of weeks went by, and the attorney invited him for another meeting. This time the offer was simple: a cashier's check for $50,000, and Jesse had to be out by the end of the week.
"I sat there for a moment. Then went for a walk around the block to have a cigarette and think it through," Jesse recalls.
While he had no grandiose plans for the money, "$50,000 has a certain ring to it," he explains.
The next day, he signed the deal.
Renter's remorse
The regret was swift and extreme. On the way home, he showed off the check to a local bartender he knew.
The bartender's response would become familiar: "Are you crazy? You will never find another place like that. You are going to end up paying more and maybe have a roommate!"
Jesse immediately called the attorney, begging to return the check. He offered the landlord an extra $5,000 to be allowed to stay. But to no avail. 
He wound up spending $14,000 of it to fix a heating system in a vacation home and banked the rest. But it didn't matter: he still considers selling out the worst real estate decision he ever made.
Related posts:
The one that got away: Loving and losing in NYC real estate
An ode to New York City, on Valentine's Day
Landlord wants to buy you out? How to name your price -- plus real-life examples from $15k to $1 million
Hell's Bitchen: The one that got away
Moving to NYC? Here's a crash course in finding an apartment
---
The One That Got Away chronicles stories of love and loss in NYC real estate.
Brick Underground articles occasionally include the expertise of, or information about, advertising partners when relevant to the story. We will never promote an advertiser's product without making the relationship clear to our readers.