High ceilings, crown molding, graceful layouts and generous proportions are among the well-known elements of New York City pre-war apartments. But there's another, quirkier feature that's a sign of a bygone era: the dumbwaiter. 
Dumbwaiters are small elevators found in large houses and buildings. They were used by servants and vendors to transport items like food, groceries and laundry from floor to floor,  and usually they opened directly into the apartment.
As the need for dumbwaiters dissipated over the decades (along with the prevalence of servants), these mechanical work horses were decommissioned. Access doors in apartments were often sealed, boarded up, and painted over.

But for those who want to squeeze every inch of usable space out of their square footage (a.k.a New Yorkers), the existence of a dumbwaiter can make all the difference. Many prewar owners choose to bite the bullet and bear the cost of having the walls of the  dumbwaiter shaft removed entirely and expanding the room into the shaft area to gain a few extra square feet (typically, you can gain about 3 to 4 square feet of space).
That said, David Seroy, principal of Seroy Contracting, says there are "thousands upon thousands" of improper dumbwaiter conversions around the city that co-op boards don't even want to know about.
"Nobody is going to pay $3,500 to seal up a shaft the right way unless they are told to," Seroy says.
In his line of work, Seroy has been hired to redo such jobs in the correct manner--think a "fireproofed angle iron supporting a three to four inch reinforced concrete fire stop. The upper portion of the dumbwaiter shaft needs to be supported as well so it doesn't come crashing down."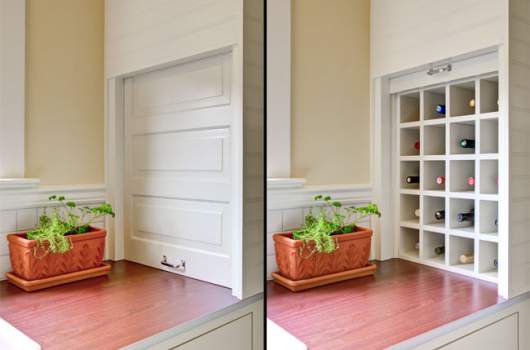 Contracting firm Hammer & Hand reclaimed a dumbwaiter space and made it into a wine cabinet. This particular project did not involve getting rid of the shaft--the original door and opening made a perfect wine cubby for the owners.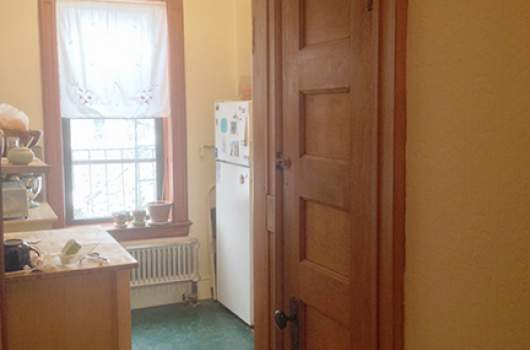 Brooklyn-based contractor Rick Ladd maximized the storage opportunities in his own brownstone by building closets - all DIY - into the dumbwaiter shaft in his kitchen and an apartment on the second floor. "Dumbwaiters in brownstones often run three or four floors and sometimes the basement too," he says. "Most often they have a large pulley at the roof line and a track that keeps the elevator box in place."
The inside of the closet Ladd fashioned out of his dumbwaiter. The doors are original!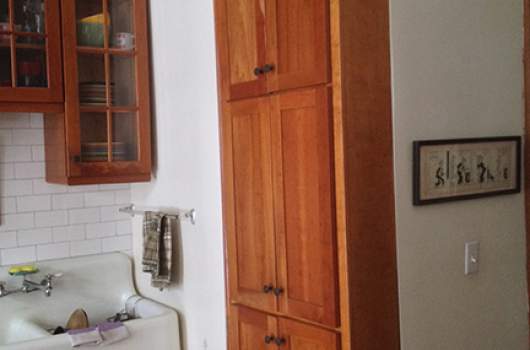 The dumbwaiter opening in Ladd's kitchen is now a floor-to-ceiling pantry. The shaft is technically intact, with the top and bottom sealed off, and the walls Sheetrocked. 
Here, the shaft has also been left intact, with the opening and cavity framed out like the interior of a box. It's been outfitted with simple shelving and a wine storage rack.
Related posts:
Looking to increase your property value? It's all in the renovations