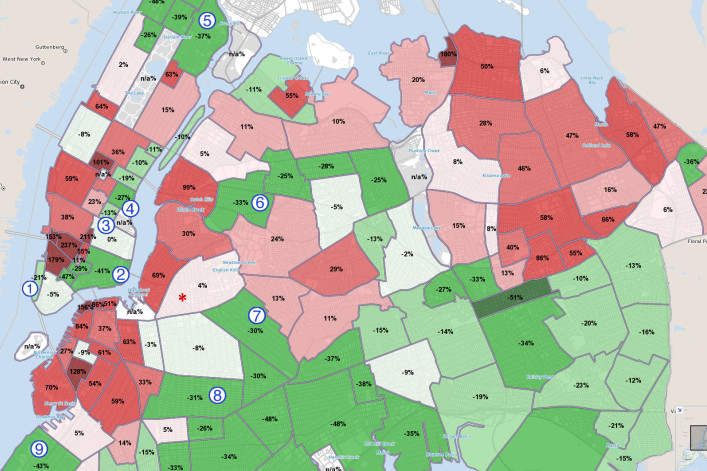 A few years ago, Michael Graves, a broker with Douglas Elliman, had a young client who'd made a fortune selling his tech company and decided to invest in north Brooklyn real estate. He took a stack of pennies and threw them on a map, and wherever a coin landed, he bought.
"He has made so much money," Graves says, "because those neighborhoods only go one direction. They only go up."
Of course, not everyone has millions to throw around. If you're looking for a more scientific approach to determine where to buy, we've enlisted the data experts at PropertyShark to crunch the numbers.
By comparing median home sale prices in specific neighborhoods in Manhattan, Brooklyn and Queens to prices for the boroughs overall in 2013, PropertyShark created an interactive map (screenshot above; click here for the full interactive experience) that shows where price gaps are the widest. So, for example, the median price in dark red Tribeca is $2.7 million, or 179 percent of the median in all of Manhattan, which is $975,000. 
To help you narrow down your search, BrickUnderground has taken a deeper look at nine New York City neighborhoods where sale prices are substantially lower than other parts of their borough.
(ProTip: If you're not seeing enough homes for sale in your price range or target neighborhood -- and/or you'd like to avoid a bidding war -- consider expanding your search to "off-market" listings. NYC real estate brokerage Triplemint, a Brick Underground partner, uses technology to mine public records and identify owners who may be ready to sell, meaning you can meet and deal with owners before their homes hit the market. Click here to learn more.)
MANHATTAN--$975,000 median sale price
1. Battery Park City—19% lower
Battery Park City is a love-it-or-hate-it kind of place, brokers say. "Either you're open to it and you really want it, or you don't. That has been the psychology of buyers for many, many years," says Graves.
There are plenty of reasons to love Battery Park City, from good schools to acres of landscaped waterfront to the compressive subway access. But there are also a few reasons why the median sale price is only about $771,000, 19% below the Manhattan median.
Above: Battery Park City (Photo credit: fwickafee)
Battery Park City sits on a 92-acre plot of land that's owned by the Battery Park City Authority, a public-benefit corporation created by New York State. Apartment owners must pay ground rent to the BPCA, meaning their monthly charges tend to be higher. (During the economic downturn, it was also more difficult for buyers to get mortgages because of this arrangement.)
The neighborhood has also fought a reputation of being a ghost town at night and a permanent construction site, as the rebuilding of the World Trade Center has dragged on.
While Battery Park City backers have been avowing for years that the nabe is set for a turnaround, this time it might really happen. Restaurants like Danny Meyer's Shake Shack have set up shop, and new high-end retailers such as Hermes and the swanky gym Equinox have signed on for space at Brookfield Place, a sprawling office complex on West Street undergoing a makeover. 
"I wouldn't be surprised in the least once the World Trade Center is built and open if you don't start to see that appreciate better," says Jason Haber, a broker at Warburg Realty. 
2. Lower East Side—42% lower
"The Lower East Side is still seen as a new frontier," says Graves.
Known for its grittiness, the area is increasingly being colonized by trendy hotels, speakeasy bars, fashion boutiques and contemporary art meccas like the New Museum. Pockets of the Lower East Side, such as the Bowery, are giving way to new condo developments. 
"But even with that being the case, it's still a neighborhood that is a little more detached from the rest of Manhattan than other locations," Graves says. 
Above: Lower East Side (Photo credit: InSapphoWeTrust)
Parts of the Lower East Side, particularly closer to the river, have only limited subway access. A large swath of the neighborhood is home to Co-op Village, a 4,500-unit affordable co-op complex. Combine that with zoning laws that restrict how tall developers can build, and you'd be hard-pressed to find a luxury condo building dripping with amenities. 
But the $576,000 median price is great for those who want a teeming nightlife on their doorstep rather than a high-end gym in their basement.
In the next two years, Graves predicts, those slices of higher-end apartments will push the overall price of the neighborhood up.
3. Gramercy Park—13% lower
Gramercy Park is synonymous with swank, not only for housing Manhattan's only private park—you need to own a home on the perimeter to get a key—but also for having copious townhouses dating back to the mid-19th century. So why is the 'hood on the cheap side, with a median sale price of $852,000? East of the park itself (closer to First, Second and Third Aves.), there are relatively reasonably priced apartments available, brokers say. 
"If you're a deal seeker right now and you want to live in Manhattan, the eastern side of Gramercy is a fantastic value," says Graves. 
The gap is so severe that Graves estimates that an apartment he is selling on Second Avenue and East 23rd Street could fetch at least $1 million more if it were a few blocks west. 
The reason boils down to convenience: on the eastern side, transportation options are limited, as are the number of bars, restaurants and shops versus to an adjacent area like the Flatiron District.
That said, the Second Avenue subway is set to come barreling down the corridor eventually, connecting the area to Midtown and, brokers predict, bringing a major transformation. (As of November, MTA officials reportedly said construction of the first phase was on track for a December 2016 opening.)
"Right now, that neighborhood's a bit of a value play, and I think it's going to change," says Mara Flash Blum, a broker at Sotheby's International Realty. 
4. Kips Bay—27% lower
Hugging the East River between East 23rd and East 34th Sts., Kips Bay suffers from some of the same problems as the eastern part of Gramercy Park. The area is not well served by public transportation, keeping median sale prices to a relatively inexpensive $710,000.
"People don't want to be over that far," Blum says.
Above: Kips Bay (Photo credit: Andrew Mace)
Another factor keeping prices down is the proliferation of co-ops in the area. "If you have a neighborhood that has more co-ops than condos, your prices are going to be lower," Blum says, referring to the fact that condos currently cost an average of 40% more per square foot than co-ops.
But the area is popular with first-time apartment buyers who are attracted by the abundance of smallish units. A stretch of the area is also occupied by the NYU Langone Medical Center Hospital.
5. Harlem—37% to 49% lower
As New York City real estate rebounds, Harlem is facing another wave of gentrification, which brokers expect will push prices up further than the current median, which ranges from $507,000 to about $611,000.
Call it the Whole Foods effect, Haber says. The organic grocery juggernaut has the power to remake neighborhoods, and it's planning a new location at Lenox Ave. and 125th St. That will add to a bevy of bars and restaurants that have opened up in the last few years, like Marcus Samuelsson's Red Rooster.
Above: Red Rooster in Harlem (Photo credit: Jeff Dobbins)
On the new development side, "a lot of really good quality, luxury product is coming on, and people are interested," says Haber, noting that he has some clients who've chosen Harlem over the Upper East Side. 
If prices are still cheaper, that's a matter of distance from Manhattan's core and a lack of ultra luxury options like you might find in Tribeca. 
Also, there is some variation across this part of Upper Manhattan. East Harlem has swaths of public housing projects, making it more difficult to build condos because of the relative scarcity of land, while West Harlem is close to the Columbia University campus, and Central Harlem has the brownstones, Haber explains. However, East Harlem's median price is higher than the rest of Harlem because it extends further south, which may skew the data. 
Discover off-market properties in your dream neighborhood that perfectly suit your needs and budget.  Meet and deal with sellers before their apartment hits the market.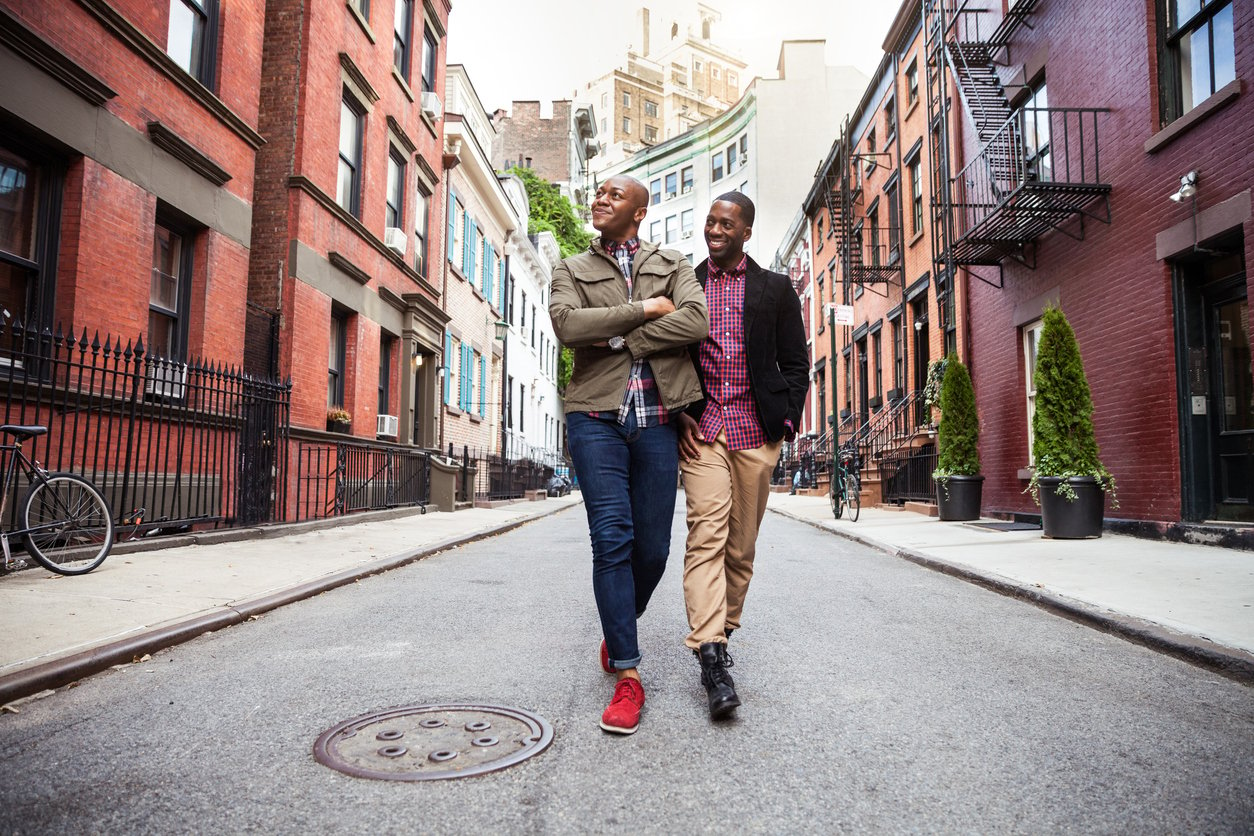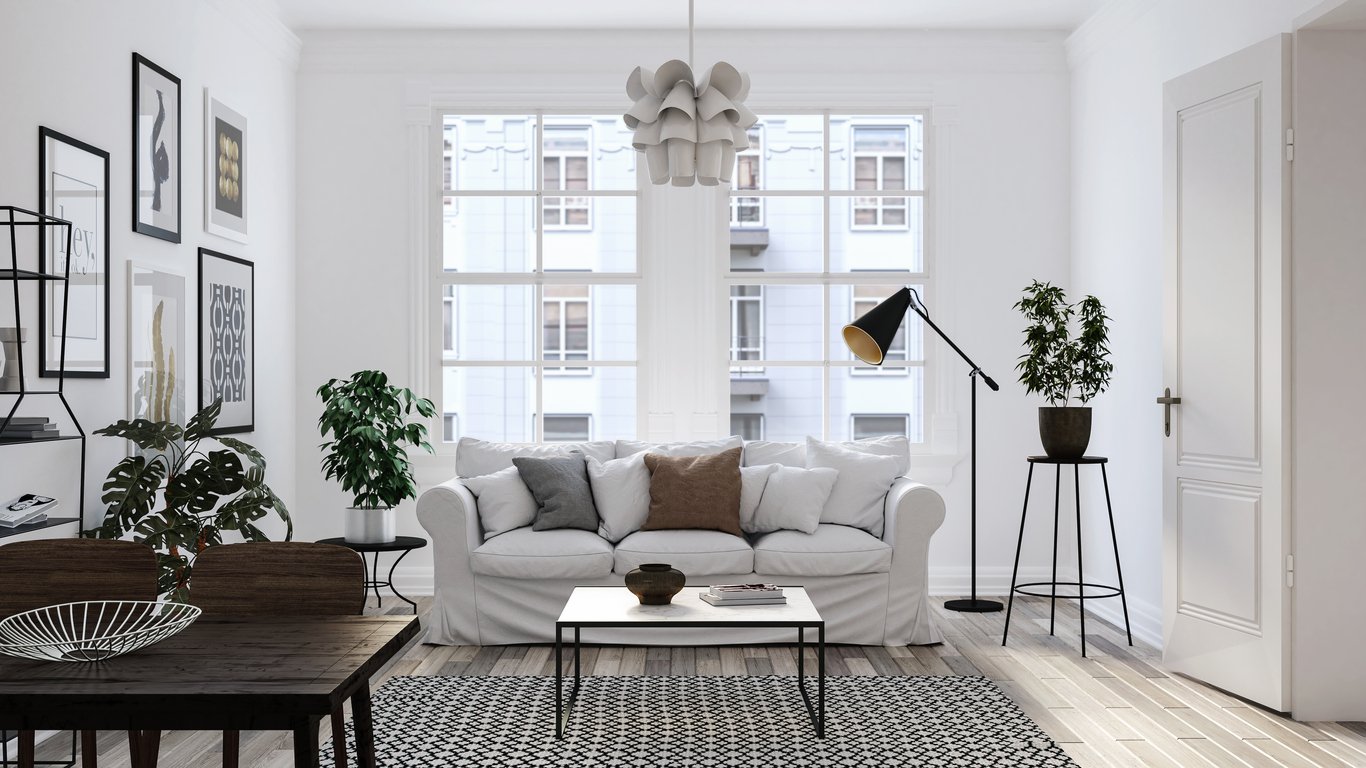 Let Triplemint's off-market team give you exclusive access to apartments in your price range and desired neighborhood that no one else has seen. More options, less competition, no bidding wars. 
QUEENS--$400,000 median sale price
6. Sunnyside—33% lower
Sunnyside lacks the name recognition of Astoria and the amenity-packed glass high-rises of Long Island City, keeping prices down--but this Queens neighborhood has plenty of small-town charm, says Eric Benaim, founder of brokerage Modern Spaces. 
Above: Sunnyside (Photo credit: mogagraham3)
Sunnyside, where the median price is $270,000, is served by the 7 train and has some retail, such as a Gap, drug stores, supermarkets and a couple restaurants, including the popular Salt & Fat, Benaim says. But as Brooklyn gets ever more expensive, more and more apartment hunters are considering Queens. Benaim, who has lived in Queens his entire life, expects that in another year or two, the neighborhood will take off. 
"Obviously, developers haven't really gone in there," Benaim says, explaining that the area north of Queens Blvd. has a heavier concentration of townhouses, which can be had for about $800,000, while the south side has a mix of different types of housing. 
BROOKLYN--$515,000 median sale price
7. Bushwick—30% lower
Bushwick tends to conjure images of obscure artists throwing parties in graffiti-laden industrial lofts. But make no mistake: With a median sale price of about $360,000, Bushwick is one of the fastest-changing neighborhoods in the city.
"Bushwick is probably the next one on the cusp of being an up-and-coming neighborhood," says Angela Ferrara of new development marketing firm The Marketing Directors. "It's not quite there yet."
Above: Bushwick (Photo credit: Laurel Albrecht)
The north Brooklyn neighborhood still lacks a key concentration of "essential services," she says, such as upscale delis, nice restaurants and dry cleaners that would force prices up. "People will not gravitate toward there unless they are very, very price sensitive."
Bushwick lacks the kind of high-rise developments that have cropped up in Williamsburg, particularly along the waterfront. Most of the housing is low-rise single-family homes, says Laura Tomana, a research analyst with The Marketing Directors. But gut rehabs of townhouses are taking place, signaling that further gentrification is on the horizon, Ferrara says.
Over the next five years, brokers expect the hallmarks of Williamsburg—nightlife, art galleries, new condos and high-end rentals—to bleed east into Bushwick at an even faster clip. Condo towers would be at least three or four years down the line, Ferrara says.
8. Crown Heights—31% lower
Brokers chalk up Crown Heights' affordability—its median sale price is about $356,000—to a lack of services, such as restaurants, bars and other stores, that would attract a buyer looking for something more than just a bargain. Jonathan Tager, a broker at MNS, points to a recent experience marketing a 19-unit new development where one-bedrooms were asking $189,000. "There was nowhere to get your bacon, egg and cheese in the morning; there was nowhere to get your cappuccino," he says.
Above: Crown Heights (Photo credit: Lori)
However, the area does have "gorgeous" historic buildings, mainly one- to three-family townhouses, Tager says. The number of condos is minimal, particularly as developers all but stopped building them during the economic slump. More recently, "plenty of developers would love to get in on Crown Heights and do projects," Tager says, but they wouldn't be ready for at least two years, given how long it takes to build.
Gentrification is spilling into Crown Heights from neighboring Prospect Heights, bringing nightlife and culinary options. But brokers say it's not nearly on the scale of Bushwick, for example. 
9. Sunset Park—43% lower
Sunset Park is largely residential, served by several subway lines, and home to an eponymous park that offers sweeping views of the Manhattan skyline.
Above: Sunset Park (Photo credit: Barry Yanowitz)
But Sunset Park, which has large Chinese and Mexican populations, has not seen the kind of transformation that has taken hold in other parts of Brooklyn. Part of that is its distance from Manhattan, but it also tends to be an insular neighborhood where residents stay put, brokers say. The lack of turnover could keep sale prices down, Tager says. The median sale price is a mere $295,000.
Additionally, along 36th Street there are some "seedy" hotels that don't make Sunset Park attractive, Tager says. "Let's put it this way, I'm not going to recommend my parents stay there when they come visit," he jokes. 
Related posts:
10 of the best NYC neighborhoods for recent college grads
9 reasons to move to Jersey City right now [sponsored]
Moving to NYC? Here's a crash course in finding an apartment here
Weird co-op board interviews? Nail 'em
Buy Curious: Pre-war, post-war or new construction--which is right for you?
7 maps you'll want to consult before you move (and two just for fun)
How to buy an apartment that's not for sale using PropertyShark.com (sponsored)
Brick Underground articles occasionally include the expertise of, or information about, advertising partners when relevant to the story. We will never promote an advertiser's product without making the relationship clear to our readers.