Transitions
Tribeca to Morningside Heights: Another family friendly neighborhood, this time without the snobiness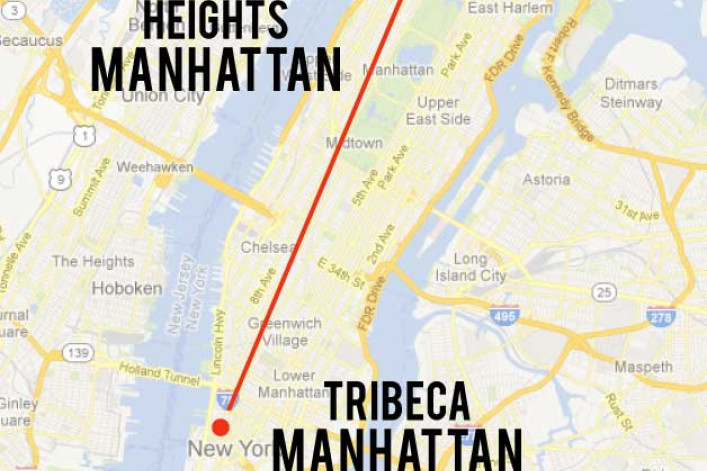 In September 2013, I moved from a two-bedroom apartment in Tribeca to a one-bedroom in Morningside Heights.
In Tribeca, I had lived with two roommates--a married couple--so they had one bedroom and I had the other. The apartment was spacious, probably over 1,500 square feet and the bedrooms were generously sized. It was in a rent-controlled building on Greenwich Street and Harrison Street, so the rent was pretty affordable. My share was $800 per month.
Eventually, since I was spending so much time with my girlfriend at the place she owned in Morningside Heights,  we decided to move in together. She bought it in 2011 for $382,000. Her mortgage is about $1,300 and maintenance is $700, so the total monthly cost is $2,000, which we share.
I liked living in Tribeca. It's where I grew up, too.  It went from being a desolate neighborhood that no one boasted about living in to an overpopulated one pretty fast. The vibe in Tribeca when I was a kid (I am 31 now) was more relaxed, filled with working families and artists.   These days, the vibe is pretty snobby and a little fake. I know that sounds bad, but have you walked around Tribeca lately?
Here is an example of the kind of new Tribeca douchey-ness I see in the neighborhood now: I was recently at one of the newish restaurants in Tribeca called Terra on Franklin Street and West Broadway (where the old Franklin Station Cafe used to be) and there was a long wait for a table.
It was a Friday night around 8 p.m. and the place is small--of course there is a wait. 
So this guy and his wife hear that the wait is at least 45 minutes and he starts huffing and puffing.
"I won't wait for a table in my own neighborhood," he says, loud enough for nearby tables to turn and look.
As if the rest of the patrons would mistake him for an Upper-West-Sider or a Brooklynite. (Meanwhile, he probably moved to Tribeca less than a year ago.) It is precisely that entitled attitude that defines Tribeca now.
Tribeca is still mainly a family friendly zone--there are plenty of strollers around (although, the strollers cost more than my rent for a month).Tribeca is also so close to the financial center of NYC. It is quite a contrast to see such a high family population close to and mixed in with the young professional/finance crowd who, I'm sure, abhor the maze of strollers they have to navigate to get to work at Goldman Sachs or American Express.
When I was growing up the neighborhood started to get more populated but you could still afford to live downtown on a modest income. Those days are over now.
You can't touch a decent sized two-bedroom apartment (that isn't rent-controlled) for under $5,000 per month and forget about a loft. Unless you have a few million to throw down on a space, loft-living is not for you. So funny, considering that lofts used to be for struggling artists and now they're designated for the ultra rich.
Because I frequently visit my family,I am in Tribeca a lot so I still get to dine at my favorite places and hit up the quiet Battery Park movie theater which is always a ghost town. I love it.
Gee Whiz Diner…I know I'll probably get a few eye-rolls for that one but it's a neighborhood joint! We used to go there after school (yes, I went to P.S. 234 like every Tribeca kid from the 1980s) or breakfast on the weekends. It is open late and delivers until like midnight.
Bubby's or Tiny's are both great brunch spots… Ecco for Italian… The Hideaway on Duane Street is a nice tiny bar. Mudville 9 is also a fun place. And who could forget Nancy Whiskey Pub! That place is an institution!
Tribeca also has Whole Foods now, which is pretty great. And word on the street is...there is a Fairway coming soon. 
Morningside Heights has less of a dining scene, but there are a few great spots. 
We love V & T Pizearia on Amsterdam. Bettolona on Broadway and LaSalle (the cusp of the hood) is good. Toast and Chicken Bar on Amsterdam, which serves mainly chicken (as if the name didn't give that away) is great. We also like Manchester Diner on Broadway and 108th (because you have to have a favorite diner in every neighborhood). Community on Broadway and 112th Street is one of our favorites because they are delicious and use local farmers and are committed to sustainable eats.
There is also a farmers market on Broadway between 144th and 116th Streets on Thursdays and Sundays. We're really conscious about shopping for local produce and supporting local farmers so we hit up the farmers market every week. If not, we can stop by the Westside Market on 110th and Broadway. There is also a Fairway not far…but not in "Morningside Heights."
Morningside Heights is a great area, not as much hustle and bustle as downtown. It is less densely populated than Tribeca…or at least it feels that way. On average the families are much nicer and more laid back in Morningside Heights than Tribeca.
The abundance of Columbia University students isn't an annoyance either, except in late August and early September when the freshman are moving in and spend most of their time wide-eyed slowly strolling around the neighborhood.
There is a definite upside to being in close proximity to one of the top universities in the country…the bars and restaurants are teeming with smart and interesting people from the Columbia University set. Not to say that bars and restaurants elsewhere are filled with dopes, it just feels more concentrated here because Columbia practically has their seal stamped on everything.
I feel happy to live in Morningside Heights but it also comes with guilt that we are agents of change--quickly gentrifying yet another neighborhood in NYC. Wealthier people (priced out of lower Manhattan) seem to be moving into Morningside Heights and driving up the cost of living, which is displacing the original families that made this neighborhood such a diverse and close-knit community. (Much like Tribeca.) 
I don't see myself uptown forever.  I think I could get into the hustle and bustle of Midtown. You probably can't believe that a native New Yorker would actually want to live in Midtown. Maybe I'd hate it after a week, but my ideal location is Midtown West, 50's or 60's, close to Central Park. There is something about being in the super urban center that is exciting. You're in the middle of all the tall buildings and Central Park is right there.
---
Transitions highlights New Yorkers' first impressions as they transition from one neighborhood to another. Want to tell us your transition story? Drop us an email.
Brick Underground articles occasionally include the expertise of, or information about, advertising partners when relevant to the story. We will never promote an advertiser's product without making the relationship clear to our readers.