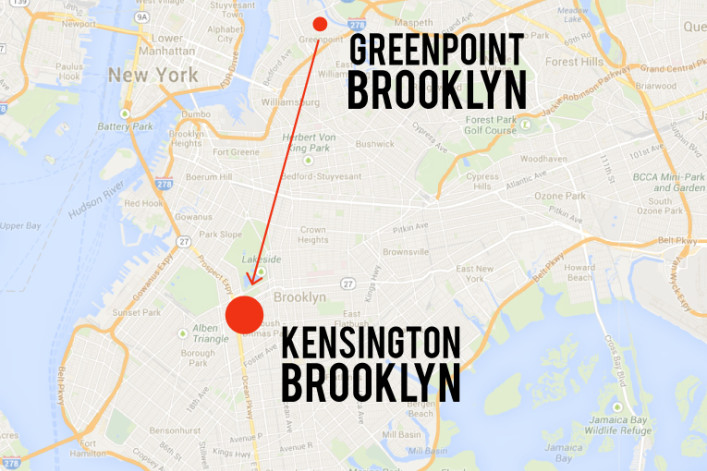 The apartment: More rent (and closets)
After about two years in Greenpoint, I moved about 10 miles away to Kensington, Brooklyn, last summer.
In Greenpoint, I was living with someone. We shared a decent-sized one-bedroom for $1,350, but the appliances and floors were worn and the layout was strange.
We broke up, and I wanted to find a one-bedroom for no more than $1,500. Greenpoint was too expensive. I first looked in Queens--specifically Sunnyside, Astoria and Woodside--but I found that for $1,500 or less, the only apartments I could find were studios, and they weren't very nice.
I had some friends who lived in Southern Brooklyn, so when I saw a promising ad on Craigslist for an apartment in Kensington, I took a look. It was the nicest apartment I'd seen in about a month of looking, so I took it right away.
My new place--which is on 18th Avenue, just west of Coney Island Avenue--is a pre-war one-bedroom with a good amount of space, an eat-in kitchen and two closets (my last apartment only had one). It's a fourth-floor walk-up. I pay $1,300 a month. 
The neighborhood: Sacrificing convenience for diversity
The vibe in Kensington is quieter and feels more suburban.
Greenpoint was vibrant and there were a lot more people walking around all the time. Plus there were tons of restaurants and bars--both the newer, more expensive ones and the more authentic Polish ones. I do miss some of the conveniences of Greenpoint--the 24-hour stores, and the fact that things are generally closer together and easier to get to.
But one thing I didn't love about Greenpoint was the tension you could feel between the older generation and the hipsters moving in.The gentrification in that neighborhood has been fast and extreme.
There doesn't seem to be that kind of tension in Kensington because, while young people have moved in, they're not dominating the neighborhood. There are also a lot more young families here.
Kensington is very pretty, and there are a lot of beautiful detached Victorian homes, especially in the Ditmas Park area. But the housing stock is mixed--Ocean Parkway, which is about two blocks west of me, has a lot of six-story elevator buildings.  There are also quite a few smaller walk-up buildings like mine.
The other thing that's really nice about my new neighborhood is that it's diverse--when it comes to restaurants, you'll find a West Indian place next to a Middle Eastern place and a Mexican restaurant. There are these little Russian Kosher stores that are open all night that I've started going to also.
Overall, Kensington is a little less convenient than Greenpoint, and I have to walk farther to get to places. Cortelyou Road has a lot of the newer places that are higher-end. Coney Island Avenue has a lot of restaurants, groceries and auto body shops.
The commute: About the same
When I lived in Greenpoint, the commute by subway to my job on Wall Street was about 40 minutes. It's the same now. Then, I took the G to the A. Now I take the Q to the 4.
Overall I think the move was a good decision. I wouldn't have gotten as good a value in Queens, and the fact that most of my friends live in Brooklyn helps. My apartment is only a 15-minute bike ride to Crown Heights, where a lot of my friends live. There's also not a lot of traffic around here, so when the weather's good, I like to bike around.
I definitely can see myself sticking around here for a while, and laying down roots.
---
Transitions highlights New Yorkers' first impressions as they transition from one neighborhood to another. Want to tell us your transition story? Drop us an email.
Brick Underground articles occasionally include the expertise of, or information about, advertising partners when relevant to the story. We will never promote an advertiser's product without making the relationship clear to our readers.