Live
5 items under $35 that will make your tiny NYC kitchen feel spacious--or at least more organized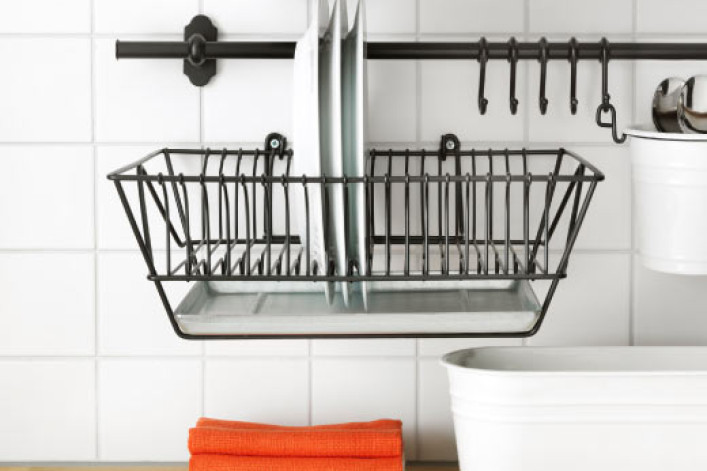 In New York, space comes at a premium, especially if you're living in Manhattan or one of the more happenin' outerborough neighborhoods. Today, we kick off an every-so-often roundup of stuff that will help get each of your very precious rooms more organized.
First up: the kitchen, which very often gets shortchanged in divvying up space in the average NYC apartment. Sometimes it is incorporated into the living room--you know, "for easy entertaining"--or it's simply a refrigerator and a cabinet in that weird space behind your front door. Other times you get lucky and find the elusive separate kitchen that actually offers room to cook and store food.
Whichever one describes yours, here are five items that will make it feel spacious, or at the very least, more organized: 
Some of us barely have space to chop an onion, much less house a dishwasher or even a dedicated space to air dry dishes. If your counter space is minuscule, consider a wall-mounted dish rack (the one above is from Ikea for $14.99). Just make sure to hang it in a place where you won't bump into it.
Depending on your level of commitment, you could spend anywhere from $9 on a basic rail and rack or around $40 for a sturdier system suitable for heavier dishes and pans. Ikea offers a ton of other containers to hang on the rail, so you can store anything from spices to cutlery alongside your drip-drying plates. 
2. Grid system
Similar to the Ikea rail storage system, The Container Store's grid system allows you to hang your cooking utensils, measuring cups, dish towels and everything else you can't fit in a drawer with a variety of hooks, clips and cute little wire baskets. The small grid measuring at 12" x 21" starts at $10. Various accessories range from $3-$9. 
This is beyond ideal for the folks with just a refrigerator and a sink for a kitchen, or if you just have way more food than you can fit in your cabinets. If you're lucky enough to have a kitchen door, use that, otherwise hang this baby on the back of your front door or inside of a hall closet. It's sturdy enough to store cans, jars and boxes and relatively easy to assemble and install with no tools. Pick it up for $34.99 at Bed Bath & Beyond. 
If you like wine, chances are that you have a set of wine glasses. Chances are that they're also taking up a ton of space in your cabinet. Here's where the The Container Store's stemware rack comes in: it's mounted on the underside of your cabinet and the glasses easily slip in and out for storage. It can even be used as a drying rack to decrease the risk of breakage. One tip: make sure to buy a rack with holes in the frame for the screws. Some racks are just held up by the tension of the screws pressing against the outside of the frame, and these can sometimes fall if not mounted properly, or if you slam your cabinets a lot. Prices range from $6-$30. 
5. Fridge Binz
As a renter, you can get stuck with old, crappy refrigerators and you just have to deal with it. If your fridge is missing a shelf or if you get sick of digging through mounds of frozen chicken breast and peas to find something in your freezer, you need these Container Store Fridge Binz. In addition to making your fridge and freezer manageable, they'll also save you plenty of space, so you can buy more food and not have to trek to the store so often. Various sizes range from $8-$20. 
Related posts:
7 ways to stretch your tiny NYC kitchen
Brick Underground articles occasionally include the expertise of, or information about, advertising partners when relevant to the story. We will never promote an advertiser's product without making the relationship clear to our readers.