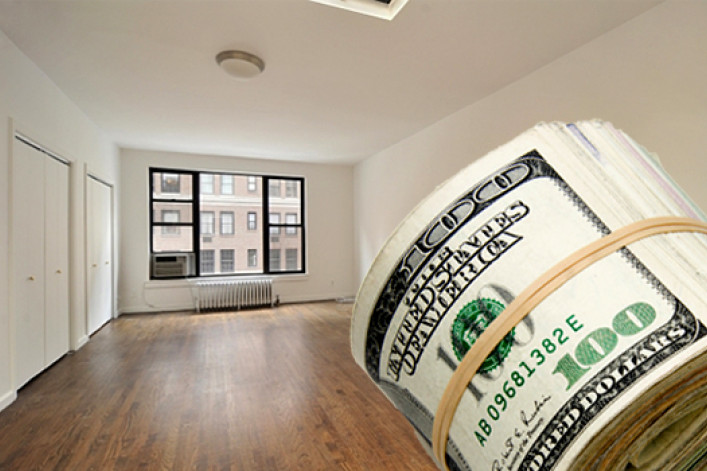 Congratulations! You've found your dream apartment--and you've managed to jump through the requisite hoops to sign the lease. All that's left is to get your hands on the keys, right? Not exactly.
With the average price for a one-bedroom in Manhattan at $3,177 a month in November, according to appraiser and market analyst Jonathan Miller of Miller Samuel, moving in New York City will cost a pretty penny.
To figure exactly how much renting a new place will set you back, we created a soup-to-packing-peanuts guide  using a fictitious (but oh so avearge) $3,177/month apartment. No time to read? Skip to the bottom for the bottom line. Otherwise, fasten your seatbelts, take a deep breath, and begin at the beginning.
1. Security Deposit
While most Manhattan landlords will ask for a month's rent as a security deposit, be prepared for a bigger hit if your credit and/or other qualifications (employment status, income, etc.) aren't up to snuff.
"If the applicant has poor credit, for example, security deposits can be from two to six months [of rent],"says Marc Solomon, an agent at Douglas Elliman. 
At the other extreme, if you're a highly qualified renter--with a credit score of at least 700, preferably 720, and an annual salary at least 40 times the monthly rent--you may be able to save on security deposits with certain landlords, says Rory Bolger, an agent at Citi Habitats.
For instance,  some national landlords such as Archstone and Related "will do zero deposits if you are qualified, and some will do a flat rate of $1,000 per bedroom," he says.  
Average security deposit: $3,177
As much as: $19,062
2. Application Fee
The cost of an application fee, which covers a credit/background check, depends on who's doing the checking--a property management company or an independent landlord--as well as the type of apartment.
Standard, rental-only buildings tend to have flat application rates of around $100. But the fee can go as high as $400 or as low as $40, Solomon notes.
If you're renting a co-op or condo, the application fee can run up to $600, including the credit check and the management company fee, Bolger says.  You may also need to pay a move-in fee of $400-$500.
If your application is rejected, you'll most likely forfeit the application fee--unless you use the same brokerage company.
"If we run the credit and we have that report, we can just present the same information to another landlord in case the first application is rejected," says Bolger of Citi Habitats. "If the credit must be run by another company, then the applicant will have to repay the fee going forward."
(P.S. Don't try cutting corners here by presenting a credit report that you run on your own. Landlords almost never accept a credit report the applicant ran on his or her own, say the brokers we spoke with.)
Average application fee: $100
As much as: $600
3. Broker Fee
Traditional broker fees range from one month's rent to 12-15% of a year's rent ($4,575 - $5,719 in the case of our $3,177 one-bedroom).
Some buildings, particularly newly constructed rentals where landlords are looking to lease out an entire building fast, or large buildings that are really pushing the envelope on rent, may offer to pay all or part of the fee. (If you're aiming for a lower fee or other savings, check out BrickUnderground's guide to rental concessions.) 
There are a number of websites that can help you find "low fee" rentals. For example, on Naked Apartments, you can search for rentals with broker fees of less than 9%,. Another low fee option: Sign up here for the corporate relo rate offered to BrickUndergrounders by our partner, TripleMint, a tech-friendly brokerage that typically charges 10% of a year's rent.
For more info on finding no-fee apartments, check out BrickUnderground's ever-popular 8 Best Websites for Finding a No-Fee Apartment in NYC and guerrilla tactics straight from the renters' mouths in How I Found My No Fee Apartment. FYI, a lot of times it comes down to pounding the pavement or relying on word of mouth.
Average broker fee: $4,575
As low as: $0
Brick Underground's
Gross Rent Calculator
What's this?
Some New York City landlords offer a free month (or more) at the beginning or end of a lease. The advertised rent is the net effective rent.  The net effective rent is less than the amount you will actually have to pay --- known as your gross rent --- during your non-free months.
Brick Underground's Gross Rent Calculator enables you to easily calculate your gross rent, make quick apples-to-apples comparisons between apartments and avoid expensive surprises. All you'll need to figure out your gross rent is 1) the net effective rent, 2) the length of your lease, and 3) how many free months your landlord is offering.  [Hint: Bookmark this page for easy reference!]
To learn more about net effective versus gross rents, read What does 'net effective rent' mean?.
Months
If the landlord is offering partial months free, enter it with a decimal point. For example, 6 weeks free rent should be entered as 1.5 months.
4. Guarantors
Landlords may require you to line up a guarantor--who commits to paying the rent if you don't--for a variety of reasons. Most commonly, they'll ask for a guarantor if you don't meet the income requirements (annual salary exceeding 40-45 times the monthly rent),  if you don't have a job (because, for example, you are a student or retired), if you're from abroad and lack a Social Security number, or if you have no credit history.
Guarantors must earn an annual salary of 80-85 times the monthly rent and live in the tri-state area.  They'll have to fill out an appplication like yours, doubling the price of applying to an average of $200.
Instead of a guarantor, some landlords will accept a higher security deposit  (say 2-6 months) or prepayment of part of the first year's rent.  
If a friend or relative can't step in, and a higher security deposit or rent prepayment is not an option, you may be able to hire a professional guarantor like Insurent as long as you earn a minimum of 27.5 times the monthly rent. If you don't earn this on your own, Insurent will allow you to use a "responsible party"—normally a relative—who earns 50 times the monthly rent or has liquid assets of 80 times the monthly rent, with no tri-state residency requirement. The guarantor fee will run you about 80% of a month's rent if you have U.S. credit and 110% of a month's rent if you are foreign with no U.S. credit.
Average Cost: $200 if using friend or relative; around $3,018 if using an institutional guarantor 
5. Movers
The average cost to move the contents of a one-bedroom apartment in NYC is about $400 to $1,000, depending, among other things, on how far the movers have to travel between apartments, says Laurel Byrnes of CityMove.com, a website that allows you to post your moving job for free so that movers can bid against each other to win your business.
Getting movers to underbid one another for your job via CityMove is a great way to save money. Also keep in mind that hourly rates tend to be cheaper than flat rate, which are typically about $95 an hour for full-service moving of a 1-bedroom in NYC, says Byrnes.
"In the flat rate quote, movers account for the fact that they might need to spend some unanticipated time," she says, noting that flat rates can work in your favor if you have a longer-distance move.
Shop around. Often, movers will lower their price if you mention a competitor with a better deal.
Some other negotiating tips include booking early, scheduling a move for the winter/slow season (or not at the end of the month when most people move) and emphasizing the ease of the move (no stairs, for example).  While some movers are unwilling to negotiate, others are happy to lower the price if you promise an all-cash deal, so offer to hit up the ATM first. 
Just don't go too cheap. Insured movers with a good reputation are worth the cost, particularly if you own pricey furniture, a piano, or art.
Remember to include the cost of tipping. Byrnes says that the industry standard to tip is about 5% of the total cost of your move, and to divide that evenly among the movers.
"For example, if two men are moving a one-bedroom apartment and the cost for the move is $400, 5% of $400 is $20, and you would thus give $10 to each of the two movers."
Of course, this is subject to the difficulty of the move.
"If you have movers who are dealing with very heavy and difficult objects, lots of stairs, narrow passageways and overall difficult conditions, it is not unheard of to tip each mover anywhere between $20 and $50," she said. 
If you're really looking to cut moving costs, you can always rent a van and gather some friends--likely the cheapest alternative. Zipcar offers van rentals for $15.75 an hour for members, or $109 per day, and their rentals include gas, insurance and up to 180 miles of driving. A membership is $6 per month, and  Zipcar often offers promotions of free driving credit for new members. U-Haul rentals are between $20 and $50 per day, depending on the size of the vehicle, but you must also pay $2.49 for every mile driven.
Average cost: $600
As much as: $1,000
6. Packing materials
While the amount of packing materials you will need depends on the amount of small items you have, for the average one bedroom, CityMove's Byrnes suggests figuring on at least three garment boxes (about $10 each at Home Depot) depending on the size of your closet, 6 to 8 large boxes (about $1.50 at Home Depot), 10 medium boxes (about $1), and 10 to 20 small boxes (about 70 cents). One roll of packaging tape on a roller is invaluable (about $25 at office supply stores), as well as 1 or 2 markers (about $5) so you can mark all sides of each box. Flat-screen TV boxes will run you about $20 each.
Here are a few cost cutting tricks: 
To save on boxes, take a stroll through SoHo around shop closing time, when many businesses throw out their clean, and often unused, boxes. They're often happy to hand them over.
Swap out bubble wrap (up to $20 for a large roll at Staples or Kmart) for sweaters and towels. Your dishes will be safe as can be wrapped in a fluffy towel, and you'll save time, money and space by packing the two together.
Wrap your furniture in plastic wrap (about $5 for a large roll) before the movers arrive. Many movers charge for the packaging of furniture as part of their hourly bill, and will charge you for the packing materials on top of that. It takes about 15 minutes to wrap a piece of furniture fully, so plan accordingly. Take it upon yourself to get this done before they arrive, and save at least $100. 
Average: $200
As much as: $400 if movers help pack 
As low as: $50 if you cut a few corners
7. Utility Fees
One of the sneaky costs of moving will come from transferring your utilities--phone, internet, cable, and electric--from one address to another. While some companies have steep fees, others are free or negotiable.
For cable, Internet and phone it will depend on your service provider. The cost of moving the service does not depend on the package you have, meaning that even if you have only cable, or a full cable/phone/internet deal, the price will be the same for these service providers. 
Verizon FiOS charges $69.99 to move, and asks for at least a week's advance notice. They do offer the option to break up the charge across three billing cycles.
Time Warner charges $40.95 to transfer service, and requests at least two weeks' advance notice. However, for former customers or customers seeking to renew their contracts, they offer a discounted or free move--so be sure to ask!
DirecTV comes at the highest cost -- $199 to move the service in the first year of your contract. But they also offer half price and free moves to long-term customers in good standing. While they can't give an exact number, they said for a great customer, they try to pull as many strings as possible to lower the price. 
Con Edison doesn't charge to move your account from one location to another. They require only one day notice for the address change. National Grid operates on the same system, with no charge to move. 
Average amount among service providers: $50
As much as: $199
GRAND TOTAL 
So how much will moving to a $3,177/month one-bedroom cost you, including first month's rent?  Here's what to expect on average:
$7,504 (no broker fee)
$12,079 (12% broker fee)
$14,897 (12% broker fee and an institutional guarantor)
Related posts:
Renewing a lease in NYC: Should you stay or should you go?
The  8 best websites for finding a no-fee apartment in NYC
How I found my no-fee apartment
Moving to NYC? Here's a crash course in finding an apartment here
Rent Coach: Can I overstay my lease?
How to make it through rental high season alive
Ask an Expert: Negotiating a rent hike and a new fridge
5 tips for negotiating your lease renewal, plus 5 real-life examples
16 tips for an (almost) stress-free moving day
3 high-tech ways to make your moving process easier (and cheaper)
How to negotiate with a NYC mover: 7 tips that may save you bigtime
Brick Underground articles occasionally include the expertise of, or information about, advertising partners when relevant to the story. We will never promote an advertiser's product without making the relationship clear to our readers.