Transitions
Sunset Park to Harlem: I miss my old neighborhood's vibe, but the transportation options now are hard to beat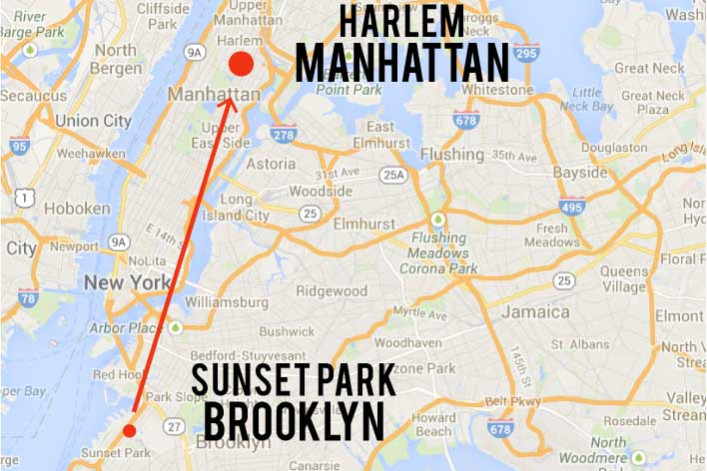 Nearly two years ago I moved from an apartment in Sunset Park (on 54th between Fifth and Sixth Avenues) to East Harlem (on Madison Avenue between 125th and 126th Street).  
The main reason for my move was to be closer to my job in West Harlem. My new(ish) apartment is in a small walk-up building.  It has a full living room, a kitchen, dining room, three bedrooms and two full bathrooms.  I pay $900 a month for my share of the rent, which includes the middle sized room.  
In Sunset Park, I lived with my mother, who paid around $2,800 a month for her two-story apartment with a backyard and washer/dryer.  It has three bedrooms, though one is very small, one full bathroom, a half bathroom, a full living room and a kitchen/dining room. It also has an unfinished basement. It's essentially a small house.  
I love Sunset Park.  I would move back in a heartbeat if it did not mean that my commute was over an hour long to work.  Sunset Park has exactly what I am looking for in a neighborhood -- plenty of shopping and eating, families, and some cooler places without the overwhelming nature of the Upper West Side or Park Slope.  There are many immigrant families as well as long time Brooklyn natives living in Sunset Park, which I think gives it an authentically New York feel.  
Fifth Avenue in Sunset Park is crowded no matter the time of day, and I believe it is the cutest place in New York City to watch Halloween -- there are what appears to be thousands of families and their small children parading up and down the street in costume.  
It isn't a trendy neighborhood, at least yet, but it's also not desolate.  It strikes a nice balance.
My move to Harlem was precipitated by its convenience.  For the last two years I have worked either in West Harlem or the South Bronx as a teacher and my apartment allows me to get to work in under30 minutes.  
My apartment is beautiful and I could likely not afford it in most other parts of the Manhattan.  Generally, I like living in Harlem. It has all of the same conveniences as Sunset Park in terms of shopping. However, I find the food and bar choices lacking in comparison, which is why I often travel out of East Harlem to other places in the city, like the Upper East Side, Midtown and Park Slope, to have fun and do the bulk of my socializing.
In regard to safety, no matter where I am in the city, I don't like to be out by myself very late at night, and I don't wear my headphones when I'm walking alone late. I avoid doing that here, just as I would in Sunset Park.  There are definitely fewer people out at night in Harlem than  in Sunset Park, and certainly fewer families walking around in the evening.
In terms of transportation, my new neighborhood beats Sunset Park by miles, as I am a 10-minute walk from the 2/3/4/5/6 trains, the Metro North, and many buses, including the M60, which goes to Laguardia.  
Although I definitely do not feel emotionally attached to the neighborhood, and I know that I don't want to stay there permanently, giving up the access to public transportation will be the most difficult part of moving when I eventually do.
---
Transitions highlights New Yorkers' first impressions as they transition from one neighborhood to another. Want to tell us your transition story? Drop us an email.
Brick Underground articles occasionally include the expertise of, or information about, advertising partners when relevant to the story. We will never promote an advertiser's product without making the relationship clear to our readers.