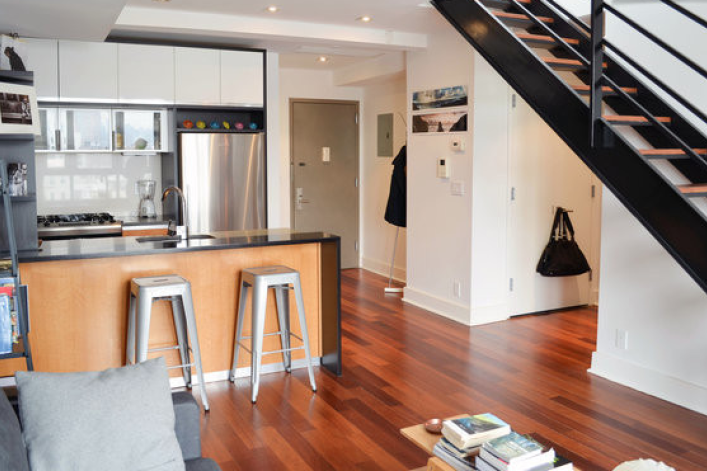 New York City real estate is nothing if not great fodder for dinner party conversation. We've recently covered the strangest things New Yorkers have seen during their apartment searches, and some of the weirdest things brokers have witnessed. Today, we turn our attention to sublets, which, like everything else in New York City, can be really good OR really bad.
Below, some fellow New Yorkers tell us about their best and worst sublets in NYC. 
The good...
"About 8 years ago, for $800 a month, I lucked into a sublet in a major university's faculty housing when an acquaintance's roomate left to teach abroad with very little notice. The school, one of the biggest landowners in New York, keeps a group of well-maintained pre-war buildings near campus known as double occupancy but each apartment grants the tenant a second room to themselves--a study--in addition to a bedroom and copious shared space. The one that I sublet had a hallway roughly two subway cars long often rendering it impossible to even know if my roomate was home. It is rare that any workplace cares about the quality of life of their employees enough to give them more than they need and more rare still to have an opportunity to try out those perks without a job in that workplace." --- Martha Burzynski, who now lives in a small (just under 400 square feet) but adorable alcove studio in Boerum Hill after several years of living with rooomates in other parts of Brooklyn.
"I sublet a rent-controlled [less than $1,000/month] expanded one-bedroom which I found on Craigslist. It happened to belong to a professional interior decorator. The apartment had the virtually unheard of in New York library, separate living room and dining room. Heaven." - Lily Burana, a novelist and writer, who stayed in the apartment for over a year, and now resides upstate
"I had an excellent time subletting a recognizable musician's room in Prospect Heights while she was on tour for a month. I loved Prospect Heights as a home base to explore the neighborhoods close by--Park Slope and Clinton Hill. And I paid around $600-$700 for the month there. I found the sublet through friends--I'm a very active user of social media, where sublets are often first heard about now." ---Michele Filgate, a bookseller and writer 
"I found a luxe sublet in Carroll Gardens for a summer and it felt like the universe was throwing me a bone and giving me a treat after all my sub-par subletting experiences. Because I was subletting from a long-time resident who had locked in a low rent, the cost of the stay, including keeping furniture in storage, was still less than my previous South Williamsburg sublet. The neighborhood's beautiful tree-lined streets, and friendly neighbors were a welcome contrast to the industrial feel and too-cool-for-school hipsters of South Williamsburg. And the apartment was so big--over 1,000 square feet--that even when I fantasized about taking over the lease, I knew it would take years to accumulate enough stuff to fill the space. As if it couldn't get any better, the leaseholder still paid for a housekeeper who came every other week. I was invited to BBQs by the neighbors and have stayed in touch since."--Molly Aaker, a brand strategist, who finally has a place of her own: a studio in Yorkville. 
The bad…
"After finding a subltter via a home swapping site,  I tried my best to vet her (via Skype) so that I could get on with my 'Eat, Pray, Love' experience in Paris. But as soon as she came, I got complaints from my neighbors about noise--parties and very loud sex. Luckily, the she was reachable and promised to keep it down, but it was a sign of what was to come when I returned for good. The apartment was a disaster, with a thin layer of wine/beer/something on surfaces and I began cleaning before realizing how much damage had really been done. A brand new J. Crew coat, a gift with tags, from the closet was gone. Another skirt, boxed for another season, was also gone, as were Prada heels, Chanel products in the bathroom--all gone. Then, in possibly the most disturbing invasion of privacy, the subletter had helped herself to the 'goody drawer' and actually stole used sex toys. Stole several, that is, but left one very used vibrator shoved between two sweaters. By all accounts, I did all my homework before the swap. I think my experience is the exception to the rule. " --Amanda Chatel, a freelance writer, currently moving to Paris, to be with the fiancee she met while in the worst subletter's place (so at least something good came out of it). 
"Subletting in South Williamsburg began with a seemingly agreeable roommate and her cute cat but ended with control freak-outs, price gouging and broken electronics. While the roommate said she wanted to be friends, eventually she also wanted to have complete control over the apartment and its contents, down to a teakettle being put away immediately or no longer being allowed. I also found out she was overcharging--enough that I could have found a studio for the price of the month-to-month sublet, $1,475 per month. My awful  roommate refused to cover the latest damage her not-so-cute-anymore cat caused--a shattered iPad. After that, the tension was so high that I locked the bedroom door before going to bed."--Molly Aaker, who for better or worse, no longer sublets
Related posts:
Renters Beware: 11 things to look out for on that lease
BrickUnderground's 7-step guide for first-time landlords
Considering a sublet? Read here first
5 ways to screw up your sublet
How to avoid a subletting scam
5 shares, 6 months: A NYC sublet tale (and what she learned from it all)
Brick Underground articles occasionally include the expertise of, or information about, advertising partners when relevant to the story. We will never promote an advertiser's product without making the relationship clear to our readers.