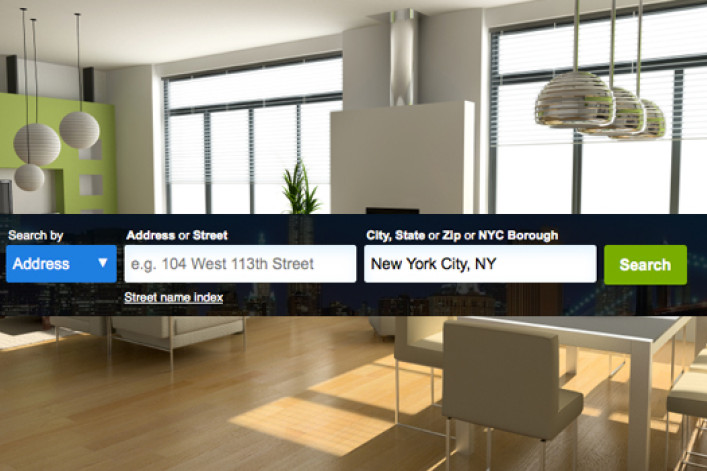 If you're shopping for a NYC co-op or condo, you probably know that supply is at near-record lows, competition is intense and many apartments are selling in bidding wars.  
You can win this game by outbidding the competition (preferably all in cash).   Or you can change the game altogether and get ahead of the competition with some help from real estate data website PropertyShark.com.
Using the same online tools and strategies that developers, investors, and real estate brokers have relied on for years, you can find owners who haven't yet listed their apartments but may be ready to sell and contact them directly before they hire a broker.
1. Missed out on a great apartment? Let the neighbors know you're still in the market.
A strong, rising market like this one can lead to a domino-effect of listings in a building.   But not every unit owner may know that recent sales in their building have pushed up property values. Other would-be sellers may not have gotten around to listing their place yet or shrink from the ordeal of preparing and showing their apartment.   
A letter from you explaining your interest in the building, noting any recent comparable sales, and your willingness to work with owners to give them time to find a place to live can lead to a fruitful negotiation.
Begin by typing the building's address into PropertyShark…
 
You'll find the names of owners under the "Units & Related Parcels" section of the property report:
If a unit is missing from this list, that usually means it is either still owned by the sponsor or, if you are looking up a co-op building, it was purchased before July 2004 when information on co-op sales became publicly available.
You may also want to cross check owner names against the Phone Records section of each report. If the names don't match, that probably means the unit is being rented, and you may want to adjust your overture to the owner accordingly—for example, by stating your willingness to buy the apartment with a tenant in place for a certain period of time.   
Owners of rented co-op units especially may be particularly open to the prospect of selling, because most co-op buildings have strict limits on the length of time a unit owner can sublet—typically no more than 1-2 years in any 5-7 year period. 
Tip: While viewing the property report of a building you like, scroll to the top of the page and click "add to watchlist."   You'll receive an email whenever a foreclosure or pre-foreclosure notice is filed (more on that below), a new title document or building permit is filed, or there's a change in the price of a listing.

2.  Expand your search for potential sellers using Property Shark's "Predefined Lists" 
You can build mailing and phone lists of potential sellers by customizing one of PropertyShark's "Predefined Lists"—searches frequently conducted by real estate professionals. 
Click on the "Leads" tab at the top right corner of any PropertyShark page. Beneath "Predefined Lists," click on "See the full list of options." 
Click on "Potential Condo Sellers: Owners who Bought a Condo 2-5 Years Ago."
Now you'll be able to customize your list by a specific neighborhood, street, zip code, school district, or community district, or simply map out the area you want to target.
When you're ready to build your list, click the "build" button at the top right. You'll be able to edit your mailing list if downloading it into an Excel or .csv file or in mailing-label format. 
3.  Contact condo owners who have fallen behind on their mortgage payments 
When a condo owner misses three mortgage payments, their lender files a pre-foreclosure notice called a lis pendens.    An owner in financial difficulty may already be thinking about putting their apartment on the market and may be receptive to a reasonable offer.
Pre-foreclosure listings are displayed in PropertyShark's Foreclosures section; simply click on the "pre-foreclosures" tab near the top of your screen.
In the sample listing shown below, a lis pendens has been filed against the owner of a 911-square foot condo on the Lower East Side of Manhattan.  The original amount of the mortgage is $900,307.  The owner's name is listed next to "Debtor."
You can filter your search by the date the lis pendens was filed, specific property characteristics, zip code, neighborhood and school district, among other things. 
To stay organized, click the "add to list" link at the top of right of any listing that interests you.  You can export your list into an Excel spreadsheet or you can download it in list or mailing-label form
Ready to explore? Browse through a sample property report or click over to PropertyShark and sign up for a subscription plan. For just $39.95/month, you'll have full access to up to 150 property reports. Bonus: Through November 15th, PropertyShark is offering a 15% discount to BrickUnderground readers--click here to sign up or use the discount code 15brick1. 
Here are some helpful links::
---
PropertyShark.com is a real estate website that provides in-depth data for more than 75 million properties in New York City, Philadelphia, Los Angeles, San Francisco Bay Area, and other major US markets. The company covers most of the U.S. with a primary focus on the New York real estate marketplace. Click here to see what services and data are offered in your area.
 
Brick Underground articles occasionally include the expertise of, or information about, advertising partners when relevant to the story. We will never promote an advertiser's product without making the relationship clear to our readers.