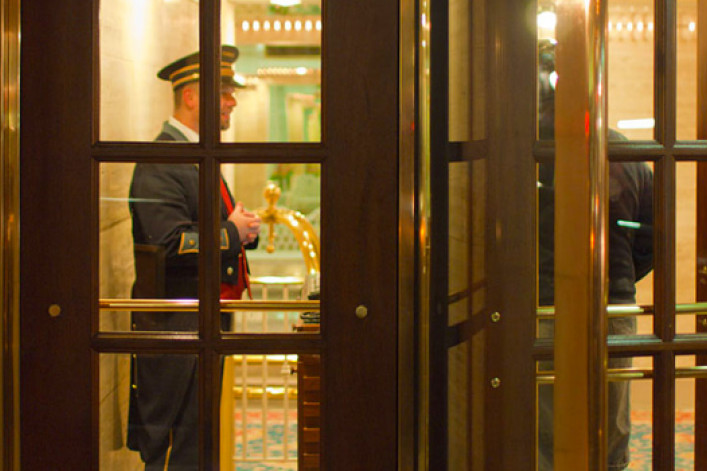 A couple of months ago I moved from
a crappy tenement building in Hell's Kitchen
 to a doorman building on the far East Side neighborhood known as Yorkville. My new alcove studio is actually $200 per month less than my tenement apartment, which was a two-bedroom walk-up.  This new apartment is rent-stabilized, which is why it's a relative steal.
Below, the pros and cons of a full-service doorman building, from the eyes of a former tenement-dweller:
CONS
Holy holiday tips
I am now dreading the holidays because in my walkup tenement there was really no one (sans the useless super) to tip. Now, I'll be tipping tons of people: Doormen, supers, repair men, porters...  I've never had to worry about this, before. Yikes. 
The all-seeing staff
Sure, I love that the doormen will hold my packages, that the porters are always cleaning the hallways and that everything is safer because of the presence of the doormen, but  I also find  that the staff knows a bit too much about my personal business.
My first week here  I had to fill out a form  alerting them to the fact that I have late-stage Lyme Disease so they'd understand why I wanted many friends to be able to enter my apartment with no key or permission.
I have had two long hospital stays recently, not to mention two ambulance pick-ups and it is disconcerting to know the whole staff knows what's up. It makes me squeamish -- it's embarrassing to be seen crying in your pajamas being carried to a waiting ambulance -- to be asked constantly how I'm doing.
They also know about my lack of a social life and that I get takeout---a lot. 
One woman's garbage...
I will throw out  bottles into the proper receptacle, or throw out a small bag of non-recyclables, and within seconds they have disappeared. Maybe I'm just being paranoid (and am just so not used to efficiency), but I can't help but wonder whether they go through our garbages to check for recyclables to be sure we are indeed placing things in proper areas of the garbage room.
I, of course, am thrilled to be able to recycle at all, as my last building didn't recycle at all--unless you count the fact that my super would dump huge bags of garbage outside OTHER buildings.
PROS
I don't need to plan ahead for visitors
In my old apartment friends would have had to be inconvenienced to have to find me to get a key and pass it among themselves to get stuff I have requested be brought to me and to tend to my dog. 
Safety
The pro of having so many people around is that I feel completely safe. There is no way anyone can sneak up here without me knowing. In my Hell's Kitchen walkup there'd be tons of miscreants hanging outside my stoop on Tenth Avenue at all hours and the building doors would at times be propped open. 
There were always weird noises--and loud ones from living one flight above a bar--and I was always afraid someone would shimmy onto the fire escape. In that building packages would go missing all the time. Here everything is so structured and organized it is impossible for anyone to take anything.
I don't need to know my neighbors
While the staff knows me a little bit too well, I'm more anonymous to my neighbors, which is also a plus because I tend to like privacy.  There are 16 floors and about 8 units on each floor, so I almost never know anyone on the elevator or laundry room. In my old building there were only seven other units and there was no way to avoid the neighbors, especially those that would leave cigarette butts on the stairs. 
Efficiency... though it comes with a price
Lastly, in my old building I would deal directly with the landlord via text. Here there are official forms to be filled out that they get passed to management and then staff. Things tend to be more efficient, but take longer. On the other hand, the quality of work seems to be far superior than the constant jerry-rigging I witnessed in my last unit. 
THE VERDICT..
All in all, I prefer the more luxurious feel of this building and the amenities it provides. I miss my old neighborhood, but I am no longer embarrassed about inviting people over for fear they'd balk at the crackhouse feel of the building. 
Brick Underground articles occasionally include the expertise of, or information about, advertising partners when relevant to the story. We will never promote an advertiser's product without making the relationship clear to our readers.